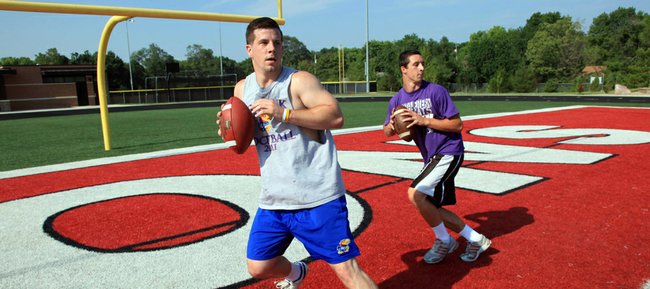 Early this year, as a junior still months away from the start of his senior football season at Lawrence High, quarterback Brad Strauss sat down with his coach, Dirk Wedd.
The coach wanted to talk to his all-Sunflower League QB about the fall, with the primary topic being what it would take to make sure Strauss had the best senior year possible.
Basically, the two came up with the high school equivalent of spring football. Strauss would spend as much of his spare time as he could working on his game — from footwork to arm strength, and everything in between.
The next step for Wedd was finding the right person to work with Strauss, because high school coaches are limited in how much they can instruct players during certain parts of the offseason.
That's where former Kansas University quarterback Jordan Webb came in. The LHS coach knew Webb, who left the KU football program in January but had no intention of giving up on his college career, would want to keep his skills fresh. Wedd gave the QB a call and let it be known Lawrence had a bunch of receivers he could throw to if he wouldn't mind working with the Lions' signal-caller in the process.
In early March, Webb and Strauss started working out together two or three times a week at LHS. They kept at it through June. Wedd said the workouts have helped Strauss immensely.
"There's a lot of kids that would have as much success as he's had in his high school career (and) kind of sit back, enjoy life," the Lions coach said. "He just rolled up his sleeves."
Both Strauss and Webb are listed at 6 feet tall, making Webb's insight even more helpful.
"Him and I are both smaller quarterbacks," Strauss said, "so we've gotta be able to move around and create throwing lanes."
Webb, who is transferring to Colorado, said the workouts were helpful for him, as well. He eventually wants to become a coach and enjoyed working with a high school player who was eager to improve.
"Any day that I call him up, he's ready to throw," Webb said. "It's refreshing to see that."
Preparing for his senior year is just one benefit of the workouts for Strauss, who has communicated with various college coaches about playing at the next level. He said they all want to see tape from his first few games of the upcoming season and go from there.
"I'm interested in just about everywhere right now. They're just not interested in me," Strauss joked.
An experienced NCAA Division I FBS quarterback, Webb said Strauss has the tools to play at that level.
"First of all, his work ethic is gonna take him places," Webb said. "Physically, he's got a great arm; athletically, quick feet, fast kid. And he's a really good leader. You can just tell the guys respect him."
The LHS receivers have spent more time with the quarterback than anyone. Strauss began organizing throwing sessions with them back in January, before they joined in on the sessions with Webb.
"We have a good bond and a good connection," Strauss said of the receiving corps, which include Isaiah Boldridge, Drake Hofer, Erick Mayo, Josh Seybert and Will Thompson.
Hofer said adding Webb to the mix helped the receivers, too, because even though he was working with Strauss, the college QB gave the receivers tips.
"It was nice to just give us a jump-start," Hofer said. "A lot of schools aren't out there doing that."
Webb was impressed by the number of receivers who were dedicated to putting in work with the quarterbacks.
"You don't see that a lot in high school," he said, "so hopefully it pays off for them this year."
Lawrence's offseason progress stalled somewhat the first week of June, when Strauss injured his right ankle early on at Emporia State's two-day team camp. The frustrated QB had just fully recovered from a more severe left-ankle injury he suffered in the fall and essentially had to watch the entire camp from the sideline. Making matters worse, LHS running back Tyrone Jenkins was injured, too, and backup QB Braxton Bressler broke an ankle on the second day of the team camp.
Strauss is back feeling 100 percent now, and Jenkins has recovered, while Bressler is expected to miss some of the regular season.
With all the work they've put in, Strauss said the Lions can't wait for the 2012 season to start.
"I feel like we've got something to prove," he said, "myself personally and this team."