Videos
Bill Self weekly press conference: Jan. 3, 2012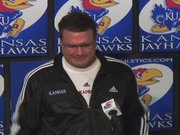 Kansas head men's basketball coach Bill Self addressed the media at his weekly press conference Tuesday, Jan. 3, 2011 at Allen Fieldhouse.
Using your own brain to judge someone who has a different brain type invites trouble. Generally, the best approach lies in challenging yourself to look for something to appreciate about the person who thinks not at all the way you think.
Those who have a buttoned-up brain tend to strive for control and demand order in their worlds, even if it means juggling four things at once. The more scattered, less focused thinker brings more creativity and tends to pay close attention only to that which he finds exciting. When the task is boring, the mind wanders.
Trying to understand what makes the first type tick has been a lifelong challenge. It's the second type thinkers I empathize with when their uneven focus lands them in trouble, especially when smart people do dumb things.
Tyrel Reed had the first brain type, Tyshawn Taylor the second.
I can't relate to people who lead with the negative when discussing Taylor's on-court pros and cons. He's the second-best player on college basketball's 14th-ranked team. Without him on the roster, Kansas would have a shaky Selection Sunday, after the TV show, nervously waiting for an NIT bid.
Taylor has frustrated Kansas coach Bill Self at times, but it's obvious the longer the Hoboken, N.J., native plays for Self, the more fond of him the coach grows.
"He is a pretty scrutinized guy, there's no question about that, and a lot of that he brings on himself," Self said. "A lot of that is him being the point guard here with teams that are really good and that kind of stuff."
It's more than that, of course.
"He can be frustrating because he can make plays you can't coach, then he can make plays you wonder if he's ever been coached," Self said. "But that's him. I'm glad we got him."
Too often, Taylor has played basketball the way so many talented Major League Baseball rookie shortstops have played: A web gem one minute, a botched routine grounder the next.
"I think he's really talented, and I think he's getting better," Self said. "I think he's made a conscious effort to really tighten his game up in a lot of ways. The last few games he's played pretty good, but he's going to turn it over. He's going to make some mistakes."
And the coach has learned to live with them because he knows his point guard brings the effort. Taylor, shooting .514 on three-pointers for the season, has 19 assists and six turnovers in KU's past three games.
"The thing we can't have him do is become a non-aggressive factor because he's playing not to screw up," Self said. "Hey, he's got to go. He needs to be turned loose. ... The simple plays he can make look difficult and the difficult plays he can make look real easy. I don't think that's uncommon. Do guys concentrate more on a guarded three or an uncontested layup?"
In that regard, Taylor's a caricature of the typical player.
As always, Kansas State will bring the heat defensively tonight. A year ago, Taylor had one turnover in a 24-point home victory, six in a 16-point road loss.
"I'm going to definitely have to take care of the ball to make sure we get a shot every time," Taylor said.