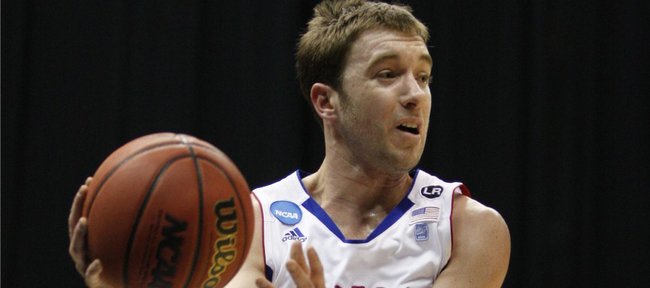 Brady Morningstar and Jerome Dyson, former starting guards for college basketball national powerhouses, recently talked about the same thing the rest of us interested in sports have been discussing lately in the office, at the dinner table, on the phone.
Morningstar, an underrated player during his career at Kansas University, and Jerome Dyson, a standout at UConn, weighed in on Jeremy Lin, who has reversed the New York Knicks' fortunes in even far more stunning fashion than Tim Tebow did the Denver Broncos. Lin's loud landing as an NBA star has rocked New York harder than KU junior center Jeff Withey has sprung out of his cocoon to fly down court, get a block at one end, a stuff at the other, and back to the original end to hit the deck to force the alternate possession arrow to flip, all in a matter of seconds.
The difference in the Lin talk between Morningstar and Dyson, teammates with the Tulsa 66ers of the NBA Development League: Both men played on the same basketball court as the man who has renamed New York City to Lin City.
Lin, 23, lit up Dyson's UConn team for 30 points in November of 2010 as a senior.
Morningstar and Lin were among the players working out with former NBA coach and KU assistant coach Bob Hill in the summer before Morningstar's junior year.
"Jerome was telling me how good (Lin) had it going that game against them," Morningstar said by phone from Tulsa. "He said he was good. You could see back when I was playing with him that summer he had some game. The kid's pretty athletic, he could handle, pass, shoot it."
As a senior in Palo Alto, Calif., Lin led his team to a 32-1 record, a state championship and was named his division's state player of the year. Yet, no Division I school offered him a scholarship, and only two of nine Ivy League schools to which he wrote letters offered him a guaranteed walk-on spot on the team (the Ivy League does not offer athletic scholarships.) He chose Harvard over Brown and was a two-time all-conference performer.
Undrafted, Lin played sparingly for the Golden State Warriors last season as a rookie, was sent to the D League three times and was cut on the first day of post-lockout training camp in December. He played in two exhibition games for the Houston Rockets and was cut.
Two days after Christmas, the Knicks picked up Lin. Three weeks later, they sent him to the D League, where, playing for the Erie Bayhawks against the Maine Red Claws, he had a triple-double (28 points, 11 rebounds, 12 assists) to earn a call-up.
But it wasn't until Knicks coach Mike D'Antoni was so fed up with his team's guard play in a Feb. 3 loss to the Boston Celtics that he gave Lin, a 6-foot-3 point guard, a chance to show what he could on the next night. Lin responded with 25 points, five rebounds and seven assists, earning a spot in the starting lineup. His point totals every game since: 28, 23, 38 (against the Lakers), 20, 27 and 10, all in victories for a Knicks team that had lost six of its last 10.
"It's pretty amazing seeing him go from one extreme, under the radar, to a world-wide phenomenon," Morningstar said. "He's blown up the past two weeks. It's pretty cool to see that, awesome to watch. He deserves that. He's worked hard, he had his head on his shoulders right, and he's made himself into a good player. Pretty cool deal. I'm watching ESPN right now, and they're talking about him and Tim Tebow."
Appearances can play powerful tricks on talent evaluators in sports.
Roy Marble and Harold Miner were going to be the "next Michael Jordan," because they could jump and looked a little bit like Jordan. Never mind that neither one was nearly as quick or could shoot nearly as well as Jordan.
I often wonder if KU linebacker Huldon Tharp would have entered his freshman season with so much hype if he were not about the same weight at the same age and had the same hair color as former Big 12 defensive player of the year Nick Reid.
Joe Montana and Rick Mirer were roughly the same size, had similar coloring and wore the same No. 3 at Notre Dame. Never mind that Montana had lethal accuracy, and Mirer did not. Many looked at Mirer and saw Montana, a factor in his becoming such a high draft pick.
Lin is the first American NBA player of Taiwanese or Chinese descent.
Talent evaluators hadn't seen a point guard who looked like him. The scrawny Morningstar, from Lawrence, a city not known for pumping out Division I basketball talent, didn't look like a lot of guys getting recruited by perennial powerhouses, even if he played like one.
Even now, Morningstar doesn't look to many like a guy who is one phone call away from starting an NBA career, a guy assigned to guard Andre Emmett before his call-up to the New Jersey Nets one night, former three-time NBA All-Star Antoine Walker another.
"Every night I know there is going to be another guy coming at me because he thinks he has an advantage on me," Morningstar said. "I don't blame them for thinking that. If I looked at me out there, I'd think that, too. It's kind of fun. Our coach always says, 'If you can't defend a guy in the D League, you can't defend a guy in the NBA.'"
Tulsa is the farm team of the Oklahoma City Thunder, coached by Scott Brooks, who looked more like a yell leader than one of the nation's leading scorers when he played at Cal-Irvine. Brooks, like Lin, did not receive a scholarship offer from the local Division I school, the University of Pacific, either out of high school or junior college. He repaid the school by leading Irvine to a road victory with a 41-point performance. He won't read the Morningstar book based on its cover.
Morningstar is more than holding his own in the D League. During a recent 12-game stretch, he made 23 of 42 three-point shots (.590). He's averaging 11.4 points and shooting .425 from three-point range (23-feet, 9-inches, 22 feet in the corners). He's such a good free-throw shooter (.866) he takes the team's technical free throws when he's on the floor.
He's not playing in the D League for the money ($2,000 per month, plus a free apartment). He could earn more in Europe. He's trying to get to the NBA.
"It's all about being in the right place at the right time," he said. "I'm fortunate to be playing in such a great organization. It depends on what a team needs. If you have a bad attitude, don't play D and have off-the-court issues, they might not take a chance on you. If you play hard, play D and are a good person off the court, you might get a shot."
Not a lot of people thought Lin would get a shot. Look at what he's done with it.