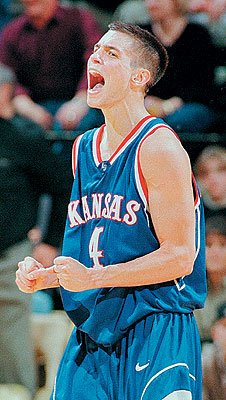 Let me start by saying I'm a "Big Eight Guy."
I was born in Oklahoma and cheered for the Billy Tubbs' Sooners. I went to OSU football games and watched Barry Sanders live. My parents met at K-State, where my dad played football. I went to high school and live in Missouri. And, obviously, I played basketball at Kansas.
I love the Big Eight. I miss the Big Eight. Things were simpler, and rivalries were easy to figure out. I have to be honest; I am not even sure who is in the new Big 12. West Virginia?? I hate conference realignment and the destruction of century-old rivalries.
People ask me all the time living in Missouri what I think about Missouri leaving the Big 12 and also want to know what I think about the KU-MU rivalry ending.  
My answer is always the same.  
I am sad. I am sad for the same reason that I watched my beloved St. Louis Cardinals lose Albert Pujols to the Anaheim Angels. I am not mad at Albert for leaving. I am just sad that he doesn't get to sit at the same table with Stan Musial and Bob Gibson as Cardinal legends any more.  
That is how I feel about Mizzou leaving the Big 12 and ending the KU-MU rivaly. I actually don't blame Missouri for leaving the conference. In fact, I wonder if KU was asked to leave for the SEC what we might say or do?? Wouldn't a game EVERY year at Rupp Arena vs. Kentucky be fun to watch?! But I digress. The Missouri-Kansas game is something that ALL players from both teams each year circle on the schedule and look forward to playing.  
In my four years at KU, we had a record of 124-24, won three conference titles, three conference tournament titles and were ranked No. 1 in the country for weeks at a time. Missouri, on the other hand, was inferior. No conference titles, no tournament wins, and barely even sniffed the top 25. Yet in my career, KU's record vs. Missouri was 5-4. A rivalry. Yes, it is cliché, but KU-MU is the definition of a rivalry, and when we played each other records truly didn't matter.  
Maybe my time now living in Missouri is getting to me or maybe I am just older and more mature, but I miss Norm Stewart. I realize he and my family had "our moments," but if I saw him at dinner or at a bar I would like to buy him a beer. I think after all the battles we had vs. his teams what is left in my mind is respect. Quin Snyder was a disaster. Mike Anderson was boring, and dare I say Frank Haith is … nice.  
I hear coach Haith on the radio once a week in St. Louis, and he sounds sincere and like someone I would like to play for. My guess is that he will be at Missouri for a long time. A rivarly needs a villain, though, and for KU fans coach Stewart filled that role perfectly. He didn't shake my hand for 31⁄2 years when we played against them. It wasn't until my senior year before he extended his hand to me and said "good game." I think Bill Self is the best coach in America, and KU is lucky to have him. Wouldn't it be fun to see a Bill Self-coached team play a Norm Stewart-coached team one more time?? I get chills thinking about the crowd screaming "Sit Down Norm!"
Kansas' record vs Missouri in basketball all-time is 171-94. We have dominated our biggest rivals and in the process won 54 conference championships and five national championships. I hope in the two games we play Missouri this year we beat the heck out of them and move closer to winning our eighth consecutive conference title. But I will miss Mizzou. I will miss the rivalry. I miss the Big Eight.
— Ryan Robertson is a former KU guard from St. Charles, Mo. (1996-99) who now works as sales director for Goldman-Sachs in St. Louis