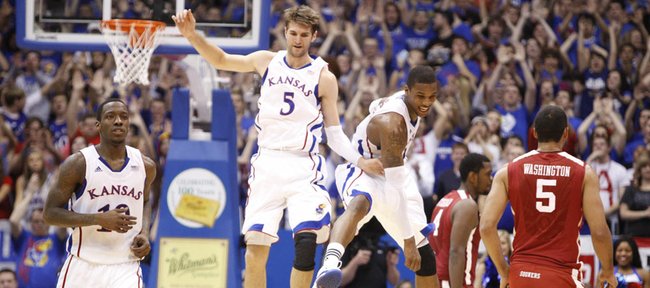 Podcast episode
Kansas coach Bill Self talks to reporters following the Jayhawks' 84-62 victory over Oklahoma on Feb. 1, 2012.
Videos
Bill Self, Lon Kruger, KU and OU players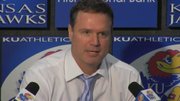 Kansas defeated Oklahoma, 84-62, on Wednesday, Feb. 1, 2012, at Allen Fieldhouse.
KU vs. OU
Kansas University basketball coach Bill Self had a heart-to-heart talk with his slumping big man — Thomas Robinson — prior to Wednesday's 84-62 rout of Oklahoma in Allen Fieldhouse.
"Coach told me that I'm not playing like the player I'm capable of being," Robinson said after exploding for 20 points and 17 rebounds.
He had scored 13 points with just seven boards in Saturday's loss at Iowa State and looked a bit lethargic in three consecutive games.
"He's been stressed all week complaining to me why I'm not being aggressive anymore," Robinson said. "I just wanted to be aggressive from the jump tonight."
The 6-foot-10 junior from Washington, D.C., who opened the scoring by hitting a jumper, went for 12 points and 11 rebounds the second half as the Jayhawks outscored OU, 50-31, and broke open a close 34-31 game.
"Thomas hadn't been himself for the last three games," Self said. "But he was tonight ... so positive and into it. In Ames and against (Texas) A&M; and Texas ... he had so much going on with the anniversary (of his mom's death). He was worried about missing shots. He didn't get an offensive rebound against Iowa State. (If) the best rebounder in the country can't get an offensive rebound, he is not being who he is. He did a better job going after the ball tonight, obviously. He got 17 rebounds."
Robinson went 6-for-6 from the field the second half and finished the game 9-of-12. He had made 17 of his last 37 shots over three games, including five of 11 at Iowa State.
"He looked like Thomas (vs. OU)," Self said, adding, "I was really concerned about the game after how we performed in the shootaround, and we weren't that much better yesterday in practice. It's not as if the guys aren't trying. I just think we've been flat. In the second half, we got energized. When we get out and run, the guys have fun and defend a little bit harder."
Robinson scored six points, while Jeff Withey had seven (of his 15) and Tyshawn Taylor four (of his 21) in a back-breaking 21-6 run to open the second half. It stretched the 34-31 lead to 55-36. It was reminiscent of KU's 29-6 run that erased a one-point halftime deficit in KU's 72-61 win over OU on Jan. 7 in Norman.
"Thomas played great tonight," 7-footer Withey said. "I couldn't get any rebounds. He took all of them."
Withey, who hit seven of seven free throws and has made 27 of his last 29, grabbed two rebounds on a night KU tied the Sooners on the glass, 31-31. KU outrebounded OU, 19-13, the second half.
"We had much better flow the second half compared to the first half," Self said.
Elijah Johnson and Travis Releford took turns guarding OU's Steven Pledger, who had 17 points off 6-of-13 shooting, but just seven the second half off 2-for-7 marksmanship.
"We knew coming into the game they were going to go to him," Releford said. "Coach said we were going to give him different looks. Elijah started it off playing him real well. Then we were just switching on and off."
KU (18-4 overall, 8-1 Big 12) will meet Missouri at 8 p.m. Saturday at Mizzou Arena.
"This will be as hard of an environment that we have played against—for a lot of reasons. There is some pent-up frustration with everybody with the rivalry and them going to a different league," Self said. "This could be the end of a long, long rivalry as far as home-and-home goes. They will want bragging rights in their place. Certainly, we would like nothing more than going over there and spoiling their party. They have a terrific team, and we will have to play the best that we have played, but I think our guys will be fired up to do it."