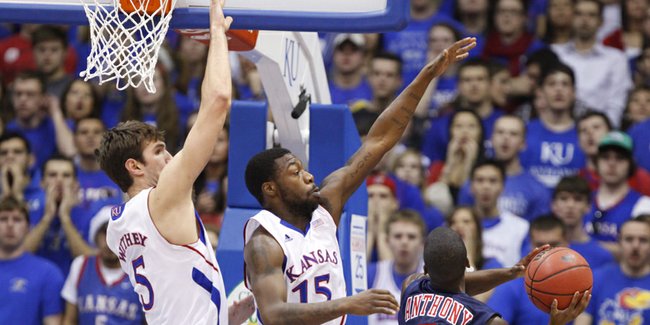 Photo Gallery
KU basketball v. Richmond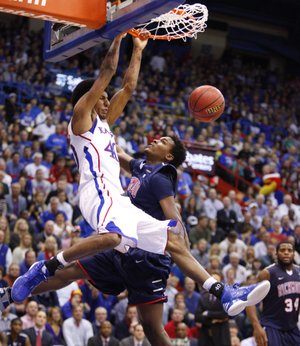 Images from Tuesday night's game against Richmond at Allen Fieldhouse.
Podcast episode
Kansas coach Bill Self talks after the Jayhawks' 87-59 victory over Richmond on Dec. 18, 2012.
Podcast episode
Elijah Johnson, Naadir Tharpe and Jeff Withey talk to reporters following the Jayhawks' 87-59 victory over Richmond on Dec. 18, 2012.
Box score
Scot Pollard, who played 11 years in the NBA, believes another Kansas University center from San Diego will have a similarly successful career in the pros.
"Absolutely," the 6-foot-11 Pollard said Tuesday night, asked if KU senior Jeff Withey has the ability to play in the NBA, starting next season. Pollard, a TV color analyst, was speaking after Tuesday's 87-59 rout of Richmond — a game in Allen Fieldhouse in which Withey blocked four shots and passed Pollard for fifth place on KU's all-time rejection list. The 7-foot Withey also had 17 points off 7-of-9 shooting with a season-high 13 rebounds.
"As we know the last few years, Jayhawks have been getting drafted and not playing a lot because their height has been exposed. Jeff's height cannot be exposed. He's 7-feet tall. He's a legit 'footer,'" Pollard added. "In the NBA, sometimes all you need to be as a 7-footer is a guy who can block shots and rebound. As long as Jeff can keep that mindset he has now, not worry about scoring but blocking shots and rebounding first, then the scoring comes."
Withey had four more highlight-reel blocks versus the Spiders, upping his total to 219, one more than Pollard and just 39 off Greg Ostertag's record total of 258.
Withey's two most spectacular plays, Tuesday, however, were steals. He had two thefts early in the second half and passed ahead to Travis Releford both times for assists on the break.
"Coach said it was going to happen. He told me to run through it (and steal the ball up top). The first time I didn't think they were expecting it at all. They did it again," Withey said. "I like to pride myself on being a pretty good passer. Travis made it easy for me."
It's not often 235-pounders like Withey can shuffle their feet quick enough to get in position for steals that lead to layups.
"Early in Jeff's career, people wanted him to be a different type of player," said Pollard, who joked that he is still "the best San Diegoan in KU history." Both Withey and Pollard are from S.D.
"They wanted him to be a banger and mess people up inside. That's never been Jeff's game. He's always played this way, he just didn't know how to display it. Last year and this year he's finally been able to play Jeff Withey-style basketball. As Jayhawk fans are seeing now, it's a pretty effective way of playing basketball."
KU coach Bill Self was impressed, noting: "There's no question who the best player of the game was ... Withey was terrific, denying elbow passes and leading the break."
Withey scored 11 points off 5-of-7 shooting and had eight boards the first half as KU stormed to a 39-18 lead and never felt threatened the second half.
"They played a weird defense, so a lot of times I got matched up with a guard on the post. That made it a lot easier," Withey said.
The (9-1) Jayhawks held Richmond to 32.8-percent shooting. The Spiders (9-3) hit nine of 32 threes, four of 16 the first half.
"Our scout team did a great job preparing us," Withey said. "We knew they could shoot. We keyed in on that. We knew exactly what they were going to run because our scout team did such a great job."
Ben McLemore scored 14 points, while Releford had 11 and Naadir Tharpe a career-high 11 off 4-of-5 shooting. KU hit 59 percent of its shots, including six of 16 from three.
"We controlled the game pretty well from start to finish tonight," Self said. "Our biggest lead was 37. Our biggest lead against Belmont was 41 and our biggest lead against Colorado was in the 40s (in last three games, all at home and all routs).
"Our defense was good. We didn't turn them over (Richmond had eight turnovers to KU's 12) but we didn't give up any backdoor layups (vs. Princeton-style offense). We were pretty efficient and had a good, balanced effort."
One led by Withey, whose next target is Eric Chenowith, who had 242 blocks at KU. Nick Collison had 243, Cole Aldrich 253 and Ostertag 258.
"It's definitely a goal of mine, eventually get to the top," Withey said. "I'm more happy with the win than my individual stats."
Noted Pollard: "I'm happy for Jeff. There's four guys ahead of him now that will be happy if he passes them as well, all the way up to Greg Ostertag. I wish Jeff success. I think he has a chance at it (block record), and I hope he gets it."
KU will meet Ohio State at 3 p.m., Central time, Saturday, in Columbus, Ohio.