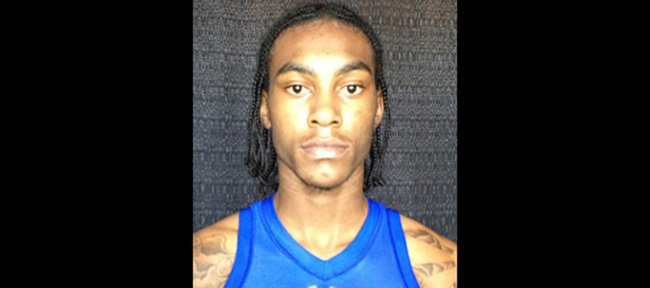 One of the top high school basketball point guards in the Class of 2013 will make an official recruiting visit to Kansas University this weekend.
Anthony "Cat" Barber, a 6-foot-2, 165-pound senior from Hampton (Va.) High School who is ranked No. 9 overall by Rivals.com, will be on campus today through Sunday morning.
He's Virginia's reigning Group AAA player of the year after averaging 21.3 points a game for the Crabbers, who went 27-5 and won the school's first state championship in 15 years.
"He's a McDonald's All-America-type player, a difference-maker," said Shay Wildeboor, analyst for Rivals.com. "He's probably the fastest point guard in the class in terms of getting the ball up and down the court. He's a playmaker and a scorer, a guy the staff identified early. His AAU coach (Boo Williams) has known coach Dooley (Joe, KU assistant) for 30 years and knows everything there is to know about KU's program."
Barber has one of the most colorful nicknames of anybody in the recruiting class.
"When I was little, my sister said I used to run around and climb on stuff," Barber told NBCSports.com, in explaining the moniker. "I guess she said I was like a cat, so they just started calling me that."
Apparently, it had nothing to do with being as quick as a cat.
"That could be too," he told NBCsports.com, "but I just used to move a lot, so she called me that."
Barber has a final list of KU, Alabama, Louisville and North Carolina State.
"Kansas has great tradition, and coach (Bill) Self does a great job," AAU coach Williams told jayhawkslant.com. "Everybody knows that Kansas is a great program, but Anthony wants to make sure he's comfortable and he wants to see how he interacts with the team."
Golf tourney ahead: There's still room for four or five more foursomes in the Family Promise Golf Tournament, set for 1 p.m., Sept. 10, at Alvamar. To register a team or purchase tickets to the Sept. 9 auction party at Maceli's, call Joe Reitz at 785-331-5024. Or one can sign up online at lawrencefamilypromise.org.
Former KU All-America forward Wayne Simien and Cindy Self, wife of KU coach Bill Self, are co-chairs of the two events.
"This is their fourth year. They have been helpful and enthusiastic about Family Promise," Reitz said. "Wayne has provided scholarships to some kids in need to his Called to Greatness camps and 3-on-3 camps," Reitz added. "Cindy is always right in there available to help."
The mission of Family Promise is to "transform the lives of homeless children and their families by providing safe shelter, food, counseling, and training in partnership with local communities of faith through hospitality and daily living support in a compassionate setting. The program is designed to address the needs of families and equip them to move into permanent housing as quickly as possible."