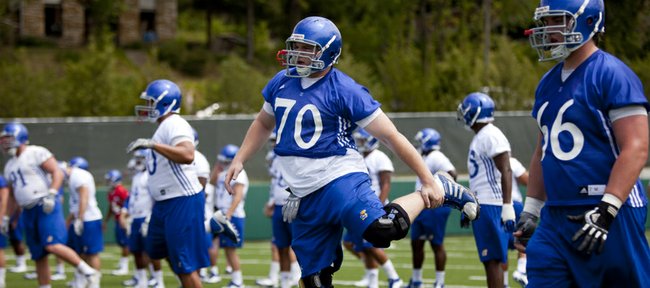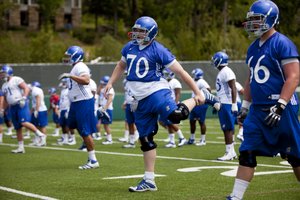 When Kansas University's first depth chart of the 2012 regular season is released today, junior offensive lineman Gavin Howard figures to find his name in two places — starting right guard and reserve right tackle.
Not bad for a guy who entered spring drills with lukewarm confidence from his new coach.
"Well, you have to put somebody as the fifth guy right? He's the fifth," KU boss Charlie Weis said in April, asked what Howard had done to earn the first-string spot on the offensive line. "I think that's kind of open game. That's not a finite thing. But based on what we've seen so far, he would hold a slight edge over the other guys."
Nearly five months later, Howard appears to have widened the gap and emerged as another reliable option on an offensive line loaded with talent and experience.
Although Howard downplayed Weis' comment and said he did not expect to hear anything different, teammates said the 6-foot-4, 300-pound junior from Owasso, Okla., used those words as a reason to improve.
"I definitely think that's driving him," said senior co-captain Tanner Hawkinson, a four-year starter at tackle. "Gavin's a great competitor, and he's probably one of the smartest guys on the team. He's done a great job for us."
Added quarterback Dayne Crist, who has a strong interest in the talent level of the guys protecting: "He knows that his time is now, and his name is being called, and he has stepped up in that regard. Physically, he's turned it on, and he's working really hard to make a name for himself."
Although the extra motivation certainly did not hurt, Howard's step forward came because of his biggest strength — his brain. A double major in math and finance who also will have enough math credits to earn a teaching certificate, Howard is the poster boy for the movement toward the thinking-man's offensive lineman. No longer are big bodies and bulk enough to play in the trenches.
"That's what a lot of people think," Howard said. "But especially with this coach Weis offense, it's so much to learn, and everyone has to be sharp because if you're not sharp there's no way that you can play in this offense."
That's never been a problem for Howard. According to Crist, who knows KU's offense almost as well as the man who designed it, picking up the playbook came easily for Howard.
"In terms of X's and O's, he gets it," Crist said.
Howard also appears to "get it" in many other ways. Never one to take himself too seriously, Howard is comfortable with how his career has played out but admits he would like to see it finish on a higher note than it began.
"When we started the spring and I was a starter, that was probably the first real time where I thought, 'Oh, this could be a chance,'" Howard recalled. "But it's always something you strive for. It's never your goal to go in and be a backup."
Now that he's been given the chance to step to the front of the line, Howard has found that all of the preparation he did as a reserve during his first three seasons in Lawrence have paid off.
"I've been labeled as a second-string guy since my red-shirt freshman year," Howard said. "And going into game-type stuff, you have to focus just as much as a starter. The biggest difference between then and now is just that in practice you get more reps each day."
Heeney on top
Weis said during his weekly "Hawk Talk" radio show Monday night that sophomore linebacker Ben Heeney would enter the season as the Jayhawks' starter at middle linebacker.
Heeney, who made a name for himself on special teams as a true freshman in 2011, began camp as an outside linebacker but slid to the middle when senior transfer Anthony McDonald missed time because of injury. Competing with freshman Schyler Miles and a banged-up McDonald, Heeney emerged as the top option at arguably the defense's most important spot.
"The one thing he's done better than just about everybody in training camp is make plays all over the field," Weis said Monday. "We've been impressed by his physicality, and I think he's gonna play a lot for us."
SDSU QB injured?
According to reports, South Dakota State quarterback Austin Sumner, a sophomore who was a finalist for FCS freshman of the year in 2011, has missed a couple of recent practices and may not be full strength for Saturday's season opener.
Weis acknowledged Monday that he had heard the reports, but added that he was not about to pay them much attention.
"There are rumors out that he's banged up his thumb," Weis said. "So we'll be ready for him. You never know what you're gonna get in the opener … you gotta practice for pretty much everything because you never know what you're gonna get."
Stick around. Please?
A little more than a week after joking about starting a fist fight with any KU students who left football games early, Weis once again made his pitch for the student body to stay until the end of Saturday's game.
"Everyone knows we're going to go sing the alma mater at the end of the game, and it's not the same if they're not there," Weis said. "We're going (to the KU student section) anyway. I really want to see a connection between our players and the student body, and that's a two-way street."