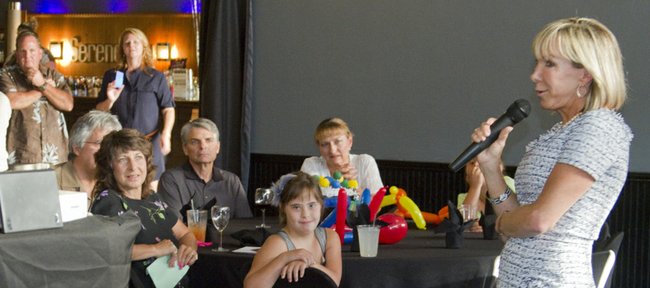 How You Can Get Involved
• Log on to the Hannah & Friends web site to discover all of the ways to contribute to the lives of people with special needs through the Weis family's charity.
From donating money for grants and facilities upgrades to volunteering time or resources to help run the facility, the web site outlines dozens of ways you can make a difference.
• More locally, KU coach Charlie Weis and his coaching staff will host a Rock Chalk Barbecue on Thursday, Aug. 30, with proceeds benefiting Hannah & Friends.
The cost is $150 per ticket and can be purchased online through the web site or by calling (574) 214-7959. The event will take place on The Hill, just outside of Memorial Stadium's South End Zone and begins at 7 p.m.
When Charlie Weis nearly died, hundreds of people got the chance truly to live.
In June of 2002, Kansas University football coach Charlie Weis, then an assistant with the New England Patriots, lay in a hospital bed in great pain and grave danger.
At his bedside was his wife, Maura; a Catholic priest walked into the room.
"She was watching me almost die," Weis recalled of Maura and the time when complications from gastric-bypass surgery nearly killed him. "She saw me getting last rites. The doctor came out and said I was done."
At the time, Weis was just months removed from his first Super Bowl title with the Patriots and widely considered one of the top assistants in football.
There was a time such standing would have been all that mattered to the man who called himself the ultimate one-upper.
"I think I rode across the Delaware (River) before George Washington," he said. "I was that guy."
But after his health scare, which included a two-week coma, a moment of clarity changed everything.
"That next spring, my wife said to me, 'You know, you could've died, and we never would've done any good for anyone other than ourselves," Weis remembered.
Maura's words hit Weis like a raging linebacker.
Sure, the Weises had done right by their daughter, Hannah, who as an infant struggled with developmental delays and at age 12 was diagnosed with Electrical Status Epilepticus of slow wave sleep, a rare epilepsy syndrome that affects cognitive function.
But giving Hannah the best care was a no-brainer. Helping others, Maura believed, would reveal her family's true character.
"We always dreamed about when he became a head coach and how we would do something really good for people," Maura said. "God gives you blessings, and you have to give back."
After some reflection, Weis and his wife decided to act. In the summer of 2003, Hannah & Friends, a not-for-profit charity dedicated to improving the quality of life for people like Hannah, opened.
"It was kind of a slap in the face," Weis said of his wife's words. "But a lot of good came out of that conversation. Credit Maura for saying it to me. The only credit I get is for actually listening to her."
Helping hands
While Weis' brush with death inspired him and his family to start Hannah & Friends, the life he lived from then on moved dozens of friends and former Notre Dame and New England players to help.
"(Quarterbacks) Jimmy Clausen, Brady Quinn … guys like that who have come there and helped out, you can tell how much it means to them," Charlie Weis Jr. said. "It shows that they care — not just about football, but about you and your family."
While she forever will be grateful for the support of their friends and former players, Maura said Charlie made Hannah & Friends soar.
"Those players love my husband, and they come back for Charlie," she said. "He is the charity."
And then there's Charlie Weis Jr., Hannah's 19-year-old big brother who hopes to follow in his father's footsteps on the field and also has chosen to follow his father in philanthropy. He keeps a journal on the Hannah & Friends website and spends hours at the facility in South Bend, Ind., doing the same things he does with his friends away from it. There are two sports-crazed residents with whom Charlie Jr. likes to play basketball, and he also DJs the dances, helps organize karaoke and Bingo nights and offers an ear to listen or a hand to hold for the people there who crave little more than human interaction.
The bond between Hannah and Charlie Jr. is special, and Maura said the family never treated Hannah with the delicacy of a porcelain doll.
"It's still just like any other brother-sister relationship," Charlie Jr. said. "We get mad at each other. We split hairs for occupying the basement. She frustrates me. I'm sure I frustrate her, too. But I love her, and I do think she loves me a lot."
Maura remembers her son understanding the challenges Hannah faced as early as age 4.
"He's kind of been on this whole journey with us," she said.
Charlie Jr. remembers, too.
"I just remember thinking I would switch places with Hannah at any second to give her a normal life," he said.
For Charlie Jr., Hannah is his normal, and he prefers to use the phrase "different abilities" instead of "special needs" when he talks about her.
It's not that the latter is offensive, he said, just that the former paints a more accurate picture.
"I've learned more about life from Hannah than I have from anyone else in the entire world," he said. "And most kids like Hannah have that same ability."
Hannah, the muse
The inspiration behind all of this will turn 18 next April and the following summer will move to the Hannah & Friends property for good.
For now, Maura still does the day-to-day stuff to take care of Hannah, and there are times, she said, when it's as if Hannah understands exactly what's happening.
"She'll look in my face and say, 'Thank you,'" Maura said.
Every moment of gratitude is moving for Maura because it gives her the comfort of knowing her daughter is with her.
"To me, that's like, 'Wow,'" Maura said. "Because she doesn't say it every time, so, when she does, it's almost like a spiritual experience. She gets it."
Much like any parent preparing for a child to leave home, Maura already is emotional about the time when her "best friend" will move on to the next phase of her life.
"I'm cherishing every day," Maura said. "It's gonna be hard, but I think she'll be happy. She just has me now, and it's boring for her if she's not doing something. But there, she'll have a life."
That life will include everything from movie night and dancing to yoga and cooking classes.
Those already there, such as 27-year-old Tiffani Amberg, say it's like being at Disneyland every day.
"My favorite part of being here is getting to know everyone and learning how to do all the things we love to do here together," said Tiffani, who has Down syndrome and does a mean version of Tina Turner's "Proud Mary" on karaoke nights. "I think of it as my home."
Special and serene
That was the goal from the beginning, to create a neighborhood where people of different abilities can live in joy. Those who have seen the place say the Weis family surpassed their hopes.
"It's got that serene-type feeling, like this little village almost," said Peter Schivarelli, a former Notre Dame defensive lineman and current manager for the band Chicago.
Schivarelli's involvement with Hannah & Friends began about eight years ago. Originally moved to act by a rare illness that struck three grandchildren of his college coach, Ara Parseghian, Schivarelli and Chicago cranked it up a notch when they met Weis.
For years, 50 cents from every concert ticket Chicago sold went to Parseghian's foundation. That's up to a dollar now, with half going to Parseghian and half going to Hannah & Friends. Considering the band is in its 45th year touring, that's not exactly chump change.
But Schivarelli has done more. There's a house on the Hannah & Friends grounds that proudly displays his and the band's name, and every year he sends steaks and holiday gifts to those who live in the home he helped create.
"Once they go and meet these people that live there, it becomes real for them," Maura said. "They see the need and they see that the money is going directly to the people who need it."
That's exactly what inspired Schivarelli, and he makes it a point to visit the 30-acre farm every time he's back in town for a Fighting Irish football game.
"After being in front of 20,000 screaming people, it's nice to go to a place like that," he said. "I know a lot of deep thought went into it, and I think it accurately portrays what they wanted to create and who they are as people. It's just a really special setting."
What's next?
With Hannah as happy and lively as ever and the charity flourishing, the Weis family remains dedicated to expanding its goodwill.
Each year, the Weises host a charity golf tournament, and next June the tournament will move to Firekeeper Golf Course, north of Topeka.
Hannah & Friends also sponsors a grant program, which provides money to special-needs families and in the near future will begin day programs, which will offer non-residents a place to gain and develop life skills year-round.
"Like a school," Maura said. "But more fun."
The family's compassion is not limited to Hannah or the organization. When the program was just getting started, back in 2003, the Weises received invaluable assistance from former NFL quarterback Doug Flutie, whose Doug Flutie Jr. Foundation has done wonders for children with autism. They also promote and team with New England quarterback Tom Brady, who does regular work with the Big Buddies program back east; Anaheim Angels slugger Albert Pujols' Down syndrome foundation; and former NFL quarterback Kurt Warner, who, Maura said, is looking into opening a place similar to Hannah & Friends.
Just mentioning such a possibility brings Maura springing out of her chair, a clear indicator that, for her and her family, this endeavor is all about the people whose lives it touches.
"It's pretty much exactly what we wanted," Maura said of Hannah & Friends. "Just a place where people with different abilities can live and hang out in peace, and their families can come, and they don't have to worry about people staring at them or being mean to them."
Added Schivarelli: "I'm sure if Charlie and Maura could make it big enough where they could house every special-needs person in the world, they'd do it in a second. But for the ones who are getting the care, you feel real good for them. They've really tried to give them as much of a regular life as anyone could."