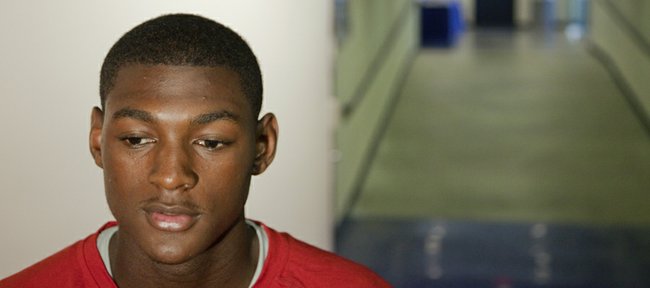 Milton Doyle will not be attending Kansas University on basketball scholarship after all, Doyle's mom, Lisa Green, told the Journal-World on Sunday night.
Doyle, who averaged 19 points, seven rebounds, five assists and five steals a game his senior year at Chicago's Marshall High School, attended summer school classes at KU after signing a financial-aid agreement. He made the trip to Europe as a member of the Jayhawk team.
"It's nothing bad about the school or the coaches or anything. Sometimes things happen for a reason," Green said Sunday from her home in Chicago. She said the decision was reached Sunday, the day before the start of KU's first semester.
She had no further comment on the matter.
KU coach Bill Self said he had no comment as of Sunday night, indicating he'd probably have something to report today.
Doyle averaged 2.3 points a game with five turnovers against no assists in four games on KU's recent European tour.
Doyle originally had committed to play for Florida International, but reopened his recruiting last spring when FIU coach Isiah Thomas was fired. Doyle was cleared academically through the NCAA Clearinghouse in late July, making possible his attending KU on scholarship.
Doyle's mom said she did not know what school her son would attend. She also told chicagohoops.com Sunday that her son would not be attending KU and would be looking for a school.