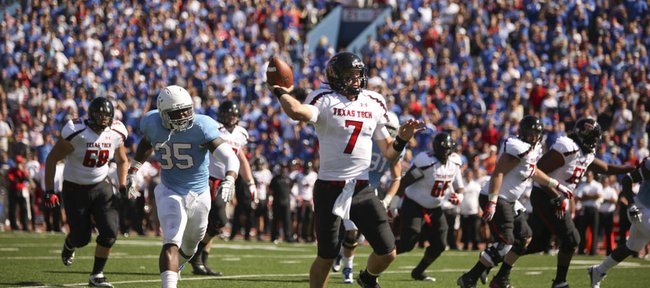 Texas Tech Red Raiders at a glance
Coach: Tommy Tuberville
Coach Year at school: 3rd
2011 record: 5-7, 2-6 Big 12
Last year vs. KU: The Red Raiders rallied from a 20-0 first-half deficit to take a 45-34 victory over the Jayhawks on Oct. 1, 2011, in Lawrence.
Returning starters: 20
Impact newcomers: Will Smith, 6-2, 220, LB; Michael Starts, 6-4, 282, DL.
Key games: Oct. 6 vs. Oklahoma; Nov. 3 vs. Texas; Nov. 24 vs. Baylor.
Vs. Kansas: Nov. 10 in Lubbock, Texas.
Note: This story is a part of the 2012 KU football preview section that appears in Sunday's Journal-World.
Texas Tech was so desperate on defense last year that coach Tommy Tuberville moved receiver Cornelius Douglas to cornerback in the middle of the season ... then ended up starting him there.
The TTU coach knows that's not the best way to stop Big 12 offenses.
"The big thing I'm excited about is we get a little closer defensively," Tuberville said. "We haven't had enough depth to compete in this league with all the high‑powered offenses we've seen over the last couple of years.
"You need around 30 players that can go day in, day out and play in this league, and we've been about half that. But we've pretty much doubled our talent on that side of the ball."
Tech's biggest problem in 2011 was stopping the run, allowing an NCAA-worst 259 rushing yards per game.
"People ran the football right at us," Tuberville said. "And we were a non‑factor with our front four."
Tuberville hired a new defensive coordinator in Art Kaufman, and he will be the Red Raiders' fourth defensive coordinator in the last four years. He'll also switch the defense from a 4-2-5 to a 4-3 base.
Tech returns 10 defensive starters but doesn't have an abundance of star power returning.
"For us to go to another level is not going to be on offense. It's going to be on defense," Tuberville said.
Much like the Texas Tech teams of the early 2000s under former coach Mike Leach, Tuberville's Red Raiders have thrived in the passing game.
That starts with senior quarterback Seth Doege, who threw for 4,004 yards and 28 touchdowns with just 10 interceptions a year ago.
Not only that, TTU has plenty of talent at wideout. Junior Eric Ward returns after posting 84 catches for 800 yards with 11 touchdowns, while senior Alex Torres compiled 51 catches and 616 yards before a knee injury ended his 2011 season.
Tuberville also is excited about his wideout depth, which includes 6-foot-5 receiver/tight end Jace Amaro.
TTU has an interesting situation at running back, as both of its leading rushers return after tearing ACLs last year.
Eric Stephens, if healthy, will be the starter, as he led the Big 12 in rushing before blowing out his knee midway through the season. DeAndre Washington added 366 rushing yards before suffering his own injury.
In his third season, Tuberville is already starting to feel pressure. Tech's 5-7 record last year was the team's first losing season since 1992.
"Just being here a couple of years, everybody said, 'You're on the hot seat,'" Tuberville said. "I'd like to coach a few of these guys I recruited. So hopefully we can get this thing going a little bit better each year."