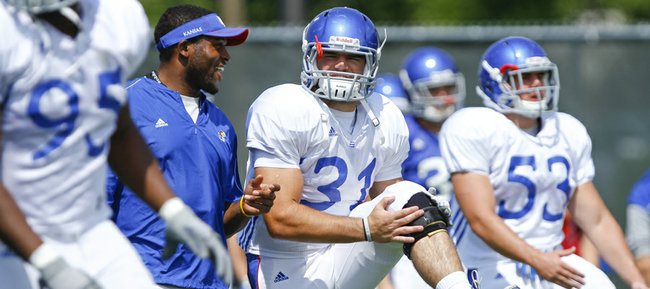 Kansas University linebacker Ben Heeney knows one way — and one way only — to play football, and, so far this fall, his style has led to good things and high praise for the sophomore from Hutchinson.
"That dude is fast and reckless," senior defensive end Josh Williams said. "He comes straight downhill. Being on the D-line and having a guy like that behind me, I like that a lot."
So do the KU coaches, who have seen enough from Heeney since December to give him regular work as the first-team middle linebacker during fall camp. Heeney is not the only one who has worked at Mike linebacker. Fifth-year senior Anthony McDonald and true freshman Schyler Miles also are making their case for first-team reps, but an injury to McDonald and the learning curve for Miles have led to more chances for Heeney. But the 6-foot, 225-pound ball of fury does not worry about the players around him. He never has. From the time he was a third-grader playing up with the fourth- and fifth-grade team back home to the time he became one of just 10 true freshmen to play at KU in 2011, Heeney has used emotion, energy and a no-fear attitude to stand out.
"I was never afraid to hit anybody," he said. "Even when I was just a little third-grader out there, I always kind of held my own. I definitely rang a couple bells and I don't remember getting mine rung. I think it's just an instinctual thing."
This season, Heeney has added a dose of IQ to his physical nature, and that, according to linebackers coach DeMontie Cross, has propelled him to improve.
"The kid just stays ready, and he has a really, really good motor," Cross said. "That allows him to run around and make plays and show up on tape a lot. You can't deny what the kid's doing on the practice field."
Head coach Charlie Weis has noticed, too, and, Monday, Weis made sure everyone knew it.
"He's had a really nice camp," Weis said. "Ben's put himself in position to play a lot."
That has been Heeney's goal from Day 1. And while playing in all 12 games a season ago was a good start, most of Heeney's action came on special teams, where he was arguably KU's top performer in 2011. Heeney said he loved playing special teams and still does. The all-or-nothing nature of kick coverage and return units suits his style and matches his mentality. But Heeney said he gladly would abide by the new team rule that says starters can play on just two special teams units.
"Right now, I'm just trying to focus on what I'm supposed to do on the field, and if I'm there starting at middle linebacker on Sept. 1, that's great," he said. "If they think someone else can do a better job, if that's the case then that's the case. I just want to do whatever's best for the team and, I personally think me being out there is best for the team."
Perhaps the most impressive thing about Heeney — other than his extreme confidence, of course — is the fact that this whole linebacker thing is relatively new. In high school, he was a record-setting running back on offense and a hard-hitting safety on defense. There are elements of both that translate well to his new position, Heeney said, but the mental component is completely different. That's part of the reason he works so hard. And other than the blur on the screen during film sessions, that's one of the main things his coaches have noticed.
"I feel like he has just been mentally into it," Cross said. "He's been prepared, he asks good questions and he plays the game like he really enjoys it."
The first time Heeney met Cross, he stood in his office and told him he wanted to start for him. That conversation has driven him every day since, but it is not the only thing that's important to Heeney. He also wants his team to succeed, and that's why he also has become obsessed with the linebacker corps' quest to create more turnovers in 2012. Throughout the offseason, the linebackers have kept track of the turnovers they've forced. During spring ball, they forced none. Through the same number of practices in fall camp, the number is up to nine.
"It all starts with the D-line getting some pressure up there," Heeney said. "All those new guys coming in and the old guys stepping up, that's really helped us out."
The rest of the credit belongs to the relentless effort and contagious work ethic of all of KU's linebackers.
"Even if I get something wrong, I'm always just trying to go hard and fix my mistakes later on," Heeney said. "If I don't know what I'm doing, I'll go hard to the ball and at least try to do something. ... The recognition's cool and everything, but, whether I get recognized or not, I'm still gonna go hard."
KU gets OL commitment
The second best offensive lineman in Kentucky is coming to Kansas.
Tuesday night, JayhawkSlant.com reported that Joey Bloomfield, a 6-foot-6, 305-pound tackle from Ballard High, in Louisville, had orally committed to the Jayhawks. The three-star prospect who is rated by Rivals.com as the seventh best player in the Bluegrass state, said his relationship with KU offensive line coach Tim Grunhard was key but added that he loved everything the school had to offer.
"I was impressed with the whole aspect, from the people to the facilities and everything in between," Bloomfield told Jon Kirby. "One thing that stood out is the type of kid they are recruiting and the direction of the program."
Bloomfield chose KU over Colorado, Houston, San Diego State and Wyoming. He becomes the seventh player in the Class of 2013 to commit to Kansas.