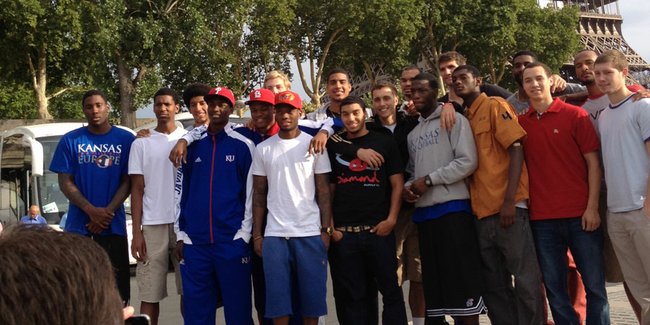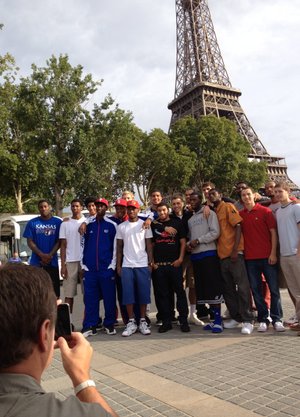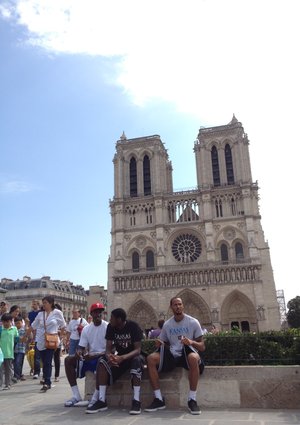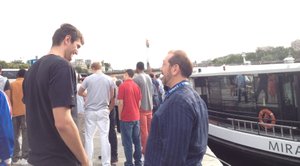 Paris — Kansas University coach Bill Self said he had one main takeaway from his team's four-game European tour: That his team — at least right now — isn't very good.
"Sometimes, you get a false sense of who you are by playing against each other," Self said. "Playing against other people put a totally different spin on it that shows us there's a lot of work to be done."
That doesn't mean the 10th-year coach thinks his team won't improve between now and November.
"Don't get me wrong. We're going to be good," Self said. "But there's a lot of preparation, a lot of work that has to go into us being good. The old guys have got to teach the young guys, and the young guys have got to grow up."
The Jayhawks spent their final full day in Paris on Monday, walking through the Louvre Museum before taking part in a dinner cruise on the Seine River.
KU is scheduled to leave Paris early this morning before arriving back in Lawrence late in the afternoon.
Self said one focus going forward would be to work on the basics.
"We've got to improve our skill level — dribbling and passing. Very evident that it's not very high with our newcomers," Self said. " ... To me, I think we need to get back to work, get back to being who we are, and that's got to be a very tough-minded, physical, aggressive basketball team, which right now, we're not.
"But I didn't anticipate us being that way. We've only practiced 10 times. I can't be mad at them for what they don't know."
The Jayhawks averaged 24 turnovers in the four games, and in three of the contests, they gave it away 26 times or more.
"We just need to calm down," KU freshman forward Landen Lucas said. "I feel like we're rushing everything, especially me. I'm rushing every time I catch the ball down near the hoop."
Lucas has talked with fellow freshman Zach Peters, who also admitted that he was trying to put up shots too quickly.
"It might just be a mental thing," Lucas said. "Whatever it is, it's something I'm going to get in the gym and work on. It's something that's never really happened to me, so I'm trying to adjust."
KU freshman Andrew White believed before the trip that he'd have a list of things to work on once it was over.
That ended up being the case.
"It was a big eye-opener, just playing against men, getting used to the speed and adjustment," White said. "Even though the court and ball were different, (we're) getting used to making adjustments — just learning how to play basketball at such a high level. This is a great experience for me."
White, who led KU with an 11-point scoring average in the four games, said the exhibition games confirmed that he needs improvement on his offensive footwork and also his ability to create his own shot.
Defensively, the guard wants to develop quicker feet to be able to slide while keeping his hands out wide — a skill that would allow him to better use his length and long wingspan.
"We've just got to stick together and feed off what coach tells us," White said. "He knows how to make this team we have right now great, because he's done it every year."
Lucas said he wasn't discouraged by his team's losses; both came to AMW Team France, a squad made up of professional players in the country.
"We have a good team with a lot of potential, but potential needs a lot of work on it," Lucas said. "I think it was good for us, because if we didn't learn this until later on — more towards the season when we're a couple games from playing Michigan State or something — then we're in a lot more trouble than we are in now.
"But I know coach is going to work us hard. That's why we came here. We don't take losing very lightly."
As far as sightseeing goes, Self called the trip "unbelievable."
The coach even pulled out his iPhone to shoot pictures of his team in front of the Eifflel Tower before Monday's cruise in Paris.
"This is a great place to be. Switzerland was great," Self said. "We didn't practice over here, so there's no way we could look good. But still yet, we're at Kansas, a place that never loses back-to-back games, so that shouldn't happen either.
"We'll take some good things from it."