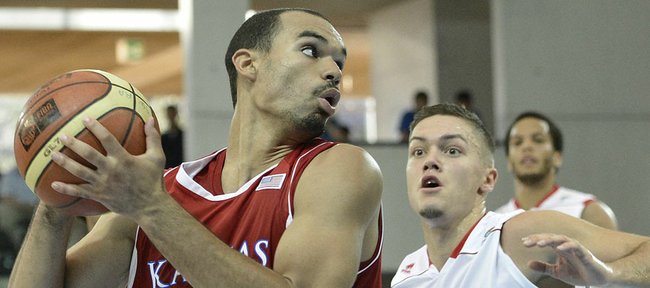 Fribourg, Switzerland — Early in the fourth quarter, Jeff Withey playfully razzed teammate Kevin Young about his passing skills.
He probably won't do it again after Young's performance in the final minute Tuesday.
With 25 seconds left and Kansas leading by two, Young rebounded Naadir Tharpe's miss and dished to Withey in one motion, providing a clutch play in the Jayhawks' 79-76 exhibition victory over the Swiss national team at Fribourg Arena.
"Jeff, when he's down there, you've got to get him the ball," Young said. "He's like a big billboard down there.
"I saw Naadir and I saw him, and I told Naadir in the locker room, 'I would have passed it to you, but Jeff's a little bit bigger, so I had to pass it to Jeff.'"
Earlier in the fourth quarter, following a well-placed lob pass to Zach Peters, Withey returned to the bench and jokingly told Young that it was a pass that he couldn't make.
"He one-upped me on that one," Withey said. "Definitely a great pass, and that saved the game for us."
After Tharpe's baseline jumper missed, Young leapt high under the basket for the offensive rebound before firing it to Withey in front of the rim.
"Right when I caught the ball, I knew he was open, because his man slid over to take Naadir," Young said. "My man tried to box me out or come to me when I got the ball, so he was wide open."
The basket pushed KU's lead to 77-73, and the Jayhawks held on through a crazy final few moments.
Following a Swiss three that cut the lead to 79-76 with 1.6 seconds left, Tharpe caught the inbounds pass, holding it with outstretched hands to let the time run out.
The clock didn't start, though (in Switzerland, of all places), and after a defender bumped Tharpe with his lower body, the KU sophomore guard lost his balance and fell out of bounds.
Officials gave the ball back to Switzerland, but Dusan Mladjan's three-pointer from the corner bounced off the rim to end the game.
KU won despite some sloppy play.
The Jayhawks didn't score in the game's first 6 1/2 minutes; Withey finally ended the drought with an 18-foot jumper that cut the deficit to 3-2.
KU had eight turnovers before its first basket and finished the game with 28 giveaways.
"I think we were nervous," KU coach Bill Self said. "(Freshman) Ben (McLemore) and those guys, this is the first game that they've played. I haven't seen these guys play like this from a nervous standpoint yet."
Withey also sensed jitters.
"All the freshmen, they're not used to this kind of stuff — having coach, you know, coaching them finally," Withey said. "They're probably pretty shocked. I think they're going to get more comfortable as we keep on going out on this trip."
Withey led KU with 12 points and 10 rebounds, while Elijah Johnson and Travis Releford both added 11 points.
KU freshman Andrew White contributed 10 points, while Young posted nine points and eight rebounds in 13 minutes.
The Jayhawks won at the end of a difficult travel day. The Jayhawks arrived in Frankfurt, Germany, at around 5:30 a.m. following a 7 1/2 hour flight from Washington, D.C. The team arrived in Zurich at around 10 a.m. local time before departing on a shortened sightseeing trip to Mount Pilatus in Lucerne at noon.
Following another two-hour drive, KU reached Fribourg at 5:30 p.m. to warm up.
The Jayhawks' best stretch came during the first 15 minutes of the second half, as they turned a 30-all tie into a 71-54 lead with 5:42 left in the fourth quarter.
Switzerland scored 19 of the next 23 points before Young's assist silenced his one critic.
"Jeff's got some good passes. I think we're neck-and-neck right now," Young said with a smile. "We've both got one good pass in so far."
KU and the Swiss national team will rematch today at 10 a.m. U.S. Central time. On Saturday and Sunday, the Jayhawks will play in France against a squad of French A and B League professionals. Both contests will be at 1 p.m. (Central time).
None of the games will be broadcast on radio or TV, though updates will be available at KUSports.com and on Twitter at @KUSports.