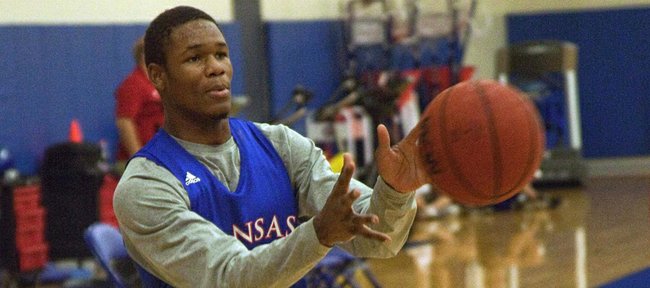 Ben McLemore, who hit two three-pointers and an inside shot in the first 10 minutes of Saturday's Kansas University basketball intrasquad scrimmage, was on pace for quite an offensive performance in the Jayhawks' practice facility next to Allen Fieldhouse.
However, the smooth-shooting, 6-foot-5, 185-pound red-shirt freshman from St. Louis had his day cut short after suffering a left hip-flexor injury while playing defense at the conclusion of the first of four 10-minute sessions.
"Ben is good offensively," KU coach Bill Self said of McLemore, who practiced second semester of the 2011-12 season, but did not play in games after being deemed a partial academic qualifier. "He can do a lot of things. Right now he is more a shooter and just an athlete more than knowing how to plug himself in and use his athletic ability. He's going to be a nice player," Self added.
The good news is McLemore's injury is minor and he should be fine for Tuesday's noon European tour exhibition opener against the Swiss National Team in Fribourg, Switzerland.
He's full of energy and raring to go after not playing in a game in so long.
"I think it's awesome. I can't wait. I'm so excited, it hasn't hit me yet," McLemore said. "Once I get over there, I'm going to be like, 'Man, it's finally here. I finally get to play for Kansas.'"
Perhaps it's just coincidence, maybe not, but McLemore's Blue Team — which featured Elijah Johnson, Jeff Withey, Perry Ellis and Travis Releford — fared a lot better with McLemore in the lineup Saturday than when he was off to the side riding an exercise bike.
The Blue team outscored the Naadir Tharpe, Andrew White, Jamari Traylor and Kevin Young-led Red Team, 30-15, the first quarter. The Reds outscored the Blues, 25-11, the second quarter before the lineups were mixed and matched for the third and fourth stanzas.
"I was getting going until I got the injury," McLemore said. "I was playing defense, sliding, and I pulled it a little bit. I'll sit out a couple days and rest it up and be ready to go Tuesday."
Of his outside shot, McLemore said: "It has been looking good. I've been working on my ballhandling and my shooting. Hopefully I'll be hitting a lot of big shots overseas."
Self, who has been impressed with McLemore's work in the 10 practices that were allotted to the Jayhawks by the NCAA, said McLemore could be the best defensive player the Jayhawks have ever had and is one of the most athletic players KU has had.
"I definitely like it," McLemore said of his coach's praise. "It is a motivator. I don't think it changes anything. I'm going to play my game and do whatever coach wants me to do."
Aside from McLemore ... everybody's healthy heading into today's travel day to Switzerland. Senior guard Elijah Johnson, who had arthroscopic knee surgery in April, had several pinpoint passes for easy baskets and unofficially had 10 points (including one made three) in Saturday's four-quarter scrimmage that included the international 24-second clock.
"I feel great. My knee is getting stronger. I just need to get in better shape," Johnson said.
Johnson, who is KU's vocal leader on the court, said the 10 practices have been beneficial.
"Right now, the coaches are instilling things in their (eight scholarship freshmen) heads that they usually don't learn until October. It gives them a head start," Johnson said. "It gives them a chance to warm up. I think they need that extra time to be able to settle down and study."
As far as the intensity at the practices ... "Coach is nice right now. He is not pressuring us. He is letting us have fun right now," Johnson said. "He wants us to enjoy it, let people realize they are at Kansas. He's letting people breathe. When it's time to knuckle down, it'll definitely get more intense."
Senior center Withey was dominant with 16 points and several blocks. KU sophomore backup point guard Naadir Tharpe had 11 points and had limited turnovers.
"Today you saw him on his best day," said Self, who let the media watch the final pre-European workout. "Naadir has been hot and cold to say the least. He's had problems passing the ball all over the place. Today he scrimmaged pretty well. He's fast. He can make a shot. It'd be nice if he could settle in as backup point guard. I don't know yet because he hasn't been very consistent so far."
Freshman guard Milt Doyle had 14 points, showing a nice touch from the outside on several jumpers and like most freshmen, missing badly on others. Frosh guard Rio Adams hit a three and had six points. Perry Ellis looked comfortable inside in cashing five buckets.
Self said he doesn't really care much about the upcoming games in Europe with the plan to play everybody between 18 and 20 minutes a game.
"What we've gotten out of it, we've already gotten out of it and that's practice," Self said. "Guys do work hard for the most part. We've done a lot of offensive breakdown stuff, a lot in 10 practices. I want to give us the best chance to win games in early November. We've got some big ones in early November — with eight freshmen I think this gives us a better chance."
Notes: KU coach Self said Saturday that frosh Rio Adams, 6-3 from Seattle's Rainier Beach High, has qualified academically, thus will make the trip. He said he received word from the NCAA Clearinghouse regarding Adams on Wednesday or Thursday. In July it was reported that frosh Milt Doyle, 6-4 from Chicago Marshall High, had qualified. Both had some concerns about their academic eligibility heading into the final days of the 2011-12 academic year. Self said all of KU's incoming players are eligible ... The Jayhawks will travel all day today, flying commercially, and arrive in Zurich sometime Monday morning.