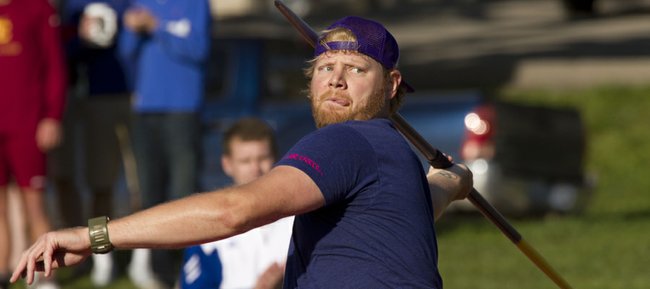 Former Kansas University All-American Scott Russell — who has decided to retire from track and field this summer after what he hopes will be his second appearance in the Olympic Games — opted for nostalgia Friday at his final Kansas Relays.
He wore his old pink KU shorts.
"The last time was 1999 at the NCAAs," said the 33-year-old Russell, who won his ninth Relays javelin title with a heave of 264 feet, 5 inches. KU sophomore Johann Swanepoel was second in 244-5.
"I figured if I was going to end it at the Kansas Relays, I might as well do it in the pink and blues," he added.
KU track switched from pink and blue to crimson and blue in 2000 and has worn those colors since.
"I still can't believe they haven't made them," he said of adidas. "With Baylor wearing neon green now, maybe they'll see a picture and think of the history and culture behind the pink and blues. There's a lot of guys that would love to see it. Maybe some of the throwers will throw in a good word. I know a lot of the alumni think it's kind of cool with the history of them — Al Oerter, Wes Santee, Jim Ryun — the names that have worn it. It's something I'm pretty proud of where I'm at. I'm proud of wearing pink shorts."
Russell, who was born and raised in Windsor, Ontario, and placed 10th in the 2008 Olympics for his native Canada, currently teaches at Basehor-Linwood Middle School. He wore B-L's colors in the form of a purple and white hat Friday.
Turns out it was a 'violet' hat in honor of his young daughter, Violet. He wore a black Canadian national team T-shirt as well.
"There's no pressure, none," Russell said of qualifying for the 2012 Olympics. He threw an Olympic B standard distance Friday, thus needs just one more B toss in coming months to qualify for the Games.
"I wish I had time to be here when the KU throwers are throwing, an opportunity to give insight to the younger generation of kids, let them experience what this is supposed to be about.
"It's all about the pressure, pressure, pressure. They don't realize at some point you have to love what you are doing and enjoy it for what it is. I got caught up in that when I was a young professional: 'I'm a professional; it's about money. It's about this and that.' I never embraced doing the sport because I loved the sport. When I realized that it didn't matter anymore, that I'm doing it because I love it, it's when I had my best performances the last couple years.
"Hopefully things will continue. I'm 33. I've beaten myself up a lot of years training (18 years). I've got a team of people that I'm thankful to work with," he added of coaches, chiropractors, doctors, massage therapists as well as a wife who understands the demands of track and field. "It's amazing what you can do when you have so much support."
KU winners on Friday: pole vault: Alex Bishop, 17-23⁄4; javelin: Heather Bergmann, 162-2; high jump: Allison Mayfield, 5-103⁄4; shot put: Mason Finley, 65-31⁄4, best mark in NCAA this year; 400 relay: Greg Bussing, James Wilson, Zach Zarda, Reid Buchanan, 17:36.78; distance medley relays: Don Wasinger, Dalen Fink, Brendan Soucie, Josh Munsch, 10:18.21; Corinne Christensen, Shayla Wilson, Maddy Rich, Rebeka Stowe, 12:06.83.
Record: Missouri freshman Kearsten Peoples won the shot put in a Relays-record 57-03⁄4.
Marquee events today in Memorial Stadium: Olympic bronze medalist Bershawn "Batman" Jackson will run the invitational 400 hurdles against Olympic silver and bronze medalist Danny McFarlane at 3:25 p.m. ... Olympic gold medalist Nick Hysong leads a strong pole vault field that includes former KU vaulter Jordan Scott at 2 p.m.... Olympian Muna Lee runs the 100 at 2 p.m. ... Ivory Williams tries for his third straight Relays title in the 100 at 2:30 p.m. ... KU's Diamond Dixon faces Olympians Dee Dee Trotter and Nikesha Anderson in the 400 at 2:50 p.m.