Although he orally committed to Kansas University weeks ago, former Notre Dame tight end Mike Ragone's place at KU was not official until Tuesday, when he signed a financial aid agreement with the Jayhawks.
Ragone, a 6-foot-4, 262-pound tight end, joins the Jayhawks after being granted a sixth-year of eligibility from the NCAA in mid-March.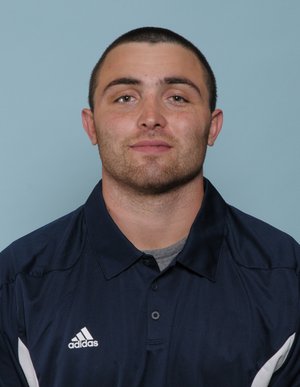 The Cherry Hill, N.J., native missed the entire 2008 season with a knee injury and was lost for the 2011 season after suffering another knee injury during the third game of the year. He graduated from Notre Dame in May 2011 with a degree in sociology.
Ragone, known more as a blocking tight end, played in 37 games during his five seasons at Notre Dame, recording 11 catches for 109 yards. He played in 11 games for the Irish as a true freshman in 2007, hauling in one reception for seven yards versus Navy. Ragone also had six tackles on special teams as a freshman.
Out of high school, Ragone was rated the No. 3 tight end in the country, third-best player in New Jersey and 83rd-best prospect in the nation by Rivals.com following his senior season at Camden Catholic High School. He was named the No. 2 tight end in the nation and 33rd-best prospect by CSTV/Tom Lemming and was rated the 55th-best prospect in the nation and No. 2 tight end in his class on the ESPN 150 list.
He joins former Notre Dame quarterback Dayne Crist and former Notre Dame linebacker Anthony McDonald in reuniting with Weis at KU. All three players will be eligible to play immediately.
"I'm pretty excited right now," Ragone told the South Bend (Ind.) Tribune in March. "It's going to be great playing with Dayne again. He's a great guy and a great quarterback. I asked for one more chance, and I got it."
The addition of Ragone brings KU's list of Class of 2012 recruits to 26 players. The Jayhawks have added six players as Div. I transfers, nine junior college transfers and 11 high school athletes.