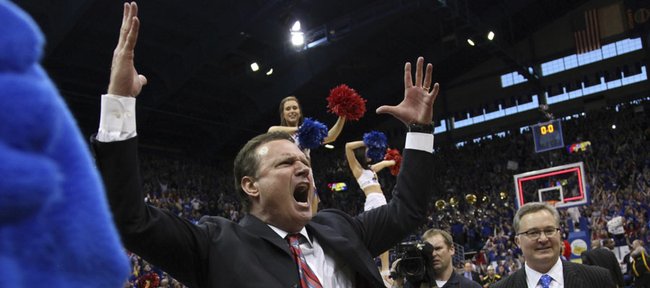 Kansas coach Bill Self was named the 2012 Naismith men's basketball coach of the year, the Atlanta Tipoff Club announced Sunday.
Self edged out finalists Jim Boeheim (Syracuse), John Calipari (Kentucky) and Frank Haith (Missouri).
"This is a terrific honor. When you think of postseason awards, anything that has (James) Nasmith's name in front of it is a huge award and certainly I'm very proud of this," Self said. "It is a reflection of how our team performed all year long. There are so many good coaches out there to choose from, but I am honored they picked me."
KU is the only university to have three different Naismith coach of the year winners; Larry Brown won in 1988 and Roy Williams won in 1997.
Self was picked by the Atlanta Tipoff Club's voting academy, comprised of leading basketball journalists, coaches and administrators from around the country. The academy based its criteria on coaching performances this season.
"Bill has done a remarkable coaching job this season and deserves all the accolades that come his way," said Eric Oberman, executive director of the Atlanta Tipoff Club. "There's always something special about adding another chapter of Kansas basketball to the Naismith Awards family."
In his ninth season at Kansas, Self led the Jayhawks to a 32-6 record — including a perfect 16-0 mark at home — and helped them to a record eighth straight regular season Big 12 title.
Entering the 2012 NCAA Tournament as a No. 2 seed in the Midwest region, the Jayhawks defeated No. 1 seed North Carolina and No. 2 seed Ohio State to reach their second NCAA Championship game in four years.
Last year, San Diego State head coach Steve Fisher claimed the Naismith coach of the year award, the first ever for the Mountain West Conference.
• A previous version of this story has been updated.