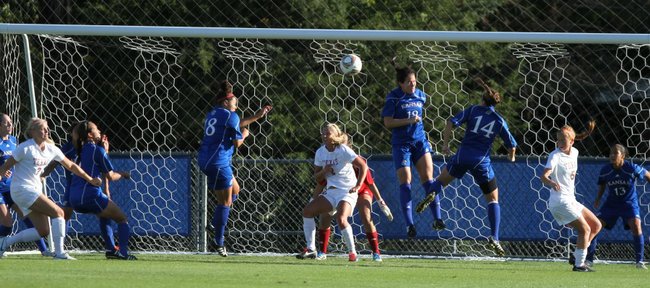 The Kansas University soccer team defeated Texas 3-2 in a double overtime victory Friday at the Jayhawk Soccer Complex.
A Caroline Kastor header in the 115th minute sealed the Jayhawks' third-ever victory over the Longhorns.
Whitney Berry, who assisted on Kastor's goal, collected assists on all three of KU's goals and now leads the nation with 11.
Kansas (8-4, 1-1) had only 11 shots in the game but led, 2-0, over Texas (7-4, 1-2) early in the second half. Liana Salazar scored in the 33rd minute from almost 25 yards out, while Ingrid Vidal scored her team-leading ninth goal in the 56th minute of the contest.
Texas tied the game up with goals in the 62nd and 76th minutes before Kastor's game-winner.
Kansas coach Mark Francis said he was pleased with his team's play, despite giving up the lead.
"I didn't think we played particularly well in the second half, but I thought they battled," Francis said.
Berry said a close victory against a team like Texas gave the team some confidence.
"It sets a standard," Berry said. "We can do it, so now we have to come out and do it every game."
The Jayhawks will play host to No. 24 Texas A&M; at 1 p.m. Sunday. Former Jayhawks Meghan Miller, Caroline Smith and Holly Gault will be honored before the match during a jersey retirement ceremony.