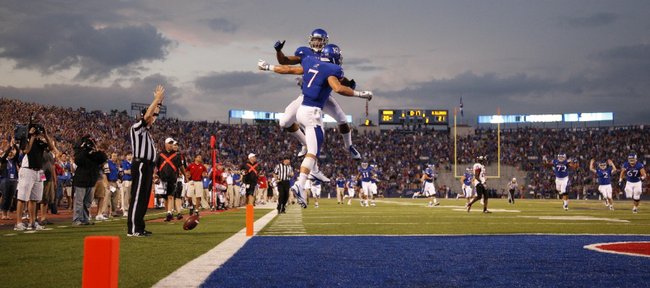 Even though the Kansas University football season officially ended just four days ago, most people have moved on and are focused solely on the ongoing coaching search that could take another couple of days or another couple of weeks.
We'll have plenty about that throughout the next several days, but, for now, let's take a quick look back at the season that was.
By now, you're all aware that the Jayhawks' performance this fall led to the firing of head coach Turner Gill, who, in two years, compiled an overall record of 5-19, including just one win in 17 Big 12 Conference games.
There are all kinds of statistics that sum up just how bad the 2011 season was for Kansas. The Jayhawks were outscored 525-268 overall, outgained 6,197-3,922 in total yardage and were downright awful in the third quarter, giving up 145 points while scoring just 38.
Although this year's Jayhawks limped their way to a 2-10 record — including 10 straight losses to close the season — and had more bad and embarrassing moments than good and inspiring — there are a few moments and men worthy of a look back.
Offensive MVP:
James Sims
After leading the Jayhawks in rushing as a true freshman (742 yards and 9 touchdowns in 2010) and facing stiffer competition for carries in 2011, Sims delivered yet again. Never flashy, Sims was the Jayhawks most reliable running back all season. He finished the year with 727 yards and 9 TDs on 182 carries (good for 4.0 yards per rush) and added 119 more yards on 14 receptions.
Sims became the first Jayhawk since Jon Cornish in 2005 and 2006 to lead the team in rushing in back-to-back years and, although his numbers were similar to last year's marks, he showed great improvement and consistency in all areas of his game.
Runner-up: Jeremiah Hatch
The leader of the offensive line all year, Hatch's solid senior campaign began in the offseason, when he dropped weight and proved that he was committed 100 percent. That continued on the field each week, where he anchored an offensive line that had an above-average season.
Defensive MVP:
Steven Johnson
Johnson was another repeat leader for the Jayhawks this season. After leading the team in tackles in 2010 (with 95), he upped his total to 124 tackles this season, while functioning as the heart and soul of the KU defense. Johnson's 66 solo tackles tied for a team best, and he added six tackles for loss, two forced fumbles and an interception. His numbers only told half the story, though. Not only was he the team's top defender, he also was the team's undisputed leader and seemed to be the one guy who played at 100 percent every snap, no matter what the scoreboard said.
Johnson's stellar year was the result of a lot of hard work, and there's a chance that could pay off down the road, as he was the one KU player that NFL scouts continually showed up to watch during practice.
Runner-up: Bradley McDougald
While Johnson was KU's most consistent defender from start to finish, McDougald, a junior safety from Dublin, Ohio, might have been the team's best defender down the stretch. He finished second to Johnson in tackles, with 89, and saved his best game for last against Mizzou, when he recorded eight tackles and returned an interception for a touchdown. McDougald should emerge as a top talent and team leader in 2012.
Offensive Rookie of the Year:
Darrian Miller
The freshman from Blue Springs, Mo., followed up his monster spring with an impressive first season. He finished second to Sims in rushing yards (559), attempts (136) and touchdowns (4) and far surpassed him in "Wow" runs. Miller's incredible balance, vision and determination make him a unique back. He's a star in the making.
Runner-up: Tony Pierson
The one question I heard in the press box more than any other this season — OK, maybe not more than any other, but a lot — was this: "Why doesn't Tony Pierson get more touches?" It's a great question and every time the freshman from East St. Louis, Ill., carried the ball, he showed you why it was asked. Lightning-fast, elusive and tougher than his frame would suggest, Pierson will be a favorite for whoever becomes KU's new head coach.
Defensive Rookie of the Year:
Victor Simmons
Simmons played sparingly in 11 games and finished with just 14 tackles, but was able to work his way onto the two-deep depth chart and, when he was in there, showed flashes of what he's capable of delivering. Physical, fast and not afraid of anything, Simmons' best moment of the year came against Oklahoma when he forced and recovered a fumble on the same play. Look for more of that and more in the near future.
Runner-up: Darius Willis
Willis didn't quite live up to the ridiculously high expectations set for him, but he did play his best football of the season down the stretch and managed to finish third on the team in tackles, with 81. Still just a sophomore, Willis' best days still appear to be ahead of him.
Game of the Year:
KU 45, Northern Illinois 42
After exorcising the demons of 2010's embarrassing season opener in Week 1, the Jayhawks entered their Week 2 contest with Northern Illinois as home underdogs. Few believed that the Jayhawks could handle the Huskies, and they almost didn't. NIU quarterback Chandler Harnish passed for 315 yards and ran for 89 more, but it was the Jayhawks, who ran for 253 yards and threw for 281 more, who found a way to score last in this shootout that lasted more than three hours. The Jayhawks won on a late touchdown pass (see Offensive Play of the Year) and Memorial Stadium was rocking.
Runner-up: Baylor 31, Kansas 30, overtime
For three quarters, KU played its best game of the season. Kansas led 24-3 with 12 minutes to play and had pretty much bottled up Baylor's all-world quarterback, Robert Griffin III. Then the fourth quarter came and Griffin went wild, leading the Bears to tie the game in regulation and take the lead on the first possession of overtime. After KU scored a TD on its first offensive play of OT — a 25-yard pass from Webb to Tim Biere — KU coach Turner Gill elected to go for two and the win. After a couple of time outs, Webb's two-point pass fell incomplete and Baylor escaped.
Offensive Play of the Year:
D.J. Beshears' game-winning touchdown catch in the final seconds against Northern Illinois
In a game that featured nearly 1,000 yards of combined offense, Beshears and the Jayhawks got the last laugh when the KU wide receiver caught a fourth-down pass from Jordan Webb about a foot short of the goal line. Beshears somehow contorted his body into the end zone for the game-winning score with nine seconds remaining. The TD was the second of the game for Beshears, who logged seven receptions for 70 yards in the game.
Runner-up: Tie
And these are more general than specific. Freshman tailback Tony Pierson delivered a couple of jaw-dropping shakes near the line of scrimmage that allowed him to race down the field for extra yardage, and fellow-freshman Darrian Miller's relentless effort on so many runs made KU's running game much improved from a season ago.

Defensive Play of the Year:
Bradley McDougald's 57-yard interception return for a touchdown against Missouri
One of three first-half interceptions that gave the Jayhawks a 10-0 lead in what may go down as the final Border War game of all-time. McDougald's interception was nice, but the return, which showcased his effortless speed and athleticism, was even nicer.
Runner-up: Although the KU defense gave up 43 points to Texas, it would have been even more had it not been for senior linebacker Steven Johnson's vicious hit on a UT running back during KU's goal-line stand in the first half.
Special Teams Play of the Year:
D.J. Beshears' 51-yard kickoff return that set up KU's game-winning drive against Northern Illinois
Had it not been for Beshears' long return that set Kansas up at the NIU 47-yard line with 4:49 to play and Kansas down by four points, the Jayhawks' final drive likely would have been a little tougher. This was definitely Beshears' night.

Runner-up: This isn't a specific play, but it bears mention. Fifteen of sophomore punter Ron Doherty's 64 punts this season were downed inside the opponent's 20-yard line. Doherty, one of the few special teams bright spots this season, finished the year with a 42.8-yard average.
Most Improved Player:
Bradley McDougald
After moving from wide receiver to safety for the final two games of 2010, McDougald took a few games to adjust to his new position in 2011. Once he did, though, he was a beast. He has the look of an all-conference pick as a senior.

Runner-up: Toben Opurum
Disruptive off the edge throughout the season. The former running back finally looked comfortable on defense and proved that the switch may have been a good move. He, too, could be in a for a big senior season.
Feel-good Moment of 2011:
After being carted off on a stretcher during the second quarter of KU's 47-17 loss to Oklahoma, senior center Jeremiah Hatch returned from the hospital to the sideline in street clothes in the fourth quarter. Many of Hatch's coaches and teammates talked about what a lift it was to see one of their leaders up and walking around after such a scary moment.
Runner-up: Simply put: Every time I talked to assistant coaches Chuck Long and Vic Shealy. Always gracious and understanding after losses, neither man ever took out the disappointment of a rough season on reporters trying to do their jobs. Both men shared great stories throughout their time at KU, and both will be missed.
Feel-not-so-good Moment of 2011:
Take your pick
The Jayhawks were rocked by 30 or more points six times this season. It won't do any good to rehash them, and it's hard to separate one blowout from the next. So picking two of the following should cover both feel-bad moments: 66-24 at Georgia Tech; 70-28 at Oklahoma State; 47-17 vs. Oklahoma; 59-21 vs. Kansas State; 43-0 at Texas; 61-7 at Texas A&M.;