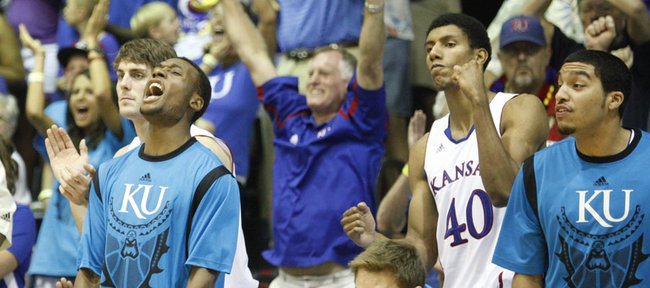 Kansas University basketball coach Bill Self has certain numbers in mind when it comes to production from his key reserves.
"Realistically, if we could get close to 50 minutes out of our bench, I'd be happy with that," said Self, who used three subs (Conner Teahan, Naadir Tharpe, Justin Wesley), who combined for 30 minutes in last Wednesday's 68-61 loss to Duke. The Blue Devils' three subs, coincidentally, also played 30 minutes in the Maui Invitational title game.
"That'd be a couple guys getting 15 each and a couple 10 each," Self added. "If we could get to where you are having a productive 50, I think we'd be in pretty good shape."
Of junior forward Kevin Young, who didn't play versus Duke, Self said: "He is still thinking, not reacting. I think he can be more aggressive. I mean that in a positive way, having more of a presence out there and getting his hands on balls, carrying out assignments, doing things we know he can do. When he starts doing those things, he'll start scoring a little more, no question."
Of sophomore forward Justin Wesley, who had five fouls in 10 minutes versus Duke, Self said: "Keeping his hands off the opponent would be a good start. When I was here coaching as a GA (grad assistant under Larry Brown), we had a guy named (Greg) Dreiling and (Danny) Manning who played inside. They (refs) didn't call fouls on them, but as soon as (Chris) Piper checked in, he got three quick whistles and didn't do half as much as the other guys do. I do believe bench guys don't get the same respect starters do. We've got to be better than that (in not fouling)."
The 6-foot-9 Wesley said his foul trouble was "something that's very correctable and something I think I'll have (corrected) by the game Wednesday. I shouldn't have used my hands like that."
Asked about his penchant for fouling, Wesley said: "I think it was just sitting out a year (after transferring from Lamar). In practice we don't call fouls," he said with a smile. "We don't have out of bounds, so people don't get around me too much in practice. I've got to get out of that habit (holding), and I will."
Jayla update
Jayla Paris, sister of KU's Thomas Robinson, will continue to live with her birth father, James Paris, it was decided Tuesday in circuit court in Prince George County, Md. A complaint for custody of Jayla by the stepbrother of the late Lisa Robinson (mother of Thomas and Jayla) was dismissed by consent on Tuesday. An attorney in the case told the Journal-World that Jayla "is doing terrific in school in D.C., is an honor-roll student, taking piano lessons. She is doing great. Life is progressing well."
Stats, facts
KU won the only previous meeting with tonight's foe, Florida Atlantic, 87-49, on Nov. 27, 2007. The Owls were coached by former KU guard Rex Walters. ... Robinson has five straight double-doubles, which ties for third on the consecutive double-double list at KU. The record is seven set twice before by Raef LaFrentz (1998) and Drew Gooden (2002). Robinson is the first Jayhawk to record five-straight double-doubles since Wayne Simien in 2005.