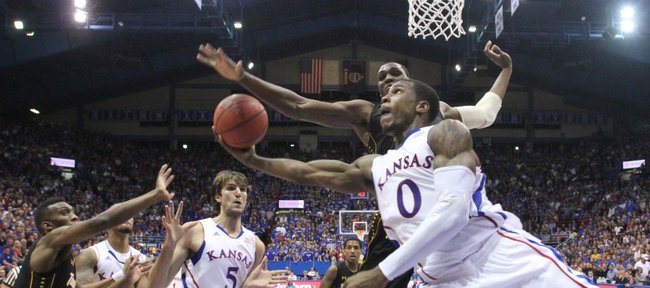 After exhilarating trips to New York and Hawaii, Kansas University's basketball players are back where they feel most comfortable — home.
"I was shooting in the gym the other day. It felt so good just to be back," KU senior point guard Tyshawn Taylor said.
"I'm excited to play a couple games in the fieldhouse."
The Jayhawks, who are 1-0 at home and 2-2 at neutral sites, play their first home game in 19 days today — a 7 p.m. contest against (3-4) Florida Atlantic.
"Definitely, I miss our fans. You don't get the same reaction (on the road) when you dunk or do something good as you do in the fieldhouse," junior forward Thomas Robinson said. "I can't wait to get out there just to see our fans, see the videos, the reaction, our last-minute chant and everything."
The last time KU went more than 19 days without a home game was way back in the 2000-01 season when the Jayhawks traveled to Ohio State, KC's Kemper Arena, Oklahoma and Texas Tech in a 32-day span in December/January.
"It'll be fun for our guys to get back home. There's not too many teams in America that are high-majors that are playing their second home game on Nov. 30," KU coach Bill Self said. "From that standpoint, I know our guys will be more in a comfort state to get better."
Like KU, FAU has spent most of its time away from home.
The Owls, who won the Sun Belt Conference last season and are picked to win the league again this season, lost to Portland (70-65) and Washington (77-71) and defeated Georgia State (84-77) at a season-opening tourney in Seattle. The Owls also lost at American (62-56) and South Florida (68-55) and won at Hofstra (62-60). FAU won its lone game on campus in Boca Raton — a 80-75 overtime decision over George Mason.
"They are a nice team and quick, really quick," Self said.
Greg Gantt, a 6-foot-2 junior guard from Gainesville, Fla., averages a team-leading 14.7 points a game. Junior forward Kore White (6-8, Fort Lauderdale, Fla.) and freshman guard Omari Grier (6-4, Erial, N.J.) follow at 10.4 ppg each. Grier scored a career-high 20 points off the bench Saturday against South Florida. White averages 5.9 rebounds and has 15 blocked shots. Pablo Bertone, a 6-4 sophomore from Argentina, averages 10.0 points and 4.3 rebounds per game.
Raymond Taylor, a 5-6 junior from Miami, averages 7.0 points and 5.1 assists.
"He's really fast. He'll probably be as quick as anybody we go against all year," Self said of Taylor.
The Owls are coached by Mike Jarvis, who is 44-57 in four seasons at FAU. Overall, he's 363-259 with stops at St. John's, George Washington and Boston University.
"Mike coached a guy in high school who wasn't a bad player — Patrick Ewing," Self said. Indeed, Jarvis coached the likes of Ewing, Rumeal Robinson and Karl Hobbs at Rindge Technical High School in Cambridge, Mass. "He certainly does a good job. They won the league last year and are picked to win it again this year. It'll be a tough game."
After today, KU remains at home to play South Florida on Saturday (4:15 p.m.), Long Beach State on Tuesday (8 p.m.) and Ohio State on Dec. 10 (2:15 p.m.). After finals, KU meets Davidson on Dec. 19 at Sprint Center in Kansas City, Mo.
"March is a long way away. We want to get as good as we can nonconference to give us the best chance we can to have success in our league," Self said. "Florida Atlantic, South Florida, Long Beach, Ohio State ... it doesn't get any easier at all. We're not going to get a chance to catch our breath for a while.
"When you play a hard schedule, you've got to win some of the games. We won a couple big games, lost a couple big games. We need to have some big wins moving forward. I do think it's a great barometer of where you are at. We've been exposed in some things we don't do well. I'd rather get exposed in November than January or February," Self added.
As Self points out, not many teams have played the likes of Duke, Georgetown, UCLA and Kentucky this early.
"I think we've gotten better each day with the schedule we've played. Our schedule has forced us to probably have an enthusiasm and energy level to where we want to get better each day," Self said. "The games on the horizon should be motivation, 'We've got to get better today because we've got so-and-so coming up' and that kind of stuff."