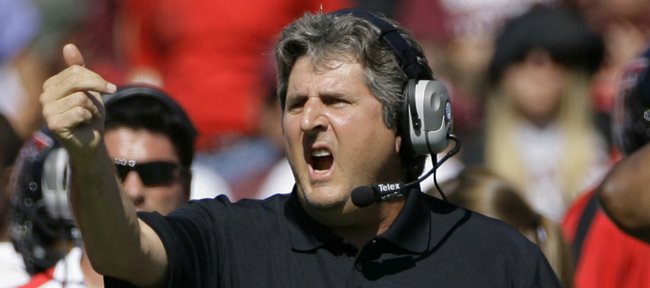 Podcast episode
The guys (Matt Tait, Jesse Newell) talk about the latest rumblings from the KU football coaching search on Tuesday. They discuss Mike Leach being wooed publicly by Washington State and what effect that could have on KU's chance to nab him. Also, the two look at under-the-radar candidates and assess ...
With Day 2 of the Kansas University football coaching search having come and gone, it appears to be a nationwide race for the services of Mike Leach.
No one at KU has confirmed that the former Texas Tech head coach is the school's top target, but strong signs point to that being the case. KU's not alone in that line of thinking, though, as several other schools with head football coach openings also have Leach at or near the top of their list of candidates.
Washington State, which made its opening official on Tuesday with the firing of head coach Paul Wulff, appears to be the most outspoken of the bunch. At a 30-minute news conference to announce the firing, WSU athletic director Bill Moos talked openly about the idea of bringing Leach to Pullman, Wash.
"I know Mike Leach," Moos said. "Actually, Mike was here last spring conducting a clinic ... Pretty good record. I read his book."
Moos went on to say that Leach, along with Houston's Kevin Sumlin, were on his short list of candidates and emphasized that WSU would be aggressive in trying to hire its next head coach.
"We've either got to run with the big dogs or admit that we're a doormat," Moos said. "We can't wait and embrace mediocrity."
While the recent flood of firings has many feeling like the market is saturated with openings, the current coaching landscape pales in comparison to what took place in 1996, when 29 Div. I head coaching openings were available. Kansas athletic director Sheahon Zenger, who has been quiet about specific candidates during the early days of KU's search, was happy to talk about the impact other job openings might have on KU.
"The bottom line is, each year we have this, and some years we have more than others," Zenger said of the large number of openings. "I think it's a cyclical thing."
Asked if employment opportunities elsewhere might make landing a new head coach more difficult for Kansas, Zenger pointed to KU's search being a process.
"That would be the easy answer," he said. "But even though it looks like there are a lot of jobs open, there are dozens of coaches out there. And we've all got something a little bit different to sell. It's all about fit. And we're searching for the right fit for Kansas."