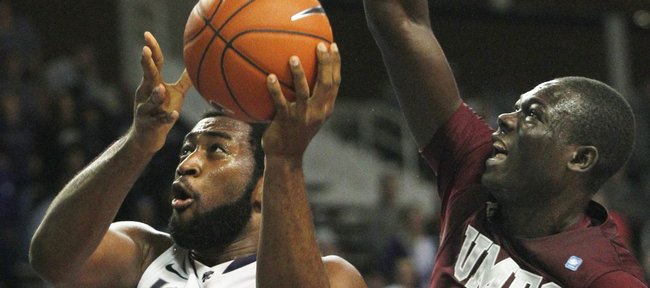 Manhattan, Kan. — Thomas Gipson scored 13 points and grabbed nine rebounds while Jamar Samuels added 12 points on 7-of-9 free-throw shooting to help Kansas State defeat Maryland-Eastern Shore 92-50 on Tuesday night.
The Wildcats (3-0) led just 36-29 at halftime after shooting 38 percent from the field, but they put the game out of reach in the first eight minutes of the second half with a 28-6 run.
"They were controlling the tempo of the game because they were attacking us and we were just reeling," said Kansas State coach Frank Martin. "We weren't where we needed to be. Towards the end of the half I think we started speeding the game up a little, and then we came out of the gate in the second half. It was fun."
The Hawks (1-4) kept it close early, with Percy Woods and Louis Bell combing to make 4 of 6 tries from 3-point range by midway through the first half. Maryland-Eastern Shore trailed just 25-23 with a little more than five minutes left before the break.
Woods finished with 13 points while Bell added 10.
The Wildcats shot 18 for 23 from the free-throw line.
Rodney McGruder and Martavious Irving scored 11 points each for the Wildcats while Jordan Henriquez grabbed 10 rebounds.
On their first possession of the second half, the Wildcats took a double-digit lead when Gipson scored two points and converted on the ensuing free throw to put the Wildcats up 39-29. That was followed quickly by a 3-pointer from McGruder.
Those baskets were the start of run that eventually gave Kansas State a 64-35 advantage.
After the Hawks made a few baskets, the Wildcats stormed back to put up 16 straight points in just under three minutes. With 5:41 left to play, Kansas State led 83-42.
"The most important part of defense ... is the guy guarding the basketball cannot get beat off the dribble, and we've been getting beat, and that puts you on your heels and it creates rotations and puts guys in open shots," Martin said. "We were a lot better in all those things in the second half."
From there, Kansas State coach Frank Martin gave his starters a break, allowing newer players to carry the Wildcats to a 42-point margin.
Samuels sat out the first three games of the season for violating team rules. But he kept his composure in his 2011-12 debut.
"The nervousness is gone," Samuels said. "I'm a senior now, so I just wanted to just get out there on the court and help my team out."