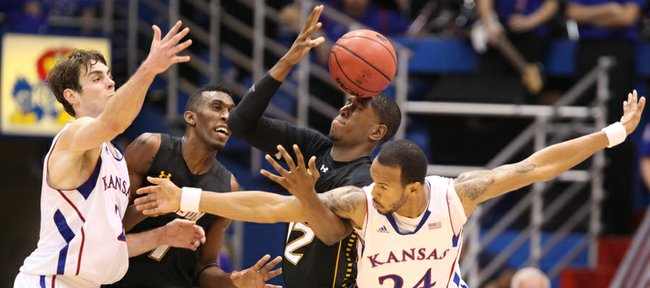 Kansas University senior off guard Conner Teahan, who made 13 of 16 shots in the exhibition season for 81.3 percent, drained four of five attempts in Friday's 100-54 regular-season opening rout of Towson.
That's 17 baskets in 21 tries, good for an unheard-of 81 percent, if anybody's counting.
"I don't think about it," Teahan, a 6-foot-6, 212-pounder out of Kansas City (Mo.) Rockhurst, said of his red-hot shooting, which included seven three-pointers in 10 tries in two exhibitions and three of four threes versus Towson.
"I can hit 10 or 12 in a row, and, to be honest with you, the last shot has nothing to do with the shot I'm going to take. That's the mind-set I try to have."
Teahan, who had scored just 81 points total in his first three seasons at KU, red-shirted last season with a big senior year in mind. Barring some unforeseen circumstance, he's expected to be part of the rotation all year long.
He enters Tuesday's marquee game against Kentucky (8 p.m., New York's Madison Square Garden) as potentially a key factor in the game.
"I just dream of helping Kansas win. That's something I have had the opportunity to do this year," Teahan said, asked if playing a meaningful role in a game in the Garden classifies as a dream come true.
"Hopefully that's something I will continue to have the opportunity to do. That's just kind of my dream. Yes, playing big games like this, Kansas versus Kentucky ... that's what you live for as a basketball player, and playing in the Garden, those things combined are huge."
Teahan likely will spend some time Tuesday guarding 6-4 sophomore Doron Lamb, who figures to play in the NBA someday. Lamb scored 15 points (three threes, eight assists) in UK's 108-58 blowout victory over Marist on Friday.
"It's definitely a big opportunity for me, but it's a big opportunity for our team," Teahan said. "It's a big opportunity for us to show how good our team defense is. Me by myself or anybody on our team by ourself is not going to be as effective against as talented a team as Kentucky. It's going to have to be a team game, and that's what coach (Bill Self) instills in us, and it's the mind-set we have. We go out there and play good team defense, we feel we can stop whoever."
KU's offense clicked on Friday with 30 assists versus five turnovers.
"That's very impressive. It shows we know how to find the open man and have a lot of unselfish people who know how to take care of the ball," Teahan said. "It's something we want to continue to build on."
A good ball-mover, Teahan had an assist against no turnovers Friday after dishing six assists versus one turnover in the exhibition season. He also had four rebounds Friday and eight boards in the two exhibition games.
"Conner is good, man," KU senior guard Tyshawn Taylor said. "He hasn't had a chance to play because of Brady (Morningstar) and Tyrel (Reed) being in the same class as him. He's comparable to those two guys as far as shooting is concerned. He's 6-5 1/2 and can rebound from that position. He's a fifth-year senior who knows what coach expects of him, knows his role. He's just a good player."
Landen Lucas, a 6-9 senior from Westview High in Portland, Ore., tells jayhawkslant.com he had a great time on his official recruiting visit to KU. He will choose between KU, Cal, Stanford, Tennessee and Washington. He said he hoped to make a decision by tonight. "I'll hopefully do a verbal commitment by then," he said Saturday. "I plan to call the coaches and let them know, and then I'll sign on Monday or Tuesday."