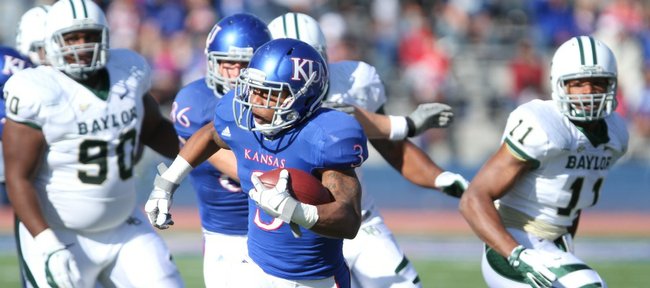 Podcast episode
Kansas coach Turner Gill talks after his team's 31-30 overtime loss to Baylor on Nov. 12, 2011.
KU vs. Baylor
Although the effort was overshadowed by Saturday's 31-30 overtime loss to Baylor, Kansas University freshman running back Darrian Miller paced the KU rushing attack with a career day.
Miller's 147 yards on 24 carries were the most by a KU freshman since 1993 and also represented a new career-high for the 5-foot-10, 191-pound back from Blue Springs, Mo.
Miller became the third different Jayhawk to rush for 100 yards in a game this season, joining sophomore James Sims and red-shirt freshman Brandon Bourbon.
Miller was the only Jayhawk ball-carrier who did not score a touchdown on Saturday. Sims, who finished with 64 yards on 24 carries, and freshman Tony Pierson (70 yards on 8 carries) each crossed the goal line once. In addition, wide receiver Christian Matthews ran four times for 15 yards and a scored a two-yard TD plunge out of the "Jayhawk" formation.
In all, the Jayhawks ran 64 times on Saturday, their most since rushing 71 times against Kansas State in 1992.
"Our running backs played well," offensive coordinator Chuck Long said. "They ran hard. Our offensive line did a terrific job. Our receivers on the outside blocked well."
Refs get review happy
The first half of Saturday's game featured an astonishing eight plays that were reviewed by replay officials.
Three — a near interception by Steven Johnson, an incompletion by Robert Griffin III and a fumbled pitched that ultimately gave the Jayhawks possession — came on one Baylor drive.
Hatch the receiver
With Saturday marking the final home game of his career, senior center Jeremiah Hatch did something he had not previously done during his time as a Jayhawk: He had a reception. Sort of.
With KU leading 10-0 and looking for more, sophomore quarterback Jordan Webb threw an interception deep in Kansas territory that Baylor's Elliot Coffey returned inside the 10-yard line. As Coffey made a break for the end zone, Webb hit him out of bounds and forced the ball loose. As the ball flew into the end zone, Hatch, who was racing to make a tackle, snagged the ball out of mid-air and secured it for a KU touchback.
Asked after the game if that was the best catch of his career, Hatch said: "Yep, and the only catch of my career. You gotta enjoy it while you get one."
Long said the big fella deserved credit for the hustle play.
"That was a terrific play by a senior, going out," Long said. "(Offensive line) coach (J.B.) Grimes does a great job coaching those guys and that's a great example. We had an interception but you have to cover because you never know what's gonna happen."
Kicking game update
After choosing to go to sophomore Ron Doherty in place of starting place kicker and true freshman Alex Mueller during last week's loss at Iowa State, KU coach Turner Gill unveiled a new look against Baylor.
Doherty, who also is KU's punter and kickoff specialist, handled field goals, and Mueller took care of the extra points. Both kickers were perfect on Saturday, with Mueller going 3-for-3 on PATs and Doherty drilling his only field goal attempt, a 37-yarder with 9:42 to play in the first quarter.
This and that ...
The Jayhawks won Saturday's opening coin toss and deferred their choice to the second half. Baylor, meanwhile, chose to kick off, giving the Jayhawks the ball to start both halves. ... The Jayhawks were 3-for-3 on fourth down conversions, bringing their season total to 13-for-19. ... Senior Anthony Davis recorded the first interception of his career. ... KU played its first overtime game since a loss in 2006 at Nebraska and its first overtime home game since topping Iowa State in 2005. ... Temperature at kickoff was 58 degrees, under partly cloudy skies with wind gusts of 23-32 mph from the south.