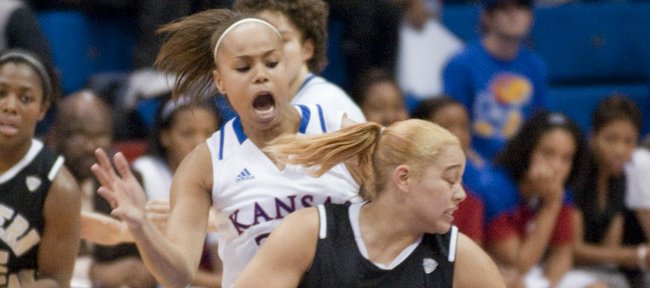 With leading scorer and top offensive option Carolyn Davis sitting on the bench with her right foot in a walking boot, it only made sense that the Kansas University women's basketball team would struggle to score during Sunday's season opener against Western Michigan at Allen Fieldhouse.
Luckily, Davis' absence did nothing to hurt the Jayhawks' ability to defend.
Behind a suffocating half-court defense that produced several transition points and 22 turnovers, KU ran past stingy Western Michigan, 76-64.
"That's what we want to do as a team — pressure the ball, disrupt their offense so we can get easy buckets in transition," KU point guard Angel Goodrich said.
The Jayhawks (1-0) turned the ball over on their first three offensive possessions — and 20 times on the day — and fell behind early, 7-2, at the first media timeout. Out of the break, Goodrich scored seven of KU's next nine points to give the Jayhawks an 11-9 lead.
The game stayed close throughout the next seven minutes, and the Broncos were within two points when freshman guard Rachel O'Brien scored a lay-up to make it 22-20, Kansas, with 6:44 to play in the half.
Those were the last points the Broncos would get in the first frame, as KU closed the half on a 9-0 run and got two buckets from senior Aishah Sutherland, three points from junior guard Monica Engelman and another basket from sophomore Tania Jackson.
For a while, that looked like it would be the difference, but the Broncos (0-1), who trailed by double digits for most of the second half, made a hard push for the lead during the game's final five minutes.
A three-pointer from A.J. Johnson cut the Kansas lead to six with 5:26 to play. Moments later, an old-fashioned three-point play from WMU senior Miame Giden cut the KU lead to four, and, when Aurielle Anderson drove the lane for a lay-up with 2:00 to play, the Jayhawks' lead was down to three, 63-60.
"They had pretty good mojo there, when they made their run," KU coach Bonnie Henrickson said. "They made tough shots and got into us, and we fouled."
The Jayhawks answered with some moxie of their own. A few minutes after a tip-in from Sutherland (14 points, eight rebounds) extended KU's lead, freshman guard Natalie Knight drained a three-pointer with 1:40 to play to push KU's lead to 66-60.
"Clutch shot," said Jackson, who started for Davis and finished with 16 points and 10 rebounds.
Added Henrickson: "(Knight's) three and Aishah's tip-in were big momentum plays. In the women's game, that's about as good as it gets from a pump-you-up (mentality). Unless next time Aishah would just like to dunk it. That would be fine."
Knight's three was her only field goal and proved to be the shot that buried the Broncos for good.
"When we needed some toughness and resolve and a sense of urgency, we got it," Henrickson said.
Although there were reasons for KU's struggles — first-game jitters and no Davis, chief among them — the Jayhawks were not overly happy with their performance.
"I was really surprised," Goodrich said. "I didn't feel like it should've been that close. There were spurts where we played really, really good, and then there were spurts where we kind of laid off, and we just can't allow that to happen."
Kansas will host Creighton at 8 p.m. Wednesday at Allen Fieldhouse.