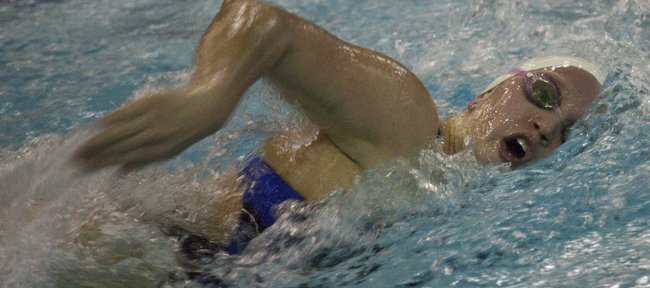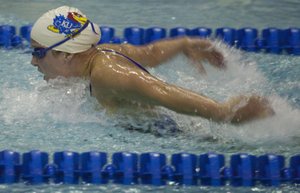 The Kansas University swimmers knew what was coming when No. 15 Missouri entered Robinson Natatorium Friday night.
The Jayhawks fell, 185-102, but the two teams are at different stages right now. For the Jayhawks, this was a good thing.
"Of the three ranked teams that we've had so far, this is our best performance," coach Clark Campbell said.
Kansas is 3-3 this season, with the other two losses coming to top-15 teams Arizona and Minnesota. Campbell said the Tigers are hitting their peak now, while Kansas is trying to prepare for later in the season. After the meet, sophomore Shelby Cox said the Jayhawks are in good shape for conference championships in February.
"The main goal is Big 12," she said. "So I think for right now, we're way ahead of where we've been in a long time."
The challenging schedule has helped. Campbell said he wants to have hard meets all year so the Jayhawks can keep up the intensity.
"Against Missouri, we've got to shoot straight from the hip and swim our best events," he said.
The signature performance of the night was junior Rebecca Swank's 1,000-yard freestyle. As she and Mizzou's Emily Harris were battling it out in the final laps, the crowd stood and cheered the swimmers, and Swank won by a half-second.
Three other swimmers finished first their races: Senior Shannon Garlie won the 200 freestyle, freshman Deanna Marks won the 100 backstroke and sophomore Morgan Sharp won the 500 freestyle.
Kansas will play host to the University of Nebraska-Omaha at 11 a.m. on Nov. 19.