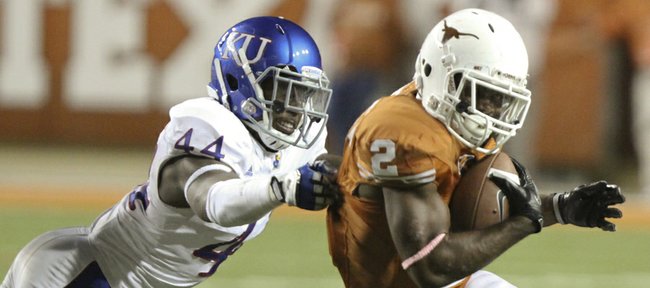 Saturday's 1 p.m. kickoff against Baylor might mark the final home game for 15 Kansas University seniors, but it figures to be more like a family reunion for junior linebacker Malcolm Walker.
Walker, a 6-foot-1, 220-pound juco transfer from Daingerfield, Texas, will do his best to make longtime friend and Baylor wide receiver Kendall Wright feel welcome at Memorial Stadium this weekend. After all, Saturday is Wright's birthday. But Walker, who refers to Baylor's all-time leading receiver as "family," circled Nov. 12 on his calendar months ago as more than a reminder about his buddy's milestone.
"We grew up together, playing football, basketball and just running around," Walker said of Wright, who hails from Pittsburg, Texas, which sits 10 minutes away from Daingerfield. "He went to our senior prom. Me and Kendall are like brothers. When I go home and he's at home, he's coming to my house or I'm going to his house. When I get home at break, we're always hanging out together. We compete real hard against each other because we are such close friends."
This weekend, for just the second time in their lives, that friendship will be put on hold as the two suit up in different locker rooms and have different objectives on the field. In the only other meeting between the two as opponents, Walker's Daingerfield High team got the better of Wright's Pittsburg squad. But that was years ago. And all these two are focused on today is what happens in this next meeting.
Wright, a senior, who enters the game atop the BU charts for career receptions (267), receiving yards (3,312) and receiving touchdowns (25), said Walker has been in his ear throughout the week about the upcoming match-up.
"Ever since Sunday, he's been talking," Wright said. "I guess he's been waiting for this week. He said he can't wait to hit me real hard, and I told him that's gonna be hard if I'm running that much faster than he is."
Added Walker: "Kendall's fast. He's real fast. Here's what he told me. He made a little comment saying I can't hit what I can't see, so I'll try to make sure I get a good lick on him. At least one."
Such comments provided a glimpse into the other area where these two like to compete — trash talking. Wright said Walker talks more trash. Not surprisingly, Walker said Wright runs his mouth more. When it came to what to expect Saturday, the two were able to agree on one thing.
"I'm pretty sure we'll both be talking a lot on the field this weekend," Wright said.
Last year, when Walker was searching for a school to continue his football career after graduating from Navarro Junior College, Wright tried to get him to Baylor. It didn't work out, but, through repeated trips to Waco, Texas, Walker became close with most of the Bears.
"It's crazy because, it's not just Kendall," Walker said. "I basically know the whole Baylor team. They all know me, and it's exciting for us to get to play against each other."
That includes the man Walker referred to as "The Other Robert Griffin," BU offensive lineman Robert T. Griffin, a 6-6, 330-pound senior and former teammate of Walker's at Navarro, who owns the same name as Baylor's Heisman Trophy candidate quarterback, Robert Griffin III.
"He left a year earlier than I did, so it will be exciting to play against him, too," Walker said. "I haven't gone against him before. And he knows I'm gonna be out there giving him a hard time, too."
So far this season, Wright, a senior, leads the Bears receivers with 971 yards and nine touchdowns on 73 receptions. In addition, Wright has rushed five times for 46 yards and also thrown three passes. He completed two of them for 55 yards and a touchdown.
"Kendall's been good his whole life," Walker said. "Kendall's been something special in our area since he was young. Ever since we were freshmen in high school, Kendall was always a great athlete. He jumped right in when he got to Baylor, and it wasn't a shock to anybody."
This weekend's match-up also has extra meaning for Wright, whose nephew, KU freshman JaCorey Shepherd, will be trying to emulate his uncle by catching passes for the Jayhawks. Still, the main event, as far as Wright's concerned, is the firsthand showdown with one of his oldest friends.
"It's great," Wright said. "Most people don't get the chances that we get, and it's great just to see him doing his thing and handling his business out there."
Added Walker: "This is bigger than me and Kendall, because all our friends back home are excited for it and everybody's calling each other up saying, 'Are you ready?' That makes it even more exciting. I threw a couple things at him that I plan on doing. I hope I get the opportunity to do it. Just to hit him. I'll be excited just to hit him. I won't let up. He knows I won't let up."