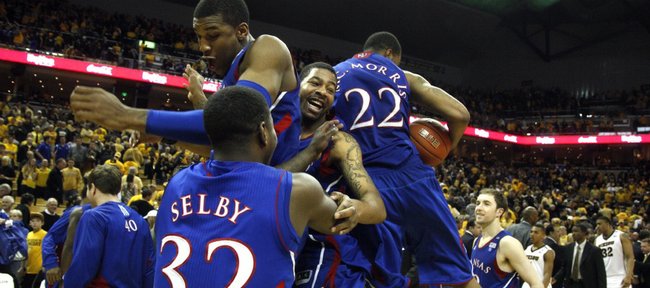 KU vs. Missouri
Podcast episode
Kansas coach Bill Self talks to reporters following the Jayhawks' 70-66 victory over Missouri on March 5, 2011.
Columbia, Mo. — Marcus Morris chose casual attire for a rare in-season, Saturday night out on the town.
"I didn't bring it here. I'm going to wear it tonight (in Lawrence)," Morris, Kansas University's junior forward, said of his yet-to-be-used 2010-11 Big 12 regular-season championship T-shirt.
Tucked away in his apartment closet since late Wednesday night — when the Jayhawks topped Texas A&M; for a share of their seventh straight conference title — the shirt was ready to be revealed after Saturday's 70-66 victory over Missouri in Mizzou Arena.
It was a victory that not only snapped MU's 17-game homecourt win streak, but also guaranteed the No. 2-ranked Jayhawks (29-2 overall, 14-2 Big 12) the league's undisputed, outright crown.
"We didn't celebrate that much. It was OK," Morris said of Saturday's locker-room frivolity in Columbia.
"It's very satisfying, (but) we are kind of used to it. Six in a row before this, now seven in a row ... not to sound arrogant, but we have a bigger goal now. Now there are two other championships to win. We'll try to focus on that," added Morris, who scored 21 points and grabbed 10 rebounds on a day KU outrebounded the No. 22-ranked Tigers 49-29.
KU will open its quest for a Big 12 postseason tournament title against Oklahoma State or Nebraska at 11:30 a.m. Thursday in Sprint Center in Kansas City, Mo. After that, it's on to the NCAA Tournament, where KU is in line for a No. 1 seed and possible first- and second-round games in close-to-home Tulsa, Okla.
Saturday, it was time not to look too far ahead, but celebrate the crown the Jayhawks worked hard to claim all winter long.
"It was fun, real fun, seven in a row, whatever you expected or could imagine, that's what happened in the locker room. We couldn't wait to get in there, couldn't wait," sophomore guard Elijah Johnson said after scoring four points with three rebounds and two assists in 26 minutes against MU (22-9, 8-8).
He also played sticky defense against MU's backcourt players, who hit just three of 23 threes to KU's two of seven.
"I would tell you what he was doing in there," Johnson joked of passer-by Mario Little, "but I don't think that's for the public to know."
It's safe to say there probably was some whooping, hollering and hugging in the victorious locker room.
There also may have been some sighs of relief. KU led by as many as 15 points (63-48) with 4:11 left and four (63-59) at 1:32 before Tyrel Reed steadied the ship with a three at 1:05 — one that halted MU's hopes of stealing a shocking victory.
"We think of it as, a lot of teams can't win one (title), so to get to two all the way to seven, that's a big deal, especially when you have some legendary coaches telling you that's a big deal," Johnson said.
"It speaks for itself," Johnson added, asked what seven-straight titles says about the program. "It's Kansas. We do some impossible stuff here."
Like continue to battle through adversity.
Several Jayhawks said they had heavy hearts leading up to the big game. Assistant coach Danny Manning's dad, Ed, died Friday.
"I texted him last night and had some time with him," Marcus Morris said of Danny Manning, who remained with the team for Saturday's game. "I told him I never had a father figure in my life, and he is that to me. I just tell him my prayers are with him, and I love him."
Sophomore forward Thomas Robinson, who also is quite close to KU's big-man coach, responded with 15 points and 13 boards in just 17 minutes.
"Danny had a lot to do with this," Robinson said. "He is going through something with the death of his father. I especially knows how he feels with that."
Robinson's mother, grandmother and grandfather all died in a span of three weeks earlier this season.
"We all talked to Danny and said we're here for him. He's handled it great," said Robinson, who had 13 points and eight rebounds the second half as Markieff Morris (10 points, eight boards) battled foul problems. "I feel I handled mine as well, but he is doing his way better than I did."
KU coach Bill Self — "I'm really proud of our guys because three weeks ago we had no chance," he said of the title — indicated he felt the players' concern for Manning.
"Danny is a unique guy. He didn't want anybody to know. I didn't tell our team. Our players saw it on the ESPN scroll (Friday) across the bottom and came to me and said, 'Is that true?''' Self said of former KU assistant coach Ed Manning's passing.
"I said, 'Yes, but he doesn't want to make a big deal out of it right now.' That's how he is personality-wise. So the guys talked to him. There was no announcement: 'This is what's going on.' Nothing like that. He said he didn't want that.
"I told him, 'You need to go home.' He said, 'No, I need to be here.' He said, 'Let's do business as usual.'
"Ed Manning is a heck of a guy. Everybody knows that. Danny is hurting right now, but he didn't want anybody to know that. I think the whole team loves him," Self went on, asked about the big men's feelings toward Manning. "I think they rallied around him, but it wasn't a point where it was, 'Hey, let's do this for anybody.' He would never allow us to do that."
Robinson noted many things motivated him Saturday.
"We had a lot on the table with this game," Robinson said. "Possibly be No. 1 seed in both tournaments, win the championship outright especially when people have us picked to win it every year, also coming here and breaking the winning streak for Missouri."
MU's streak was eighth-longest in the country.
"I don't think we celebrate yet," Robinson said. "It was a good win. We accomplished a goal we set, but there's a bigger fish we want to catch.
"Maybe celebrate a little bit. Not fully yet. Ask me about that tomorrow morning, and I can tell you (about) that."