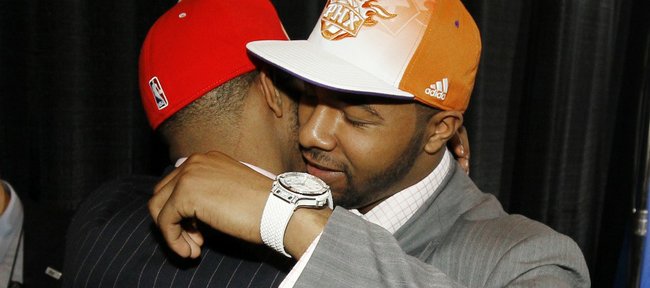 Videos
2011 NBA Draft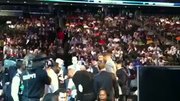 Markieff Morris was taken 13th overall by the Phoenix Suns in the 2011 NBA Draft. His brother Marcus was drafted by the Houston Rockets with the very next pick, at 14 overall.
Newark, N.J. — As the first 12 picks of the 2011 NBA Draft rolled in without Kansas University's Marcus and Markieff Morris hearing their names called, the easy reaction would have been to panic.
Instead, the Morris twins remained poised, just as they had done throughout the entire draft process.
When the first to go, Markieff, finally heard his name called by the Phoenix Suns at No. 13 on Thursday, the emotions took over. Hugs were exchanged, smiles beamed and a sigh of relief could almost be seen floating away above them. There was, however, one catch. According to Markieff, and probably everyone at their table, this draft, the whole reason they came here, was not complete with Marcus still waiting for his turn to exhale.
"Once I was called, I still had a little pressure on me waiting for my brother to be called," said Markieff, who was not surprised to be drafted ahead of his brother, Marcus, who went 14th to Houston with the night's final lottery pick. "Once he was called, it just came off. We are both so grateful and thankful."
Technically, the pressure was released while Markieff was walking down the hall toward the interview room in the Prudential Center. That's where he stopped halfway, bent over and let the tears flow as he rested his head in his hands.
Up to that point, the reality of what had happened — twin brothers being drafted back-to-back into the NBA for the first time in league history — had the twins' spirits soaring.
"I told him I was proud of him and I'm happy that he got to go where he wanted to be," said Marcus, recapping the emotional embrace between brothers as they passed each other in the interview room. "It probably meant more to me than it meant to him when he got drafted."
Had the twins gone just two picks apart instead of one, they wouldn't have been able to enjoy each other's moment live because of the flurry of media requirements that came after being selected.
But just as their decision to attend Kansas and, later, the one to enter the draft together, this, too, worked out to perfection. With Markieff talking to the guys from ESPN Radio, NBA commissioner David Stern stepped to the podium for pick No. 14 and announced that the Houston Rockets had selected Marcus. After saying it, Stern even ad-libbed a little, saying, "Yep, they did." Instantly, the tall twins from Philly who Kansas fans had fallen in love with became one heck of a story for the national media.
Born seven minutes apart, the twins were drafted within five minutes of each other.
"It's just amazing how things play out," Marcus said. "It just played out exactly the way we wanted it to. These were the two places that we both wanted to end up at."
That's no joke. KU coach Bill Self, who also saw freshman guard Josh Selby get picked 49th by Memphis, supported the claim.
"Before tonight, Marcus and Markieff both told me they liked Houston and Phoenix the most," Self said. "I think Marcus was a little upset he didn't go higher, but he loved the fit."
Thursday's draft marked the second year in a row that Jayhawks were selected back-to-back in the NBA Draft. Last year, Cole Aldrich (11th) and Xavier Henry (12th) were picked consecutively. This time around was decidedly more emotional. In the game of basketball, where teammates so often become like brothers, Thursday's event was truly about family, both blood relatives and Jayhawks.
Joining the twins at their Green Room table Thursday were friends and family from Philly, their agent, Tony Dutt, their high school coach, Dan Brinkley, and KU coaches Self and Danny Manning. For Self, Thursday's draft was his first and he went to great lengths to be there, flying in Thursday evening from a family cruise in St. Martin.
"Angel called me and said, 'The draft's at 7, your ticket's here,'" Self said. "She didn't really give me an option. But I wouldn't have missed it for anything. To be there to see the look on their faces and the emotion, it was really special."
Manning, himself a former No. 1 overall NBA Draft pick, kicked back and enjoyed the night from start to finish, following the same advice he gave the twins when the draft workouts started weeks ago.
"I just told 'em, 'You can't control anything,'" Manning said. "'So sit here and enjoy it because it's a once-in-a-lifetime experience.'"
Were they able to follow that advice?
"They tried to," Manning said. "They tried to. And their mother did a wonderful job, as usual."