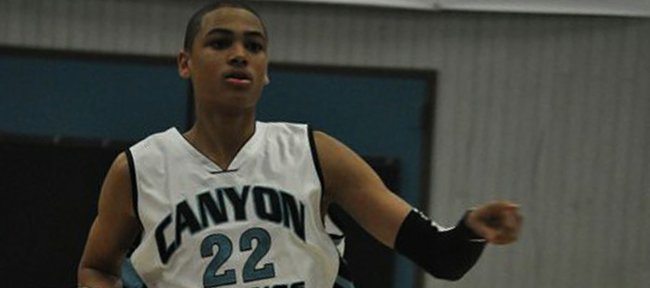 One trip to coach Bill Self's office was all it took to convince Moreno Valley, Calif., native Merv Lindsay that Kansas University was the perfect place to play college basketball.
"Coach Self's ring box is off the charts," Lindsay, a 6-foot-7, 200-pound small forward out of Canyon Springs High said of Self's jewelry box. It contains one NCAA title ring and seven Big 12 Conference championship ornaments.
"Other schools can say they win, but KU has the proof. That's what I like the most. I like winning," added Lindsay, who after visiting KU on June 9-10 and Marquette the following week, on Wednesday signed a financial aid agreement with the Jayhawks.
Just last week, KU signed Kevin Young, a 6-8 forward who played AAU ball with Lindsay before heading to Loyola Marymount for two seasons.
"I think he is going to shock the world," Lindsay said of former Perris (Calif.) High standout Young. "Me and him really, because coming out of high school I don't think anybody expected we'd be going to Kansas. We'll prove we belong there and we're going to do it right. We're going to win."
Like his buddy, Lindsay, who averaged 15.0 points, 10.2 rebounds and 4.4 assists per game last season, enters college unranked by Rivals.com.
"There are plenty of guys not ranked. Unranked guys get love, too," Lindsay said. "Unranked guys sometimes work the hardest because they've got something to prove. The difference between me and maybe some top-ranked recruits ... I don't feel like Kansas should be happy to have me. I'm happy to be there. Like I told Tyshawn (Taylor) and Thomas (Robinson), I will do everything I can to help them, to help us, win a national championship."
Lindsay is the second member of his family to play college ball.
His 22-year-old sister, Ashley, played at the University of Albany.
"She's 6-1, 6-2," Lindsay said. "She won a ring in high school. I couldn't get one of those. She had a whole lot more ink than me. She was a McDonald's nominee, all-county. I got lucky. Maybe she should have gone to Kansas," he cracked.
KU coach Self is happy to have landed 4.0 student Lindsay at this late date.
"We are excited to have Merv join our team," Self said. "He has great potential and has the ability to help us this season. He is a very athletic wing who is a good shooter. Like all the incoming freshmen we have, as Merv gets stronger, he will continue to develop."
Lindsay, a lefty who is known for his long-range marksmanship, realizes he has a lot of work to do before the start of the 2011-12 season. He'll arrive in Lawrence a week from Friday to attend the second session of summer school and start hitting the weights.
"I weigh 199.4 pounds," he said. "I'm a little bit behind with my body. I'm on the five-month plan. Like coach (Kurtis) Townsend said, I've got five months to get it right, so in the first game I'm ready to perform. I need to add a couple tricks to my game, as well, ballhandling and the defensive end. I think it'll come. I will try to be the hardest worker on the team."
On Marquette, Tech: Lindsay visited both KU and Marquette after de-committing from Texas Tech in April.
"I was talking to Tyshawn. I said, 'You chose KU over Marquette, too,''' Lindsay said. "I said, 'I guess I made the right move, then.'
"I liked Marquette, but I really did decide before that (after KU visit). I didn't want to say that. I went to Marquette with an open mind, but it was like, 'Man, it can't be any better than that (at KU).'''
Of Texas Tech, Lindsay said: "I committed there. I was highly interested in going there. Things didn't work out. One door closed; a few more doors opened. I had to make the best decision for me and my career."
He said he de-committed from Tech and did not get dropped as a recruit by the Red Raiders, who have a huge recruiting class coming in under new coach Billy Gillispie.
No. 22: Lindsay said he'll wear No. 22 at KU. "It's the number I've picked since high school. In AAU, I wore No. 8, but you can't wear No. 8 in college," he said.
Well-rounded: Lindsay has played basketball since he was, "9 or 10. The first sport I played was soccer. I went from soccer to basketball and then played baseball, then football. I played football my freshman year, but had to choose. I couldn't play both. You play AAU in the summer or practice football. I decided basketball is what I wanted to do."
Yet to come: Asked if Wednesday was the greatest day of his life, Lindsay said: "I think the best day of my life will be when I step on that court, because there's a lot of work to do between now and my freshman season."
Green Room for Self: KU coach Self, who has been on vacation the past few days, hopes to be in New Jersey tonight for the NBA Draft. He will join KU's Morris twins in the Green Room. KU freshman Josh Selby was not invited by NBA officials to sit in the Green Room.
On his name: "My name is Mervyn. Everybody calls me Merv. There was someone in politics in California. He was a good friend of my grandfather. My grandfather named my dad after him and my dad named me."
The class: Lindsay joins guards Naadir Tharpe and Ben McLemore and forwards Braeden Anderson, Jamari Traylor and Kevin Young in a six-man recruiting class.
The Jayhawks have one scholarship left to give in the Class of 2011. KU next year will have a minimum of two scholarships to award following the departure of seniors Conner Teahan and Tyshawn Taylor. Also, it's expected that junior Thomas Robinson will declare for the NBA Draft, meaning KU could have up to four scholarships to give. One scholarship has already been awarded to Zach Peters, a senior-to-be from Plano, Texas.