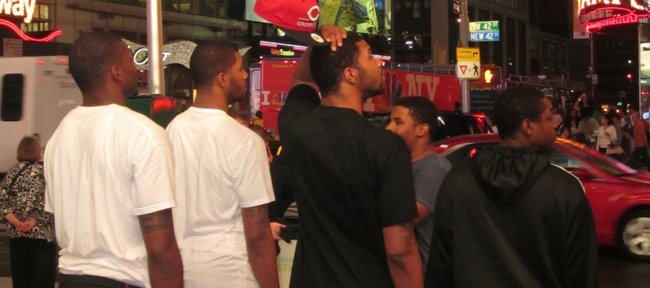 New York — For the past two decades, former Kansas University basketball stars Marcus and Markieff Morris have gone everywhere and done everything together.
For the past few weeks, they basically have been apart.
While that may seem like a cruel twist of fate, the reality of it actually lands a lot closer to the positive side than the negative.
Beginning tonight, when the Morris twins hear their names called in the 65th annual NBA Draft at the Prudential Center in Newark, N.J., they most likely will be forced to accept a scenario that leads them to different NBA cities and, for the first time in their lives, different basketball teams.
Because of that, Markieff said he was thankful for the past few weeks and the trial separation that, no doubt, will make the real deal easier to digest.
"It's been hard, but I'm comfortable with it," said Markieff on Wednesday, shortly after working with a few dozen children at an hour-long NBA Cares event at John Jay College in downtown Manhattan.
While their draft stock — Marcus is a sure-fire lottery pick and Markieff has been projected most often in the 7-16 range — has led them to different workouts in different places, they always had basketball to keep them busy and take their minds off of not being together. Besides, they still talked every day and, in doing so, rehashed their workouts in such detail that, by the end of the conversation, the one listening felt like he had been there.
Wednesday, on the eve of realizing their dreams, Markieff was alone in New York, racing through the rigors of the scene that was the day before the NBA Draft.
Earlier Wednesday, Marcus, still grinding until the final hours, worked out in Charlotte — a realistic landing spot at No. 9 — and did not arrive in New York until mid-evening.
Alone in the Big Apple, Markieff tipped off his day by having his picture taken for the popular video game NBA 2K12. Marcus couldn't help but react.
"When u take that pic?," he posted to his brother on Twitter. "That's crazy."
Just talking about it brought a grin to Markieff's face for the rest of the day.
"This whole thing is just a dream come true," Markieff said.
Added Marcus: "It's amazing, man. It's amazing. It's a once-in-a-lifetime type thing and we gotta cherish it. Not everybody gets this chance."
After posing for the folks at NBA 2K12, Markieff stopped in the Sean John store to pick out a suit, fielded questions from the media for 30 minutes at the Westin Times Square and participated in the NBA Cares event in the early afternoon that included other likely lottery picks Kemba Walker, Derrick Williams, Brandon Knight and Jimmer Fredette.
With a smile on his face, Markieff cruised through the day like a man without a care in the world. The whole time he thought about his brother and how he wished he could be there. At almost the same time, he was able to see the good in not having Marcus around.
"It's definitely been real positive for both of us," Markieff said of following separate paths. "Being away from each other has made it more real. We're realistic, we understand that the time is probably coming for us to be apart, and we're good with it."
Marcus wasn't quite as diplomatic.
"At the end of the day, I want to be with him," he said. "But (splitting up is) just something that has to happen. We don't have any control over it."
In some ways, it actually may be the preferred route. KU coach Bill Self repeatedly has said he thinks playing apart would be good for the Morris twins' development. Self will be at the twins' table in the green room tonight.
Beyond that, neither Markieff nor Marcus has spent much time talking to friends and former teammates about what to expect from the draft experience.
"I just wanted to do it on my own and see what happens," Markieff said. "I'm just enjoying every step of the way."
He means that. Wednesday, with his world a mere hours from changing in nearly every way imaginable, Markieff was the picture of poise, the same kind of low-key, laid-back guy Jayhawk fans grew to love.
"There really hasn't been a lot of emotion yet," he said. "We're both real humble and we haven't really got into all that yet. It's just a great feeling to be where we're at and we feel really blessed to be in this position."
Maybe it was because they were separated and he knew how much fun his brother was having in New York without him, but Marcus seemed decidedly more jacked up about what was unfolding. Then again, he always was the more outgoing of the two.
Shortly after his workout with the Bobcats wrapped, Marcus posted on Twitter, "Finally finished, can't wait to see my family... 1 more day!!!"
From there, he chimed in with frequent updates on his progress to meet up with Markieff.
While the final day of their amateur lives was spent in different places doing different things, the questions Markieff fielded about his future were the same ones his brother could've predicted he'd hear. The answers? They weren't quite as predictable.
Where would you most like to play? "I want to play anywhere," Markieff said.
What will your first NBA purchase be? "I'm not sure," he said. "I might be in the airport and get hungry and buy a Snickers or something." Then, remembering who helped get him where he is today, Markieff expanded. "That's still up in the air. I'll probably just let my mom shop 'til she drops. That's what she wants to do."
When the Wednesday sun disappeared giving way for the vibrant lights in Times Square to take its place, the twins shuffled off to dinner with friends and family. For Marcus, the end of the day was a welcomed sight, especially because now the big day has arrived.
"You just want to get it over," he said. "Now, I finally have a chance to just relax and see how everything plays out."
If it happens to play out in a way that allows the twins to remain teammates, well, after all this time apart, that's just something they'll learn to adjust to.
"Oh, man. That'd be crazy," Markieff said. "It'd be just like it was in college."