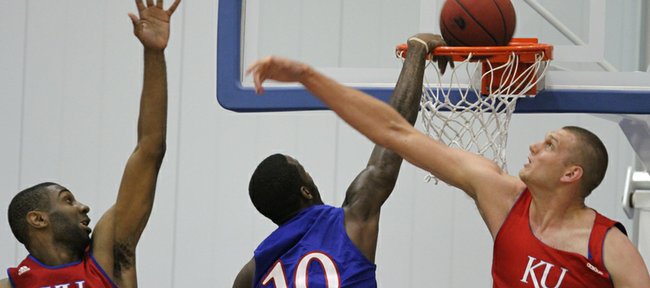 Videos
Bill Self basketball camp scrimmage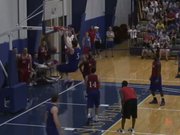 Current Jayhawks and KU alumni scrimmaged at the Bill Self basketball camp Wednesday, June 8, 2011.
Photo Gallery
KU Alumni Scrimmage Game
A gallery of photos from Wednesday's alumni scrimmage at the Horejsi Center.
5:50 p.m. update:
Here are some final observations from the first camp scrimmage. Take these for what they're worth, as it was just one scrimmage in the early summer.
• Tyshawn Taylor appeared to enjoy being a go-to guy. The senior point guard looked loose and confident in his shot in racking up 20 points and five assists. Early on, this appears to be Taylor's team.
• Thomas Robinson still isn't going to back down. Though he didn't guard Cole Aldrich much on Wednesday, Aldrich knew about it when he did. Robinson was shoving, elbowing, grabbing a jersey — anything he could do to get Aldrich out of rhythm. It seemed to work, as Aldrich appeared to be flustered when the physical Robinson was guarding him.
Having said that, Robinson will need to significantly cut down on his fouls to stay in games this season, so playing that physical might not be something he wants to continue once the season starts.
• Elijah Johnson can shoot. I don't remember the junior point guard missing a three-pointer on Wednesday (he shot at least four). Coincidentally (or maybe not coincidentally), many of his threes came immediately after Taylor made a three for the Blue team.
Johnson piled up 19 points and was the Red team's best non-alum player. He didn't look to be overanalyzing things Wednesday, and that seemed to help him.
• Justin Wesley once again performed well in a scrimmage setting. Nine of his 11 points came in the first half, and though he's a bit undersized when trying to guard someone like Robinson, he makes up for it with pretty good athleticism. After grabbing a steal in the first half, he dribbled it the length of the court and put in an athletic layup for one of the day's best highlights. We'll see if he puts up another impressive effort next week.
• Jeff Withey was Jeff Withey. At times, he was dominated by Aldrich, who scored on his first three possessions against Withey. At times, he was timid, and didn't appear to want to get in the middle of a scuffle inside.
Then, when it's all over, he has nine points and 11 rebounds, a few blocks, and has helped the team much more than he has hurt it.
With Withey, people always seem to focus on what he's not good at or what he can't do rather than what he can do.
And as of now, Withey can provide an Aldrich lite-like presence in the lane defensively while grabbing some rebounds and getting some stickbacks.
KU certainly could do worse with its starting center.
• I can understand the comparisons between Naadir Tharpe and Aaron Miles. Tharpe wasn't a huge scorer, but he seemed to be a facilitator on Wednesday much like Miles. He didn't force offense, but instead was steady and picked his spots well. He didn't hesitate to put in a baseline jumper over Taylor when the senior was late to get out to him defensively.
• I was impressed by Travis Releford as well. He was aggressive driving through the lane and seemed to make good decisions when doing so. He makes getting to the rim look so effortless. His three wasn't going down, but it probably won't have to for him to average 8-10 points next season if he attacks the rim like he did Wednesday.
• Ben McLemore's shot wasn't falling, but you can see there's athleticism there. I wouldn't be surprised if he plays on the wing with his body type, which KU coach Bill Self said was a little bit similar to Brandon Rush's.
• Quiet day for Conner Teahan. Still wondering if he'll earn rotation minutes.
Be sure to check back to KUSports.com later for video highlights from today's scrimmage.
Unofficial final scoring (points may not all add up)
Red team — Jeff Hawkins 3, Christian Garrett 0, Cole Aldrich 17 (12 rebounds), Naadir Tharpe 2, Tyrel Reed 16, Justin Wesley 11, Ben McLemore 4, Elijah Johnson 19.
Blue team — Tyshawn Taylor 20 (5 assists), Thomas Robinson 14 (10 rebounds), Jeff Withey 9 (11 rebounds), Travis Releford 14, Jordan Juenemann 5, Conner Teahan 0, Niko Roberts 0.
Check back to KUSports.com later tonight for video highlights and also player interviews from today's camp scrimmage.
Red 71/Blue 62
Johnson with a deep three-pointer to end it.
The red team, made up of about half alums, takes the first camp game.
We'll update with leading scorers in a few minutes.
Red 66/Blue 56
Reed with a three. I believe this game is first one to 70 points.
Red 63/Blue 56
Taylor with a strong drive, putting it high off the glass for two with a foul.
Red 61/Blue 54
Taylor misses a jumper, but Robinson uses two hands to volleyball swat it into the hoop.
Red 59/Blue 52
Releford with a smooth move, faking a pass to the perimeter before gliding two steps to the lane for a layup.
Red 56/Blue 50
Robinson with a thunder dunk over Aldrich. That gets the loudest "Ohhhhhs" from the crowd today.
Red 56/Blue 48
Tharpe swipes the ball away for a steal, then on a 2-on-0, lays the ball off the glass so Reed can dunk it.
Red 52/Blue 48
Wesley with two free throws. He's up to 11 points.
Red 52/Blue 48
Juenemann with a fadeaway 18-footer. Smooth stroke there over a defender.
Red 49/Blue 44
Robinson has been extremely physical when he's guarded Aldrich inside. He's bumped him and shoved him quite a bit.
Red 49/Blue 42
Another alley oop, only this time McLemore goes way up to slam it down.
Red 47/Blue 40
Tharpe with a 16-foot baseline jumper over Taylor, who wasn't respecting his ability to shoot.
Taylor follows with an alley-oop to Robinson, who slams it in behind his head.
Red 45/Blue 38
Withey fouled, and he makes one of two free throws. He follows it up by playing good defense on Aldrich, who misses a wild hook shot.
Red 45/Blue 37
Robinson with a baseline jumper over a tired Aldrich.
Red 45/Blue 35
Taylor with an emphatic dunk on a drive. He yells at Aldrich afterwards to let him know about it.
Red 43/Blue 31
Hawkins with a 23-foot three-pointer. He's been mostly quiet so far.
Red 40/Blue 31
Aldrich once again takes Withey one-on-one, this time putting in a spinning, left-handed shot.
Red 38/Blue 29
Taylor drains an open three. Credit Robinson for drawing a crowd in the lane, then passing back outside.
Johnson, like most of this game, answers Taylor's three with one of his own.
Red 35/Blue 26
That's halftime. Aldrich is the leading scorer with 10 points. Wesley has nine, while Johnson has eight.
Robinson, Withey and Releford have six apiece.
Red 35/Blue 26
Wesley with a steal, and he takes it the length of the court for an athletic layup. That gives him nine points.
Red 33/Blue 26
Robinson gets great position on Wesley, then drops in a layup off the glass.
Red 31/Blue 24
Juenemann with a three. He clangs his next one.
Red 28/Blue 21
Withey with a layup through contact. He still could stand to be more physical.
Taylor follows by hanging in the air to make a layup.
Red 26/Blue 17
Johnson tries a drive, and he's rejected by Withey.
Red 26/Blue 15
Taylor curls around a screen for a deep three. Johnson answers with his own.
Red 21/Blue 12
Withey with a stickback dunk. He's going better against a winded Aldrich.
Red 21/Blue 10
Aldrich with the miss, but Wesley is there for the putback.
Red 19/Blue 10
Robinson puts down and alley oop. His vertical jump hasn't gone anywhere.
Red 19/Blue 6
Aldrich has scored his first three times in the post again Withey, this time on a left-handed baseline turnaround.
Next time down, Aldrich finally misses a left-handed shot.
Red 17/Blue 6
Taylor goes for an emphatic slam, but is rejected by the rim. Releford is there to grab the miss and put in a short jumper.
Red 13/Blue 4
Reed nonchalantly pulls up from 24 feet. Swish. Next possession he hustles for a rebound and puts in a fadeaway. He looks much springier after his foot surgery.
Red 7/Blue 0
Elijah Johnson with a three (wasn't there a story about that today somewhere?) and Aldrich takes a couple dribbles to the lane before putting in a hook shot.
Red 2/Blue 0
Round one goes to Aldrich, who gets it in the post, then twirls around Withey for a left-handed two.
Withey's first-turnaround jumper is an airball.
3:39 p.m.
One minute before start time.
I'll be most interested to see how Jeff Withey competes against Cole Aldrich inside.
3:37 p.m.
Wayne Simien is also here, but he won't play.
Getting ready to start.
3:31 p.m.
Oops. I was fooled. It appears that it will be Reed, Elijah Johnson, Aldrich, Hawkins, Christian Garrett, Justin Wesley, Ben McLemore and Naadir Tharpe on the red team.
On the blue team, it looks like Jeff Withey, Travis Releford, Niko Roberts, Conner Teahan, Jordan Juenemann, Thomas Robinson and Tyshawn Taylor.
3:26 p.m.
Looks like Tyshawn Taylor, Travis Releford and Jordan Juenemann will join Hawkins, Aldrich and Reed on the alumni team.
3:17 p.m.
Welcome back to the Newell Post Live, coming to you from the Horejsi Center on the Kansas University campus where the KU men's basketball team is getting set for its first summer camp game. Looks like we're still about 20 minutes away from starting here.
I'm hearing that Cole Aldrich, Tyrel Reed and Jeff Hawkins are all here. We'll put up the exact teams once the guys officially come out.
Otherwise, check back here for quick updates and highlights from today's game.