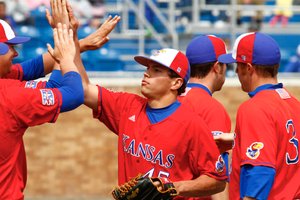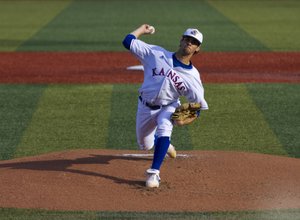 As the years have gone by, Kansas University baseball coach Ritch Price has seen more and more former Jayhawks work their way up from the college ranks into minor league and, in some cases, Major League success.
That, Price says, can be a helpful tool in recruiting, as he can point to the affiliations between his former Jayhawks and Major League ballclubs with more regularity each year.
Tuesday, the list grew by two, as pitchers Colton Murray, a junior from Overland Park, and T.J. Walz, a senior from Omaha, Neb., were picked in Major League Baseball's amateur draft.
Murray was the first Jayhawk off the board Tuesday, taken with the last pick of the 13th round (421 overall) by the Philadelphia Phillies. Though the KU closer could elect to return to school for his senior season, Price anticipates him leaving.
"I think he's ready to play and wants to move forward with his career," Price said of Murray. "I think the best thing for him would be to go out and get his professional career started."
In three years at Kansas, Murray went 6-9 with a 3.89 ERA in 80 games. All but two of his appearances were out of the bullpen. He recorded 11 saves and 108 strikeouts in 111 innings, and his 11 saves are fourth all-time at KU.
Murray's selection in the 13th round made it three years straight that KU has had a player drafted in the top 15 rounds. He joins David Narodowski (15th round, 2009); Tony Thompson (sixth round, 2010) and Robby Price (13th round, 2010).
A couple of rounds later, Walz saw his name added to this list, as the Oakland A's snagged him in the 15th round, with the 466th overall pick.
Walz leaves KU as one of the best pitchers in school history. In 2011, he led the team in wins, going 6-5 in 14 starts with 85 strikeouts. He finished the season with a 3.97 ERA and was named all-Big 12 honorable mention for the second time in his career.
Walz owns school records in innings pitched (328 1⁄3), games started (50) and strikeouts (307), and is tied for first in career wins, with 26.
"I think he got paid a really good compliment, as a senior, to be picked in the first 15 rounds," Price said of his former ace. "Oakland's notorious for senior signings. It's one thing they believe in. They believe in college players, they believe in college seniors and I don't think he could've been picked by a better organization that suits his abilities."
Earlier in the day Tuesday, the Jayhawks also saw one of their top high school prospects drafted, as Free State High senior Cody Kukuk was picked by Boston in the 7th round.
"One of the things that's really hurt us the last two years is we've been hurt really bad in the draft," Price said. "Not just with our guys, but with high school kids. But it's all part of the process as your program gets better."
The amateur draft concludes today, when as many as eight other Jayhawks could hear their names called in the final 30 rounds.