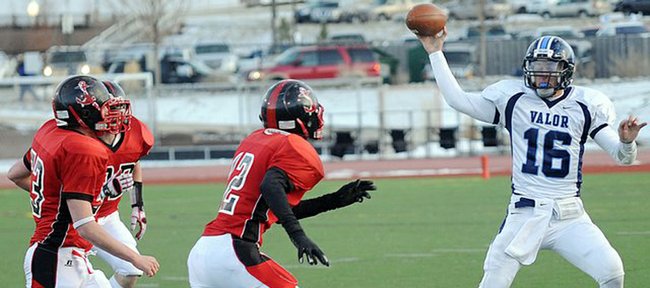 The official Kansas University football roster continues to list Brock Berglund as a freshman quarterback, but it's time to speak the plain truth.
Berglund has as much chance of ever suiting up for a Kansas football game as does Lady Gaga, and, really now, can you ever see her agreeing to wear that much clothing? Berglund will play football for KU the day Charles Barkley breaks 70 on Augusta National. He'll command a huddle surrounded by Jayhawks just as soon as Jane Fonda commands our nation's armed forces. Berglund will throw a pass to tight end Jimmay Mundine when pigs fly, Pakistan comes clean about harboring Osama bin Laden and Wilford Brimley beats out Leonardo DiCaprio for an Oscar.
Berglund graduated high school in time to enroll in classes at KU this past January, which set him up for competing for the starting job in the 15 spring practices. He showed up, then went back home, took classes online, blew off spring football. Someone privy to such things said he hasn't been seen at "voluntary" summer workouts since picture day June 15. Teammates have made it clear he's not welcome.
The sad case of Berglund, the Colorado recruit, has not been without comic relief by way of his self-evaluation.
Berglund initially committed to Colorado and de-committed after a coaching change. Shortly after pledging to the Jayhawks, he was asked by the Journal-World's Matt Tait to name a quarterback he resembled.
"I would say Tim Tebow, Michael Vick and Peyton Manning, kind of all put together," said Berglund, a 6-foot-4, 205-pound athlete reportedly blessed with ample mobility and throwing accuracy.
(By the way, did I ever mention I look like Conner Teahan, am built like Thomas Robinson, lead like Todd Reesing, sound like Hank Booth and pay like Lew Perkins?)
Sadly, Berglund expounded on the comparisons.
"My ability to make plays outside the pocket is a lot like Michael Vick's," he said. "When it's third-and-27 and you're just trying to get a few yards to punt, he makes a first down or a touchdown. Tim Tebow's just a leader on the field and a motivator, and I like motivating. And I'd say I prepare like Peyton Manning does in the way that I watch tons and tons of film in a week and like to get ready for anything the defense can throw at me."
Once he showed up on campus, teammates found him to be the personification of those boastful words. They put him in his place. Now, whether they did so with words or one player took it a step beyond is a matter of conjecture. Either way, he took his ball and went home.
Still, he was given another chance by coach Turner Gill. No way Berglund can get a uniform now that he hasn't been showing up for the "voluntary" conditioning workouts. Now an exit strategy must be formulated. Gill can't run him for not attending workouts the NCAA labels optional.
The most likely outcome has KU quietly announcing his departure once Berglund finds another school. For better or worse, this is Jordan Webb's team. Nobody, least of all himself, ever has described Webb as a cross between Tom Brady and Joe Montana, but he works hard and lets others do the talking.