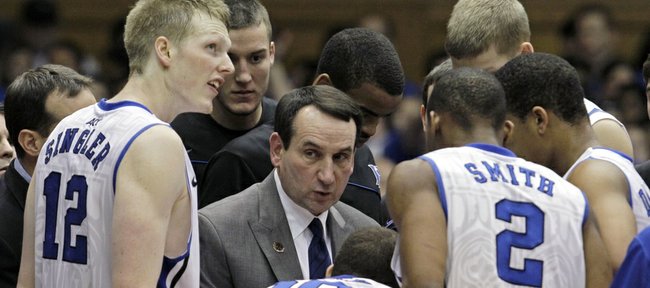 A Google of "odds to win the NCAA basketball championship" brought me to vegasinsider.com, which I guess makes me a Vegas insider of sorts.
Not surprisingly, Duke has the best odds to win it all for what would be the first successful defense of a national championship since Florida did it in 2007. If superstar freshman point guard Kyrie Irving returns, which at this point seems like a probability, though not a certainty, Duke's the smartest choice, even after Sunday's 15-point loss to St. John's at Madison Square Garden.
The Blue Devils had to learn how to play with Irving, then without him, and if he's able to return from a serious big-toe injury being treated without surgery, they'll have to learn how to play with him again. Duke coach Mike Krzyzewski has figured out bigger challenges, such as taming massive egos and getting them all to listen to one voice on the way to an Olympic Gold medal.
Still, even with Irving, who led Duke in scoring and assists at the time of his injury, this feels as if it's too wide-open a field for one team to have odds as low as the 3/1 listed on the website that gives odds for 35 schools, plus a field (all others) entry.
The shortest odds of the rest: Ohio State (5/1); Kansas (8/1); Kentucky, Pittsburgh, Michigan State (12/1); Washington, Villanova (20/1); Syracuse, field (25/1); Illinois, Kansas State, Purdue and Texas (30/1).
The list shows where each entry opened and where it moved as of Sunday night. Eight of the entries are listed the same as where they opened. Does that mean they haven't changed or are they off the board? Don't know. You'd have to ask an online gambler.
Anyway, Kansas State opened at 10/1, and even at 30/1 is the worst bet on the board. The Wildcats' best shot at a postseason championship is the NIT, and that assumes two things: K-State will get an invitation, and senior Jacob Pullen will decide to play.
Kentucky (too young) and Michigan State (talented junior guard Korie Lucious recently was booted off the team) are overvalued.
Kansas, which deserves the No. 2 spot when the polls are released today, isn't a bad bet at 8/1, but there are five better ones:
Texas at 30/1. This shows the nation still views the Longhorns as a football school, but this year they have a far better basketball team than football. So tough on the inside, Texas has a legitimate chance to win it all, certainly a much better shot than 30/1.
BYU at 60/1. Whenever a team has the best player on the floor, it has a shot to win the game. With Jimmer Fredette, BYU will have the best player on the floor every game it plays.
San Diego State at 40/1. Steve Fisher always has been and always will be an underrated coach. Don't forget, he won a national championship at Michigan, which makes his team all the more dangerous.
Purdue at 30/1. The Boilermakers took a hit losing Robbie Hummel, but still have the best 1-2 punch in the country in center JaJuan Johnson and shooting guard E'Twaun Moore.
Syracuse at 25/1. Lost four in a row after opening the season 18-0, but that can happen to any Big East team given the rigors of the schedule.