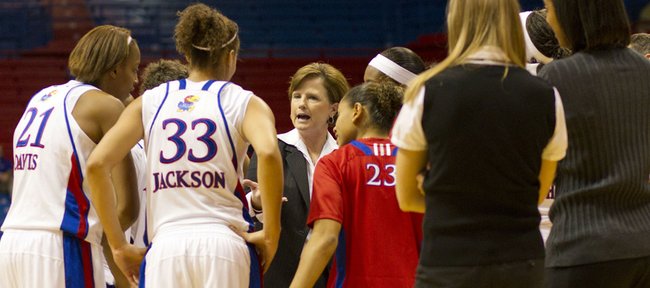 Searching for a way to snap its three-game conference losing skid, the Kansas University women's basketball team turns its attention to a bitter rival as the Jayhawks take on Missouri at 7 tonight in Columbia, Mo.
Kansas enters the game on the heels of three straight double-digit defeats, which dropped the Jayhawks to 14-5 overall and 1-4 in Big 12 Conference play.
Two of those losses came against ranked teams. Kansas fell to No. 1 Baylor, 76-37, a week ago, and also suffered a 75-57 loss to No. 14 Oklahoma on Sunday.
After dropping its conference opener at home against Texas Tech, KU bounced back with a road win at Colorado. The Jayhawks followed that with a road loss at Nebraska and, by now, the team is well aware of what it's dealing with.
"There is a big difference from playing in the Big 12 and nonconference," sophomore guard Angel Goodrich said. "Big 12 players are always strong and quick. Once you get into Big 12 play, everyone knows who you are and what you are going to do."
That goes double for Missouri, which comes into tonight's game looking for a spark to revive its season. The Tigers are just 9-10 and also have started off 1-4 in the Big 12. Offensively, MU is led by a couple of upperclassmen.
Senior guard RaeShara Brown averages 16.6 points and 6.5 rebounds per game. She also leads the team with 29 three-pointers and is averaging 4.6 assists and 2.5 steals per contest. Brown is joined by junior forward Christine Flores, who averages 14.6 points and a team-high 6.6 rebounds per game.
Missouri leads the all-time series in Columbia, 17-15, but the Jayhawks won last year's meeting at Mizzou Arena, 61-59. Carolyn Davis, KU's leading scorer this season (18 ppg), poured in 20 points and nine rebounds in that one.
The Jayhawks lead the all-time series, 42-36, and KU coach Bonnie Henrickson said an intense battle with the Tigers might be just what her team needs to get back on track.
"It's a big week for us," said Henrickson, whose squad will play at Kansas State on Saturday. "We need to learn and grow from those good stretches we had (against Oklahoma) because that's how you get better. (Missouri) will be excited to play us, and we'll be excited to play them."