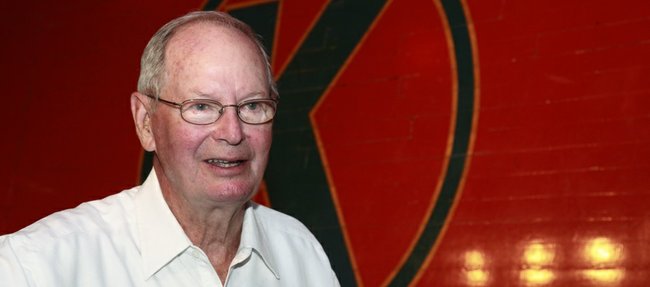 1971 team will be recognized at halftime
Kansas University's 1971 Final Four team will be honored at halftime of Saturday's game against Nebraska in Allen Fieldhouse.
Coach Ted Owens' Jayhawks went 27-3 overall and a perfect 14-0 in the Big Eight Conference. KU beat Houston and Drake in the NCAA Midwest Regional games in Wichita, then lost to UCLA in the Final Four semifinals in Houston.
Dave Robisch was the squad's leading scorer at 19.2 points per game. Bud Stallworth averaged 16.9 ppg, Roger Brown 11.2 ppg and Pierre Russell 10.3 ppg. Other members of the team: Randy Canfield, Greg Douglas, Jerry House, Bob Kivisto, Neal Mask, Mark Mathews, Aubrey Nash and Mark Williams. Assistant coaches were Gale Catlett and Sam Miranda. Trainer was Dean Nesmith. Manager was Kim Blocher.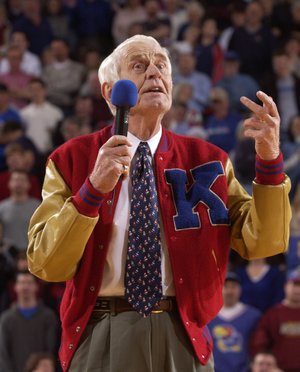 On a cotton farm three miles south of Hollis, Okla., during the Great Depression, exhaustion from working the land all day was no match for a father's love of his three sons. So when the boys came home from school, Homer Owens would unleash the mules, grab a baseball bat and hit them "skinners," more commonly known as grounders.
Homer hung a backboard and a net-less rim, flush with a steel pole, and the boys would crash into it shooting layups. So began a boy's love affair with a sport that to this day dominates his thoughts.
No telling where life would have taken Ted Owens, 81, former Kansas University basketball coach, if his father hadn't hung that hoop. Ted's just happy he did.
"It was a square, wooden backboard," he remembered over breakfast during a recent stay in Lawrence. "Then when they came in with the moon-shaped backboard, we told our dad we had to have that, so he cut it for us. It was about that time everyone else went back to a square backboard."
During the cotton-harvesting season, school would shut down for a couple of weeks, and Homer and Annie's three sons, Quentin, Freddy and Ted, would pull cotton from sunup to sundown. When school was in session, basketball surrounded classwork.
"We played there every morning before we'd go to school," Ted said. "We'd get all dusty, get dirt under our socks. Mother would be worried to death: 'If you break a leg, at school they're going to look at you and think I don't take good care of my boys.' She was a saint, the sweetest person I ever knew."
Ted, who calls himself, "one of the last of the two-hand set-shooters," has only his memories of the family with which he grew up. They're all gone now. Ted and wife Michelle, who live in Tulsa, have four children of their own.
"I have such great blessings," Owens said. "I have such a great family and my extended family, my players."
A 1971 Final Four Reunion
Several of those players will join Owens in Allen Fieldhouse, where his 1971 Final Four team will be honored at halftime of Saturday's 1 p.m. tipoff against Nebraska.
After four seasons as an assistant to Dick Harp, Owens coached Kansas from 1964 to 1983 and reached Final Fours in 1971 and 1974. Though none of his players were consensus first-team All-Americans, five did earn first-team All-American honors: Walt Wesley, Jo Jo White, Dave Robisch, Bud Stallworth and Darnell Valentine.
His best player?
"I never answer that question," said Owens, forever sensitive to others' feelings. "I'd just as soon seven of them think they were my best player."
Owens, 81, will create one more basketball memory in a massive mental library full of them that he'll carry with him for the rest of his years.
Competing Against Legends
Through the decades, Owens played against, coached against and befriended so many of the game's biggest names. He's the Forrest Gump of basketball and is always happy to share his impressions of the sport's giants.
He played against Phog Allen-coached teams and years later golfed with him. He played against Henry Iba's team when the school was called Oklahoma A&M; and coached against Iba when it was Oklahoma State.
"While a lot of people didn't agree with his style of offense and so forth, all of us agreed on one thing: He did a great job of teaching what he believed in, patience, movement," Owens said. "My first year as head coach here his team only shot the ball 13 times in the second half and hit 12. When there was no shot clock, they would drive you nuts, move and move and move, and pretty soon, they played on your lack of patience."
Once, Owens said, Bill Bridges told him that his man cut to the hoop 17 times during one possession.
"He played rock-solid defense, support defense," Owens said of Iba. "He just played a disciplined game, and his players bought into that. I'm not sure today, as much as players like to shoot and shoot quick, how that would work."
Owens coached against Kentucky legend Adolph Rupp, who didn't put as high a premium on defense as did Iba. Gale Catlett left Kansas and Owens to work for Rupp at Kentucky.
"Gale told me there were spots on the court where he knew their shots would come from, and Rupp would drill those for 30 minutes, drill offensive patterns for 30 minutes and then scrimmage for 30 minutes," Owens said. "They never spent any time on defense."
Once, Catlett told Owens, Rupp turned to him at the end of practice and said, "All right, talk to them about defense. You come from Kansas where they play good defense."
Bob Knight, A Friendly Foe
At Kansas, Owens coached against Joe Lapchick of St. John's, Nat Holman of City College of New York, North Carolina's Dean Smith and Indiana's Bob Knight. Owens was the coach on the opposing bench when Michael Jordan played his first college game for North Carolina.
Of Knight, Owens said, "If he's your enemy, he's the worst enemy you can have. If he's your friend, he's the best friend you can have. I like Bob. He's a good friend."
Owens admires Knight's insatiable hunger for knowledge.
"The first thing coach Knight did every morning when he was at West Point was pick up the phone, call another coach and pick his brain," Owens said.
Everything about Knight's background and his approach greased the skids for coaching greatness, Owens believes.
"He, first of all, played for a good coach, Fred Taylor at Ohio State," Owens said. "Then he went back to New York and became friends with Clair Bee, one of the first great Eastern coaches. The only way you can learn is to admit that you don't know everything. A lot of us have a tough time admitting that, sometimes out of insecurity. Bob knew he didn't know it all. And he didn't neglect older coaches. A lot of young coaches think, 'Hey, he isn't in the modern world.' So they don't talk to you much about strategy."
Owens recalled beating Knight just once, in a game played in Madison Square Garden.
"He called me two days later and said, 'We like your sideline break. We want to know more about your sideline break.' Here's a guy who had already won a couple of national championships," Owens marveled. "He never stopped learning."
Basketball, to hear Owens tell it, can mirror fashion in that looks go in and out of style, and what's considered new often actually is old.
His college coach, Bruce Drake, ran an offense known as the Drake Shuffle. Years later, Auburn coach Joel Eaves ran the same offense, according to Owens, and it became known as the Auburn shuffle.
Father Thinks He Knows Best
Ted and Michelle's son, Teddy, is head basketball coach at Lincoln Christian High in Tulsa. When he wants his players to run the shuffle, he hollers, "Drake."
Once a ball coach, always a ball coach, Teddy's dad lends advice.
"One day I told him, 'Teddy, to fit your personnel better, here's a little variation that I've been piddling with that I think will be really helpful to you.' I'm really thinking I hit a home run here," Ted said. "So he looked at it and he said, 'That's good, dad. Tim Bart runs that over at Bartlesville High School.' I thought I had come up with a great variation."
Owens is fond of KU's Bill Self as a person and coach. They have shared time talking basketball and golfing.
"I suppose the thing I like about him is he's such a complete package," Owens said. "He communicates well with everybody. He's genuine. He likes people. He remembers his roots. Intensely loyal to his people who work for him. Great recruiter. Excellent teacher. But I guess the thing I like best about him is he can't keep it in the fairway. He does hit it a long way, though."
Both men are Oklahoma natives and both served as head coach at Oral Roberts University, Self early on his path to his dream job, Owens for two seasons in the wake of losing his. After Oral Roberts, Owens coached brief stints with the Fresno Flames of a short-lived professional league that did not allow players taller than 6-foot-5 and with Maccabi Tel Aviv, the most prominent professional basketball team in Israel. Oklahoma City Thunder coach Scott Brooks played for Owens with the Flames, and they remain friends.
"Coach certainly has been a great supporting piece for me," Self said of Owens. "We talk a lot, not specific X's and O's, more general philosophy. He knows the game, and even more than that, he knows people. He reads people well, and it amazes me how much he appreciates practice, how much he appreciates the simple things."
No Place Like Kansas
Most of all, Owens appreciates Kansas basketball. His first exposure came as an opponent with Oklahoma.
"We'd catch a train to Lawrence and stay at the old Eldridge Hotel," Owens recalled. "We didn't look at the campus or anything. We'd go from the train station to the Eldridge, to old Hoch Auditorium, back to the Eldridge, and then back to the train station and out."
After serving in the Korean War, Owens played for Ada Oil, KU alumnus Bud Adams' team in the old national industrial basketball league. Then, after finishing his master's degree at OU, Owens worked at Cameron Junior College, where he taught history, was an assistant football coach and the head basketball and baseball coach. His high school teammate, Monte Moore (voice of the Kansas City/Oakland A's from 1962 to 1980), called KU games on the radio. When Jerry Waugh left KU basketball coach Dick Harp's staff in 1960 to go into business, Moore recommended Owens.
"Coach Harp's wife, Mar(tha) Sue, took us on a tour of the campus and it was just gorgeous," Owens said. "Is there any more beautiful scene than being in the stadium and looking up at the campus and the Campanile?"
Harp and athletic director Dutch Lonborg interviewed Owens, offered the job and he accepted.
Recruiting rules weren't as restrictive when he coached at Kansas as now and it was no problem enlisting the help of big-name alumni to woo recruits.
"Gale Sayers owned Chicago at the time," Owens said. "If you would take a prospect and his family out to dinner in Chicago with Gale with you, you would have a great chance to get him. Everybody came over to our table and would want Gale's autograph. And then Gale would take us over to his place and show us the six touchdowns he scored against the 49ers. It was fun recruiting in Chicago."
Recruiting took Owens to small gyms in big cities, where he watched tall players.
"I went back to New York and Power Memorial was playing in this dinky, little old gym and here's this big guy, 7-foot Lew Alcindor, and the other team held the ball," Owens said. "It was like an 18-10 game or something like that, but I saw enough that we gladly would have taken him."
Getting to know Phog Allen ranked as another highlight of Owens' Kansas years.
"We were playing at Lawrence Country Club and I hit a bad shot," Owens said, his welcoming smile beginning to form at the memory. "I stuck my club about two inches into the ground and Doc just said, 'At certain levels of skill, you should not expect a perfect shot every time.' So I've never stuck my club in the ground since."
Owens still finds it difficult to talk about the day his time as Kansas coach came to an end. Still, he throws no stones, claims no injustices.
"We'd had two really down years, but we had a great group of young players coming on," Owens said. "I thought we'd turn it around and so forth, but you know, we had a couple of years there that were far below Kansas standards. They decided to make a change. After 23 years here, it was extremely painful. I absolutely loved it here, and I still do."
The smart money says the ovation the old ball coach receives at halftime will let him know the feeling's mutual.