Videos
Bill Self weekly press conference, Feb. 10, 2011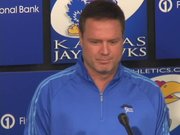 Kansas head coach Bill Self addressed the media at his weekly press conference on Thursday, Feb. 10, 2011 at Allen Fieldhouse.
The shots driving basketball players take off the dribble have many names, "floaters" and "teardrops" among them. The way Tyshawn Taylor delivered them the past couple of games, bullets and fire hoses more accurately described their velocity and trajectory.
Yet, while replays of the line drives loop in our minds, the brain of the Kansas University junior guard's coach is trained elsewhere.
"I don't have a problem with that," KU coach Bill Self said of Taylor's floaters. "The thing about it is, with attacking the rim, you force help, you force the big guys to come help. So if you get it up on the rim, or up on the glass, your big guys have a free path to come rebound it. Even though those don't go in sometimes, they are still good shots."
Even when the question centers on one player's specific shot, the coach sees all 10 players on the floor as he answers it. That's how his brain always works.
"It's not like you've got a big taking a guard shot from the perimeter and you're taking a big off the glass," Self said. "We're adding a rebounder every time Tyshawn drives it."
Asked to rate Taylor's play of late, Self said, "I'd say it's been OK. I see it differently than most. I'd say it's been better offensively than defensively. That's one area we've all got to get better in, particularly him, because he has the most to give. He could be our best defender."
Self wants him to become a shut-down defender the way Brandon Rush and Russell Robinson were for the national-championship team. So why hasn't Taylor developed into that yet?
"Probably just concentration, as much as anything," Self said.
NBA scouts will find Taylor's blend of length and quickness intriguing after he has spent four years at KU tightening his skills and training his basketball brain. He knows what part of his game gives him a shot at meeting his goal of playing in the NBA.
"I definitely think my defense," Taylor said.
He knows how important it is for him to improve, he just hasn't mastered the art of concentrating for the entire 35-second shot clock.
Taylor said he studies several point guards when he watches NBA games on television and pointed to Rajon Rondo of the Boston Celtics and Russell Westbrook of the Oklahoma City Thunder as those he watches most often.
In order to play more like Rondo, Taylor said he needs to, "become a pure point guard. I didn't see Rondo play too much in college, but I think it was something he grew into, too. It wasn't really his natural position. He was kind of pushed into that, and he learned as he went. It's something I'm still learning, how to be a point guard."
That, Taylor said, is one of the reasons he enjoys watching Westbrook, a shooting guard at UCLA.
"He had to learn to play point," Taylor said. "I think he's one of the best point guards in the league. I love watching him."
As for those errant floaters, a big factor in his 6-for-26 shooting the past three games, Taylor said, "I think I'm rushing them a little bit, but those are my shots, and I've got to keep shooting them."
Saturday, he'll try to keep Iowa State's Dionte Garrett from taking too many of them.