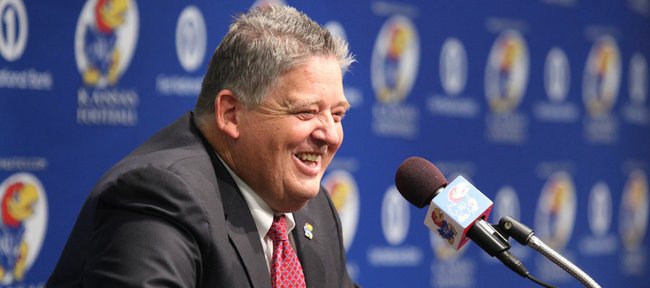 The contract for newly named Kansas University football coach Charlie Weis has been finalized, and, like the one drawn up for former KU coach Turner Gill in 2009, it does not include a buyout for early termination.
Weis, who has signed on for 5 years, will make $2.5 million per year plus incentives. That's $12.5 million, guaranteed, whether he coaches one game, one year or all five seasons. The only way Weis would be owed less would be if he were fired for cause.
According to KU athletic director Sheahon Zenger, such a contract is the price you pay for hiring a high-profile coach and is common throughout athletics. If anything, it further condemns the fact that the previous administration offered Gill a similar deal despite being an unproven head coach with a losing record.
"I'm fully aware that was an area of concern on the last contract," Zenger told the Journal-World. "It's something we don't take lightly. It is typical in today's world to guarantee the yearly income when dealing with higher profile coaches."
Document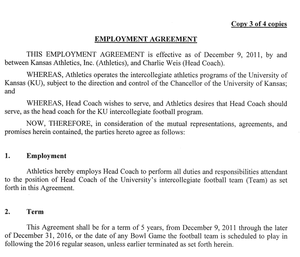 Should Weis elect to terminate his contract prior to Dec. 31, 2014, he would owe the university $2.5 million. If he chooses to terminate the deal between Jan. 1, 2015 and Dec. 31, 2016 (the end of his contract), he would owe KU $1.5 million.
But Zenger does not foresee either side ending the relationship early and is willing to give Weis the time and resources he needs to make KU a winner. Included in the contract is a clause that makes available at least $2.1 million annually for assistant coaches.
"We believe that Charlie Weis is the right coach at the right time for the University of Kansas," Zenger added. "And we understand it's going to take time to build this program in the right direction."
While this kind of clause also is common, it was not written into former KU coach Turner Gill's deal. Gill, who was fired on Nov. 27 after going 5-19 during his two seasons in Lawrence, signed on for 5 years at $2 million per year and will receive all that is owed to him within 90 days of being fired.
As for Weis, his incentives cover everything from Big 12 victories and bowl appearances to BCS title game appearances and national coach of the year honors.
Here's a look at the incentives included in the contract:
5 Big 12 conference game wins: $50,000
Each additional Big 12 win after 5 wins: $10,000 per game
Big 12 Regular Season Championship: $100,000
Bowl Game participation: $50,000
Bowl Game win: $25,000
BCS Bowl Game participation: $100,000
BCS Bowl Game win: $50,000
AP National Coach of the Year: $75,000
Big 12 Coach of the Year: $50,000
National Championship Game participation: $200,000
National Championship Game win: $100,000