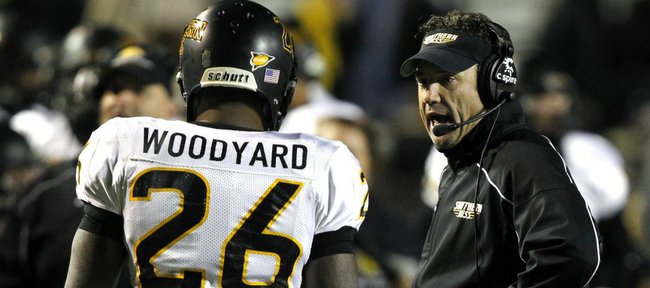 As Kansas University's search to find a replacement for former head football coach Turner Gill enters its sixth day, a few things — both in terms of additions and subtractions — are starting to become clear about KU's list of candidates.
Southern Miss coach Larry Fedora, Florida State defensive coordinator Mark Stoops and Louisiana Tech head coach Sonny Dykes continue to look like strong options. The biggest mover of the last couple of days seems to be former Boise State and Arizona State head coach Dirk Koetter, who now serves as the offensive coordinator for the NFL's Jacksonville Jaguars. Koetter, 52, appears to have worked his way into KU's top tier of candidates with a strong résumé that includes connections throughout the country and an offensive mind that's capable of keeping up in the Big 12.
No one has seen the official list that KU athletic director Sheahon Zenger took with him on the road Wednesday — in fact, KU officials have have remained very quiet about the search — but a few names that were on our original list of possible candidates can be removed.
Former Texas Tech coach Mike Leach, originally believed one of KU's top targets, was hired by Washington State earlier this week. The timing appears to be off for KU to hire South Florida coach Jim Leavitt, who had worked with Zenger in the past. Sources have said that Kevin Sumlin, of Houston, has no interest in Kansas. That's probably not a bad thing for KU, since Sumlin appears to be the top target at Texas A&M.;
In addition to those names, former Arizona head coach Mike Stoops appears to be headed to Ohio State to join the Buckeyes as the defensive coordinator under new head coach Urban Meyer.
Coaches
Of our original list of 12, eight names are still potentially in the running. During the past five days, a host of other names have also emerged as potential KU targets.
Here's an updated list, with new categories and a quick breakdown of each candidate:
The New Favorite
Larry Fedora, 49, University of Southern Mississippi head coach
Record at school: 31-19 in 4 seasons (4 bowl appearances)
Current salary: $704,500 per year
Why it makes sense: Known as an excellent recruiter — especially in Texas, where he was a high school coach — and has Big 12 ties from his days as an offensive coordinator at Oklahoma State. Also served as offensive coordinator at Florida from 2002-04 and has emerged in recent days as one of the hottest names available.
Why it might not happen: Appears to be in the mix at Texas A&M; and Ole Miss, which could cause problems for KU. Is his name sexy enough to please the big-time donors and a fan base that, just a few days ago, had visions of Mike Leach as their new head coach?
The Strong Contenders
Mark Stoops, 44, Florida State defensive coordinator
Record at school: N/A
Current salary: Not Available. Made $283,914 in final year as Arizona DC (2008).
Why it makes sense: Obviously has the right last name to get your attention, but also has the right connections. Zenger and Stoops worked together on Leavitt's staff at South Florida in 1996 and again from 1997-99 at Wyoming, where Stoops coached defensive backs and Zenger served as recruiting coordinator and assistant head coach. Has served as defensive coordinator at three schools (Houston, Arizona and Florida State).
Why it might not happen: A lack of head coaching experience could hurt.
Sonny Dykes, 42, Louisiana Tech head coach
Record at school: 13-11 in 2 seasons at La. Tech (1 bowl appearances)
Current salary: $450,000 per year
Why it makes sense: A disciple of former Kentucky head coach Hal Mumme and described by some as Mike Leach Lite, Dykes uses the same style of offense as Leach and comes with far less baggage. Son of legendary former Texas Tech head coach Spike Dykes. Great recruiting ties in Texas and 13-11 in two seasons at La. Tech, including 8-4 this season and a WAC championship.
Why it might not happen: There are reports of La. Tech and Dykes discussing a contract extension, and sources have said that Dykes and his family are very happy in Louisiana.
Dirk Koetter, 52, Jacksonville Jaguars offensive coordinator and former head coach at Arizona State and Boise State.
Record at school: 26-10 in 3 seasons at Boise (2 bowl appearances); 40-34 in 6 seasons at ASU (4 bowl appearances)
Current salary: Not Available.
Why it makes sense: Was the man who got Boise State rolling before handing over the keys to Dan Hawkins and Chris Petersen. Has served as an offensive coordinator at five schools — including Missouri from 1989-93 — and, in 29 years, has developed ties to dozens of coaches, which could lead to him hiring an impressive staff.
Why it might not happen: Not incredibly familiar with Big 12 country and has been away from the college game for five years.
The Forget-Me-Not Guys
Dave Doeren, 39, Northern Illinois University head coach
Record at school: 10-3 in 1 season (1 bowl appearances)
Current salary: $371,000 per year
Why it makes sense: Doeren spent time at KU under Mangino and grew up in Kansas City. He knows what it takes to win at Kansas and he understands the culture. Was a huge player in recruiting a good chunk of KU's 2007-08 Orange Bowl team and also has been praised by many as one of the bright, young defensive minds in the game based on his highly successful stint as Wisconsin's co-defensive coordinator.
Why it might not happen: For starters, Gill beat Doeren earlier this season (45-42 in Lawrence) and that probably won't sit well with KU fans.
Dave Christensen, 50, Wyoming head coach
Record at school: 17-18 in 3 seasons. (2 bowl appearances)
Current salary: $843,376 per year
Why it makes sense: Record-setting former Missouri offensive coordinator knows the area well and has recruiting ties throughout the Big 12 from his 12 seasons at Mizzou. Took over at Wyoming in 2009 and has led the Cowboys to bowls in two of his three seasons.

Why it might not happen: Could be a reach, and his losing record in the Mountain West Conference might hit too close to home for people still feeling burned by KU's hire of Gill, who arrived at KU in 2009 with a 20-30 record in four seasons in the MAC.
Skip Holtz, 47, South Florida head coach
Record at school: 13-12 in 2 seasons. (1 bowl appearance)
Current salary: $1.7 million per year.
Why it makes sense: Son of legendary Notre Dame coach Lou Holtz was a candidate for KU's job in 2009 and, until then, had enjoyed a steady rise from UConn to East Carolina. With instability plaguing the future of the Big East, Holtz could be looking for more stable ground.
Why it might not happen: Hasn't fared well in the Big East and will be sitting at home this postseason as the Bulls finished 5-7 and did not qualify for a bowl game.
Phillip Fulmer, 61, former University of Tennessee head coach
Record at school: 152-52 in 17 seasons at Tennessee (15 bowl appearances)
Current salary: Not Available.
Why it makes sense: Fulmer was forced out at Tennessee after an uncharacteristic 5-7 record in 2008. All he did before that was win 10 games in '07, nine games in '06 and 10 in 2002 and 2003, as well. Oh, he also guided the Vols to the 1998 national championship. Although the Tennessee native has spent all but four years of his coaching life in his home state, the four years away were in Kansas at Wichita State. Fulmer expressed interest in and interviewed for vacancies at Louisville and UConn in late 2009.
Why it might not happen: Fulmer's been out of the game for three seasons now and could have trouble adapting to the spread offenses — both offensively and defensively — currently in favor in the Big 12.
Troy Calhoun, 45, Air Force Academy head coach
Record at school: 39-23 in 5 seasons (4 bowl appearances)
Current salary: $889,095 per year
Why it makes sense: Experience all over the board from Ohio and Air Force to Wake Forest and the NFL. Offensive-minded coach who knows how to utilize multiple running backs, a position that should be a strength at Kansas for at least the next few years. Named the Mountain West coach of the year in 2007 and known for creative offensive gameplans.
Why it might not happen: His is not the biggest name of the bunch and he seems to be pretty happy at Air Force, where he starred as a quarterback during his playing days and began his coaching career under the legendary Fisher DeBerry.
Brent Venables, 40, Oklahoma defensive coordinator
Record at school: N/A
Current salary: Not Available.
Why it makes sense: Long considered one of the top assistant coaches in the college game, the Salina native, who played at Kansas State and later coached under Bill Snyder at his alma mater, has deep roots in the Midwest. His intelligent, energetic and charismatic qualities make him a master recruiter and the kind of coach players go the extra mile for. Venables has a great eye for talent and has been instrumental in Bob Stoops' success at OU since 1999. Before that, the two worked together at K-State, as well.

Why it might not happen: Talking him into a rebuilding project at KU could be tough, considering some think he's waiting to take over at either Oklahoma or Kansas State one day.
Glen Mason, 61, former Kansas and Minnesota head coach
Record at school: 47-54-1 in 9 seasons at KU (2 bowl appearances);
Current salary: Not Available.
Why it makes sense: Known for his ability to turn around programs and his identity as a strict disciplinarian. Mason knows the area, knows the culture of the conference and has expressed interest in the Kansas job. In addition, his step-daughter currently is enrolled as a student at KU.

Why it might not happen: Been there, done that. Had Mason never coached at Kansas, he might be among the favorites for this job. But he already left KU once — nearly twice — and seems to be enjoying life as a broadcaster for the Big Ten Network.
The Deep Reaches
Justin Fuente - 35 - Co-offensive coordinator at TCU, now in his fifth season with the Horned Frogs. Before TCU, Fuente spent six seasons as the quarterbacks coach at Illinois State, the final two years while Zenger was the school's athletic director.
Jeff Monken - 44 - Georgia Southern head coach who is 19-7 during his two seasons. Key player in helping Paul Johnson develop that wacky offense at Georgia Tech. Once interviewed with Zenger for the Illinois State job.
Todd Monken - 45 - First-year Oklahoma State offensive coordinator, who has experience in the Midwest, the NFL (Jacksonville) and at LSU, has drawn some interest from a few schools recently.
Source for salary information: USA Today