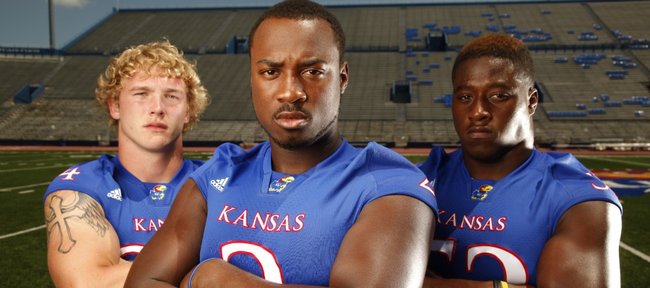 It didn't raise so much as an eyebrow when Darius Willis reported to Kansas University's preseason football drills sporting a new number.
Willis, KU's third-year sophomore inside linebacker from Houston by way of Buffalo University, explained the new digit was his old high school number.
"It was something I wore before and felt comfortable in it," Willis said. "If you feel good, you're going to play good."
Fair enough. So his old No. 39 was gone, replaced by No. 2.
It so happens, though, No. 2 was in use, by sophomore incumbent quarterback Jordan Webb.
Again, no problem. Willis appealed to a higher power — coach Turner Gill — who said the two could share the 2.
They play on opposite sides and look nothing alike. Aside from differing races, at 6-foot-3, 243 pounds, Willis has three inches and 30-plus pounds on Webb.
But here's where it gets interesting.
As it turns out, Willis sported No. 2 at Houston Eisenhower High as a linebacker/quarterback. One of the reasons he headed off to distant Buffalo — where he was heralded as one of the highest-ranked recruits ever lured to the New York tundra — was that the head coach at the time, a fella by the name of Turner Gill, convinced Willis he'd be considered as a QB. Other schools projected him purely as a linebacker.
So here we have a former quarterback suddenly wearing the number of the current quarterback, playing for the coach who told him he'd have a shot at quarterback … does Willis, perhaps, want more than Webb's number? Might he want his job, too?
"Nah, man," Willis — who, by way of comparison, is just two inches shorter but a couple of pounds heavier than Pittsburgh Steelers QB "Big" Ben Roethlisberger — said with a smile and shake of the head. "I'm pretty happy where I'm at."
He means that in more ways than one.
Content not to line up under center but a couple of rows opposite it, Willis also is tickled to have landed at KU, where he was reunited with Gill.
"I'm enjoying every day playing with my teammates," Willis said. "I'm enjoying myself."
First, the backstory.
A decorated and sought-after recruit at Eisenhower, Willis was a nonqualifier in 2008, but eventually gained the necessary SAT score and landed in Buffalo in January, 2009.
Funny story: When Willis told his Houston friends he was Buffalo-bound, "A lot of people didn't really know where Buffalo was," Willis said. "A lot of people were like, what? They thought I was talking about the Bills. Some people were like, 'Did somebody draft you?' I was, like, no. People started looking into it and looking into the education and were, like, that's a good choice."
That fall, he cracked the starting lineup at middle linebacker and had 10 tackles, 21⁄2 for losses, in two starts before suffering a ruptured pectoral muscle that forced him to miss the rest of the season.
Gill left for KU after that season, and Willis went through spring drills before deciding to leave, too.
After a short recruitment, he landed at Kansas and sat out a season, during which he was named the Compete Team defensive player of the year.
So here you have a guy who was wooed by many of the schools of the Big 12 as a high schooler, who seemed destined for stardom at Buffalo before ending up at KU where, after a year of learning and working out, he has done nothing but add to his outside expectations.
"A lot of people when they see a player that's my height and my weight and my stature," Willis said, "with the ability I have to run around and make plays … a lot of people put hype on that type of person because they think he has the ability to accomplish all the things he wants.
"But, I would say my role on the team is just to come in and lead by example. A lot of dudes come in and want to get a lot of hype and things put on their back and feel like they have to do too much. My job is just to come in, be relaxed, play my game and try to lead my teammates to the best of my ability."
As frustrating as last season was, Willis reckons it did nothing but make him better.
"Last year was a learning experience," he said. "It was the first time I got to just sit back and learn from the older guys. It's something I didn't get to do when I first came in. Not red-shirting my freshman year, then red-shirting when I came here opened my eyes to a lot of things I didn't see as a freshman. I feel like it helped me a lot. It matured me, slowed the game down a lot and helped me process the game a lot faster."
It's no secret Kansas has emphasized speed in recruiting, and in that regard Willis is a poster child.
"He's a great player," said sophomore weakside 'backer Huldon Tharp. "He's really athletic, but still has some of the same size as the middle linebackers we've had in the past. He's definitely got some really good leadership qualities and a good work ethic, so he should be helping us out a lot this year."