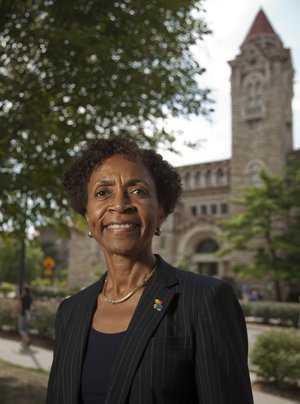 Kansas University's chancellor will be looking for a new athletics director with experience, integrity and a style that relates well to people.
Speaking publicly for the first time since Lew Perkins' resignation on Tuesday, Bernadette Gray-Little said the news sparked feedback from people interested in serving on the search committee for Perkins' replacement.
"The number of inquiries and responses and so on that I've gotten in the last 24 hours has dramatically increased over the daily amount last week," she said. "So I think that the people in this community and more broadly see this as, 'OK, the search is really starting now.'"
She said she could not comment on circumstances that led to Perkins' resignation, calling it a personnel matter.
The committee will be composed of people representing a number of different interests, including athletics, academics and alumni supporters.
Perkins won't be formally involved in the search process, she said, though she anticipated he could make recommendations to the search committee based on his wide network of contacts.
"We're looking for someone who could strengthen us in terms of facilities, in terms of programs for student-athletes and who would focus on enhancing the quality across the different sports," Gray-Little said.
Though she has been involved in higher education for decades, this represents the chancellor's first effort at hiring an athletics director. She's sought consultation from people who are professionally involved with athletics and people on campus.
"This will be my first time, and I'm trying to get as much input as I can to ensure we get off on the right start," she said. "We want someone who can build on what we have and take us even further."