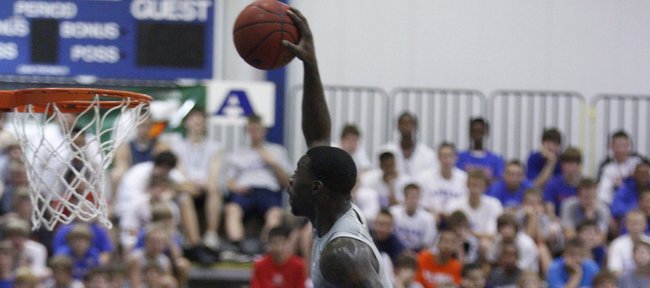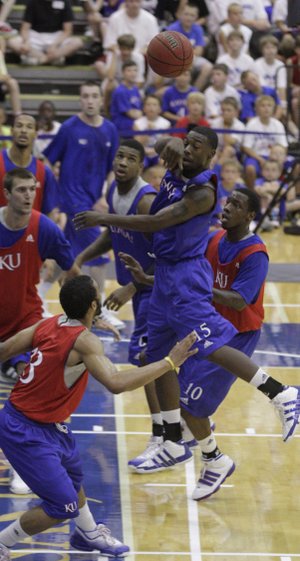 Kansas University sophomore combo guard Elijah Johnson has stretched from 6-foot-2, 183-pounds to 6-foot-4, 195 in just one calendar year.
The Las Vegas native grinned late last week when asked how he pulled off such an impressive physical feat in such a short period of time.
"Eating peanut butter and lying upside down on the monkey bar. That's how I did it," he said.
"I think it's the calculator. I feel like I grew a little bit, but I think last year they went off my senior year stuff," the former Cheyenne High standout added in a more serious tone.
Whether Johnson actually has grown more than an inch since arriving at KU — or just been fitted for a loftier pair of sneakers — might be subject to debate.
But the weight gain as reported on KU's 2010-11 roster?
That's accurate, Johnson maintains.
"I've been eating like crazy trying to get my weight up. I don't want to be able to be moved easily this year, so I did a lot of eating. And lifting weights ... me and Hudy (Andrea, strength coach) are becoming best friends," Johnson said.
He might have sampled a protein shake or two, though not as many as, say, lanky 7-footer Jeff Withey, who is now 235 pounds after starting last year 225.
"It's not a new diet," Johnson said. "I just try to eat regularly and get in the weight room as much as I can.
Johnson — he averaged 2.4 points while dishing 29 assists against 16 turnovers in 23 games his freshman season — also has taken advantage of the Jayhawks' 24-hour access to the squad's practice facility, which opened about this time a year ago.
"I usually like to shoot at night. I don't know why," said Johnson. "A lot of my teammates like to shoot during the day, but I go in there at night. I'm the type who will show up at 1 in the morning to go shoot rather than 7 in the morning."
By shoot, he means shoot a lot.
"Right now, I'm on a quest to put up 650 (shots) a day. Every night I do that," Johnson said. "Me and my little brother (who lives in Vegas) made a pact. He told me I can't go out if I don't go to the gym first.
"My team likes to have fun. I don't want at the last second to hear everybody is going out and know I can't go because I didn't go to the gym that night."
So Johnson enters the gym and attempts shots from all over the court. He hit 21 of 38 shots last year (55.3 percent), including four of 14 threes (28.6).
"I actually was in the gym one day (last year) — me and Thomas (Robinson) were in the gym shooting around. Coach (Bill) Self gave me some pointers. He just gave it to me in five seconds. Like always, it kind of summed everything up," Johnson said.
"He directed me on how I'd be able to get my shot off on the college level much easier. At first it was uncomfortable," Johnson added of Self's suggestion to go for higher arc. "I felt I was destroying my shot because I was shooting uncomfortable. I was transitioning, and I was trying to keep up with the speed of the game.
"Now that the season has been over for a while, I've had time to really ease into the pace of college with that shot. It has made everything easy."
Johnson has discovered it's tougher to get one's shot off at this level than in high school and AAU ball.
"I always had the shot," he said. "In high school I could get away with the shot I was shooting. I could make it 90 percent of the time. In college I could shoot the same (flatter) shot and I won't make it 90 percent of the time just because of the speed of the game, the height of the players, momentum of the whole atmosphere.
"It's a jump shot. It's a shot no matter where, three feet or 30 feet, it doesn't matter. I shoot the ball."
And he elevates before lofting it high.
"I have to think that on the average, I'll be guarded by a 6-5, 6-6 player rather than a 6-1 player. I have to make sure if I do run into this player ... maybe I haven't run into a 6-6 defender the whole year, then in the championship game I run into him. I don't want to be shooting a flat shot and have that be the reason we lose," Johnson said.
Junior Tyshawn Taylor has noticed the improvement in Johnson's overall game.
"I think everybody knew what Elijah could do. He was just in a situation he didn't play too much. He had guys in front of him," Taylor said. "He's good. He's gotten stronger. He's been working a lot on his jump shot. His jump shot has come along.
"It's changed a bit. He's getting it up higher. He's jumping more. I think it looks good. I think he has more confidence in it as well."
Johnson has not lost any of his explosiveness.
"He is very athletic," sophomore Travis Releford said. "He's so quick. He can cause problems being a defender. He has a bunch of strengths.
"He's hungry," Releford added. "I mean, just wanting to come back and prove himself. Going into his sophomore season he wants to be able to play, like everybody else."
Johnson — he never complained about playing time his freshman season — said he again will accept whatever role comes his way.
"It's something you have to wait," Johnson said. "When I say wait, I don't mean wait for your turn, but wait and see how everything plays out.
"It might be better for me to start this year. It might be best for me to not start this year. It's whatever is best for the team. It's not my year. It's our year. It's the team's year. It's coach Self's year."
Of Johnson, Self said: "You feel he's just scratching the surface. He's ultra-athletic, played well early, not as well late. We feel he has a bright future."
KU fans certainly hope that to be the case. Perhaps because of his hops, Johnson emerged as a fan favorite a year ago.
"Last year when we played K-State here, coach called me off the bench. It was the last thing I was expecting at the time," Johnson said. "I walked to the scorer's table. I felt I noticed the crowd basically gave me a standing ovation, but I didn't know if that is what was happening every time (a KU player subbed).
"It just felt different because it was me. I didn't take it in too much. My teammates started to tell me, 'The fans started going nuts when you were about to come in.' I said, 'Yeah, they did, huh?' I thought I was feeling myself a little too much. I guess they probably wanted a little more than a sample."
Johnson hopes to provide a full helping his soph season.
"I'll definitely keep my fans happy. I won't disappoint them. I won't," he said.