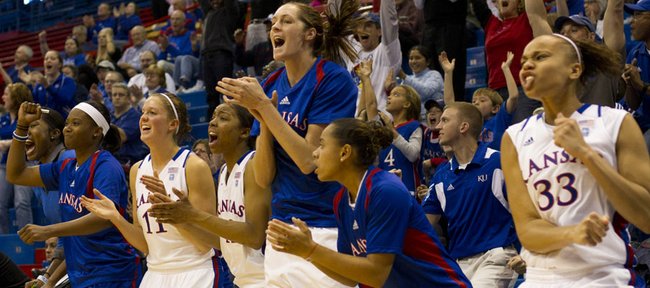 Freshman Keena Mays didn't need to look to the bench to know she had just committed a huge, potentially season-altering, mistake.
After sophomore Monica Engelman hit a short jumper with seven seconds to go to tie Sunday's game against Fordham, Mays, thinking the team was still behind, fouled Fordham's Tiffany Stokes. It was the Jayhawks' eighth team foul, meaning Stokes would walk the length of the floor for a one-and-one.
Mays, who fouled out on the play, took a seat on the bench while most of her teammates stood. Tears were already forming in her eyes. But Stokes missed the front end of the one-and-one, giving Kansas University's women's basketball team another chance.
From there, the Jayhawks (6-0) rolled, scoring 22 points in overtime and winning, 81-68, to conclude the Basketball Travelers, Inc., Tip-Off Classic at Allen Fieldhouse.
Coach Bonnie Henrickson acknowledged Mays' wide range of emotions.
"She's absolutely the happiest person in the building," Henrickson said. "I'm right behind her, though."
Mays said all she could remember in the moment was to foul. She was relieved her teammates were able to pull out the victory.
"I had faith in my team," Mays said. "I was kind of down with what I did, but I knew that we would come through."
It was surprising the Jayhawks even faced such a stressful situation. They led, 45-27, with 16:12 to play. But then the Rams started attacking the offensive boards, converting several second-chance opportunities.
Henrickson said she was leery of the Rams before the game because of how hard they played and how much toughness they showed.
"When we threw a punch and were up 16, they just kept battling back," Henrickson said. "We got softer as they got tougher."
Sophomore Carolyn Davis, the focal point of the Jayhawks' offense, was more tentative than usual among the packed-in defense. She had four turnovers in the second half, most of them when she was unable to corral an entry pass from the perimeter. When she did collect the pass and maintain possession, she was effective, scoring 26 points.
Henrickson said Davis will have to get used to the crowding in the paint — players will only get bigger and longer in Big 12 conference play.
Davis was named to the all-tournament team with Engelman, who scored 24 points Sunday. North Dakota State's Katie Birkel, Fordham's Caitlin Shadbolt and Memphis' Brittany Carter also made the team.
Junior Aishah Sutherland was named the MVP of the tournament, averaging 13 points and 10.7 rebounds per game for the weekend.
"I actually didn't expect to win it, but I was focused on staying consistent," Sutherland said. "Stay consistent and you get rewarded."
The Jayhawks survived, despite being outrebounded on the offensive glass for the first time all season and scoring just seven points in a 15-minute stretch during the second half. A loss to Fordham (3-3), a team that ended up winless in the tournament, would have stuck out on the Jayhawks' postseason resume.
"That would've hurt," Henrickson said, shaking her head. "That would've hurt, that would've hurt."
Mays' mistake would have hurt more, too. Her teammates, realizing that they couldn't let Mays down after being given another chance, re-energized for the overtime period.
"There was energy in that huddle that we hadn't had the whole game when we got into overtime," Henrickson said.
Engelman said she almost fainted when she saw that Mays had fouled.
"It was something that we can all learn from and learn what not to do," Engelman said.