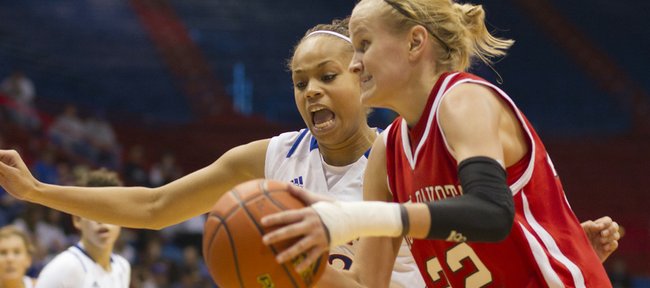 Document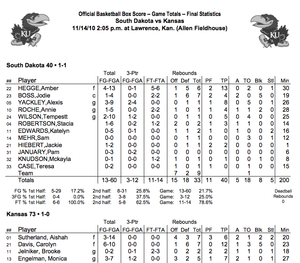 With a bevy of young talent at her disposal, Kansas University women's basketball coach Bonnie Henrickson described her team's offense as a work in progress.
Though the KU offense wasn't without blemishes during Sunday's season-opening 73-40 victory over South Dakota at Allen Fieldhouse, the defense again looked spot-on.
"I didn't think we started with the bounce we had against Washburn," Henrickson said, referring to last week's exhibition victory, in which KU forced 27 turnovers and stifled the Lady Blues.
"But I thought a couple minutes into it, we got it and dictated a little bit more where the penetration went."
Once that happened, it was the Coyotes' turn to be stifled by KU's athleticism on defense.
"Their size and length is hard to deal with," USD coach Ryun Williams said.
That was no more apparent than midway through the first half, when the Jayhawks held the Coyotes — who finished with just 16 points in the first period — scoreless for more than eight minutes.
Overall, KU held USD to just over 21-percent shooting, forced 18 turnovers (seven steals) and blocked 10 shots.
The speed of players like Marisha Brown in the passing lanes and on the perimeter disrupted USD's rhythm on offense.
"They got out and really kind of made our motion become a stand-still motion," Williams said.
In the paint, KU's length led to the 10 blocked shots — five by sophomore Carolyn Davis — and negated nearly every USD attempt near the basket.
Part of the improvement on the defensive end, which is always of importance for Henrickson, has come with accepting how much effort it takes.
And with results like the Jayhawks have been seeing — in the preseason, practice, or otherwise — it's an even easier message to buy.
"Like anything, if you work really, really hard and you don't have any success, at some point, young or old, you're like, 'Is this really worth all this, as hard as we're trying to play?'" Henrickson said.
The offense, led by 13 points from Tania Jackson, 12 from Davis and eight apiece from Angel Goodrich and Krysten Boogaard, was good enough, despite a few stagnant moments.
As Henrickson continues to fine-tune her rotation and specialize play calls based on whom is on the floor, though, the offense will undoubtedly improve.
While the Jayhawks continue to "develop a feel" as Henrickson said, they at least have something to fall back on.
"Defense, to me, is the easiest part of basketball," Brown said. "It's black and white."
Five Jayhawks scored their first collegiate points Sunday: freshmen Keena Mays (5), Diara Moore (3), CeCe Harper (2) and Brooke Jelniker (2), while Jackson, a red-shirt freshman, led KU with 13 points in 13 minutes.