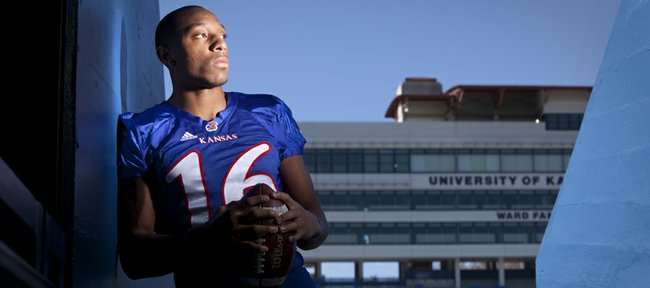 In January of 2008, 18-year-old Chris Harris was being sized for an Orange Bowl ring, celebrating his interception in a BCS bowl game and dreaming of how much better things would get during the next three years of his Kansas University football career.
As Harris remembers, life was good.
"I know coming in we used to always joke about it and say, 'Man, we're gonna leave this place with four rings,'" Harris said. "We used to always talk about that. Everybody in my class thought we were going to go to a bowl every year. The standards were real high, and we thought that would be nothing."
Three seasons and just one bowl appearance later, Harris sits on the brink of missing out on a bowl game during his final season in crimson and blue. At 2-6, Kansas must win out to become bowl-eligible. Though Harris insists that's still the goal, he also understands that it might not be in the cards.
If it's not, it won't diminish anything about his time in Lawrence.
"It definitely is kind of a raw deal," Harris said. "But that's how life works, man. You have ups and downs, and you have to be able to overcome them. I think in the future, it's definitely going to help me out as a player. I might not be having a breakout year stat-wise, but, if you watch the tape, I'm right on my man, and I'm not getting as much action as I have in previous years."
No one has felt the ups and downs that Harris has experienced during his career at Kansas quite like his mother, Lisa Harris, who still lives in Harris' hometown of Bixby, Okla., but makes the drive to as many games as possible.
Harris and his mother talk nearly every day, sometimes more than once. Like her son, whose wide grin has been a constant within the KU program in recent years, Lisa hasn't spent much time complaining about the way things have worked out for her son.
"This has been a wonderful opportunity for him," Lisa said. "He's enjoyed it, and he loves KU a lot. He's experienced some wonderful things that a lot of other kids never get to experience."
Asked if their phone calls have become longer because of the nature of the 2010 season, Lisa said no.
"He hasn't cried about it at all," she said. "He just knows they have to work harder."
That's a nice thing to say, and it certainly has helped both mother and son push through the Jayhawks' recent struggles. But the thing about it is, it's nearly impossible for Harris to work harder. It's been that way since 2007, when, as a 180-pound freshman, Harris outworked everyone and found himself starting on the opposite side of the field as All-American Aqib Talib.
"That definitely feels like it happened a long, long time ago just because of the way the past two seasons have gone," Harris said. "But it's something that I can still remember like it was yesterday."
Of the 46 games he has played at Kansas, Harris has started 38. Today will mark his 21st consecutive start, and, just as he has done in every game until now, Harris will take the field with one thing in mind.
"I still have that same attitude that I did my freshman year," he said. "I still feel like every time I step on the field, I'm the best player on the field. Even though I was across from Aqib, and he was supposed to be the best player on the field, that was still my mind-set."
His mother said that confidence developed way before her son came to Kansas.
"Ever since he was 6 years old, Chris always had that confidence that he was the best player on any team that he played on," she said.
Though Harris has remained positive, consistent and competitive throughout his career, both he and Lisa admitted this year has been tough.
"I would say a little, with him being a captain of the team and them having the record they have," Lisa said. "But I think Chris has handled it really well. He's always talked positive, and he has faith that it will work out."
Harris said it's that faith that has helped him stay focused and avoid breaking down during the roughest year of his college career.
"I've been here for the highs and the lows," he said. "I never realized how hard it would be for a whole team, a whole program, to transfer coaches. I don't think anybody knew how difficult it would be."
"But it's definitely made me a better person, being able to overcome these obstacles. And I really think it'll help the younger players. They really came into the lavish life of Kansas football, with nice facilities and all the hype, and something like this might be able to help them and make the program better in the long run."
As for Harris' future, he still hopes — and believes — that a professional career remains a possibility.
"Chris has gotten a few letters, and different teams have sent him questionaires and stuff like that," Lisa said. "But Chris is real humble about that. We'll just keep working and keep praying and see what God has planned for him."
Until then, Harris' only plans are to keep working and keep smiling, no matter what comes his way.
"It's a family thing," Lisa said. "All of us are always smiling."