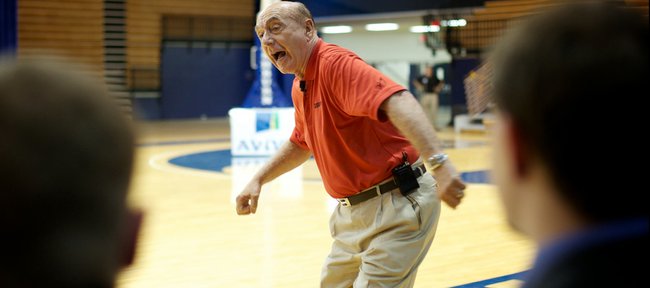 The most famous college basketball analyst of all — Hall of Famer Dick Vitale of ESPN — is taking a wait-and-see attitude toward Kansas University's men's basketball team.
Vitale has tapped six-time defending Big 12 champion KU fifth in his preseason Big 12 basketball rankings.
The prediction comes with freshman point guard sensation Josh Selby waiting to hear if he'll be eligible to play this season.
Vitale has Kansas State first, followed by Texas, Baylor, Missouri, KU, Texas A&M;, Oklahoma State, Texas Tech, Colorado, Oklahoma, Nebraska and Iowa State.
"If Josh Selby is eligible, Kansas will be higher than this ranking," Vitale writes on ESPN.com. He adds: "Kansas State is a legitimate Final Four contender with Jacob Pullen, but the loss of point guard Denis Clemente will be a factor. The Wildcats also still have Curtis Kelly, who will be a positive force on the baseline. Texas coach Rick Barnes has a lot of young talent. Cory Joseph will have the ball in his hands while running the offense. Tristan Thompson will have an immediate impact, too. Jordan Hamilton must step up and live up to his potential. Baylor's prediction is based on the return of LaceDarius Dunn. Missouri, with Kim English, will also be tough."
Vitale has predicted a Final Four of Duke, Michigan State, Villanova and Ohio State, with Duke winning its second NCAA title in a row.
Meanwhile, KU, which has been picked No. 7 nationally in preseason polls of the Associated Press and ESPN/USA Today, checked in at No. 3 in polls of both Rivals.com and the Sporting News' Mike Decourcy, which were released late this week.
Rivals.com taps Duke No. 1 and MSU No. 2, while KSU is sixth.
"With Selby, Kansas would be the favorite to win the Big 12. Selby is a do-it-all point guard, with tremendous athleticism. Team him with underrated forward Marcus Morris, and KU would have one of the best inside-outside duos in the nation," Rivals.com writes. "But while coach Bill Self has said he thinks Selby will play this season, the NCAA hasn't officially ruled on his eligibility. Without Selby, KU is good — but it wouldn't be this good."
Rivals.com college basketball editor Mike Huguenin sees KU as a No. 1 seed in the NCAA Tournament with Duke, Michigan State and Ohio State. He has K-State as a No. 2 seed.
Decoucy ranks Michigan State No. 1 and Duke No. 2. Kansas State is ranked fifth and Wichita State 24th.
"The team's profound personnel departures still left behind multiple first-round prospects and a coach who finds ways to win," DeCourcy says of KU, adding, "If point guard Josh Selby loses all or a significant part of his freshman year, the Jayhawks will miss a difference-maker."
KU will meet Emporia State in an exhibition at 7 p.m. Tuesday in Allen Fieldhouse.
— Gary Bedore compiled this report.