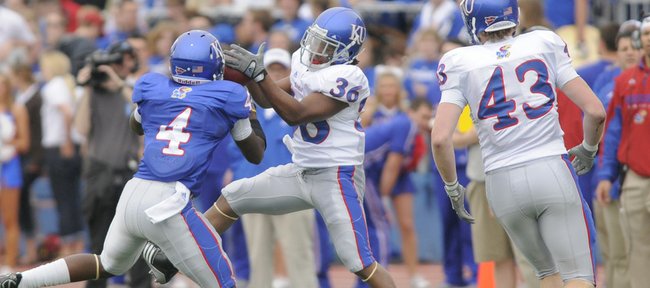 Deshaun Sands has watched late-1980s, early-'90s football game film of his dad, "Tuxedo" Tony Sands.
"I mean, my dad was blazing. He ran a 10.2 (seconds) in the 100 meters," Deshaun Sands said proudly of Kansas University's second-leading rusher of all-time.
"I figured I'd come here and outshine him, break his records, stuff like that — you know, father/son stuff," the Sunrise, Fla., native added.
Like father, like son indeed applies to 5-foot-7, 190-pound KU red-shirt freshman back Deshaun Sands, who, when asked by KU officials to name his favorite athlete of all-time for inclusion in KU's media guide, chose his papa, a 5-6, 175-pounder who rushed for 3,788 yards from 1988 to '91.
Deshaun would love to surpass his dad's proudest achievement, a 58-carry, 396-yard rushing effort against Missouri on Nov. 23, 1991, at Memorial Stadium.
The 58 carries still stand as most ever in a college football game.
The rushing total remained in the record books for eight years until TCU's LaDainian Tomlinson went for 406 yards off 43 carries against UTEP in 1999.
"The 396? I'm going for that. That's a lot of yards. That's almost 400!" Deshaun exclaimed of the greatest single-game rushing effort in KU history. "He definitely had a great career at KU."
'I've got the vision'
Deshaun Sands, who practiced but did not play in games his true freshman season, is listed No. 2 at running back on KU's depth chart behind Angus Quigley, with Toben Opurum also in the mix.
"I've got the vision. He (dad, Tony) has got the speed," said Deshaun, a former 1,000-yard rusher at Sunrise's Piper High.
Tony, who works as a personal trainer in Florida (see his website, getsandsational.com), agrees with his son's assessment of the two.
"Deshaun has got great vision," said Tony, who earned his nickname because of his penchant to wear a tuxedo, not a suit, on college football Saturdays.
"It's instinct. That's one thing about running back, either you have great vision or you don't. Either you have great moves or you don't. It's tough to develop those things. That he is ... he is a natural."
But what about his son's wheels?
"He has speed, but at his age, my speed was faster than his. My speed was faster than the average person's speed," Tony added.
Like his dad, who answered skeptics on a yearly basis, Deshaun has to prove he can take a pounding in the Big Eight — make that the expanded Big 12 Conference.
"You've got to understand, if you look at the way the game is now," Tony said, "the guys you see racking up the yards are smaller backs. With a lot of coaches running spread offenses, the ability to hide behind big linemen and come out on the other side is great for a small back.
"I was not a spread-offense-type running back," Tony added. "Deshaun grew up in the spread system. I think in the spring he showed his ability to catch the ball out of the backfield and stop and change directions, which was excellent for him."
Proud of his papa
Though Deshawn first and foremost listens to his coaches in Lawrence, he's not above discussing his game with a running back expert — his papa.
"Pretty much every day," Deshaun said of how often he speaks with his dad. "They (mom and dad) blow my phone up. They want to see how their boy is doing.
"My dad calls me and say, 'How'd practice go?' Things like that. More than football, he gives me tips on growing as a man. He gives me a lot on how to live your life."
Tony likes how Deshaun is maturing at KU.
"He's always been a good kid, a kid people enjoy being around," Tony said. "He is progressing well. The atmosphere ... he's enjoying himself there. He is being able to live life and enjoy life. That's all I can ask."
Deshaun admits he was tempted to play college ball in his home state.
"I pretty much grew up following KU and Miami. Miami was my first team. KU ... that was my dad's school, so I followed them, too," Deshaun said. "It was pretty much a chance to come here and get away from home, learn things and experience new stuff."
'He'll have a great career'
Tony, who was the Big Eight's offensive player of the year in 1991 — he had 17 games in which he rushed for 100 or more yards — reports that he's doing equally well back in his home state of Florida.
"I train pro athletes, college athletes, high school and little league, youth leagues," Tony said. "We have one of the hottest programs in the South Florida area, working out some top-notch guys."
He's been working out his son between the end of school and June 6, when Deshaun is to report back for voluntary summer drills.
"He'll have a great career. I trust the whole KU staff. It's a great staff coach (Turner) Gill has put together," said Tony, who played for Glen Mason at KU.
Deshaun is also a big fan of new KU coach Gill.
"I love that dude," Sands said. "He's cool. He was a player, so he knows how being a player is.
"People don't think we're good because we've got a new coach and we are in a learning process. We are going to do big things," added Sands, who rooms with KU quarterback Jordan Webb.
"I mean, Jordan is going to surprise some people. Kale (Pick, QB) is gonna do things, too," Sands said. "Jordan's my roommate. We go over everything together. We learned the playbook together. We get in the book every time we have free time. We both want it bad."
Sands' teammates think he has what it takes to make a contribution this season.
"You've got to love Sands," Quigley said. "Sands is a little guy, about a buck-80, 86 max. Sands is a tough little guy. He works hard. He's real shifty. They (defenders) have trouble tackling him in the open field.
"He's learning his stuff. We're looking forward to him helping us out on the field, whether at running back or the return game. He's good."
Ready to run
He's also personable, just like his dad, who never met a media member he didn't like.
"I loved the spotlight," Tony said. "To me it was showtime for myself. He'll enjoy the spotlight. I always say, 'You get five minutes of fame in your lifetime. Enjoy it.' I look back at a lot of things I should have been doing when I was sleeping. It only comes once. It comes and goes before you know it."
Deshaun is ready to embrace it.
"Sitting out last year, I learned to stay humble, be patient, your time will come," Sands said. "I learned a lot. I'm trying to do something this season, help us win games and surprise some people."